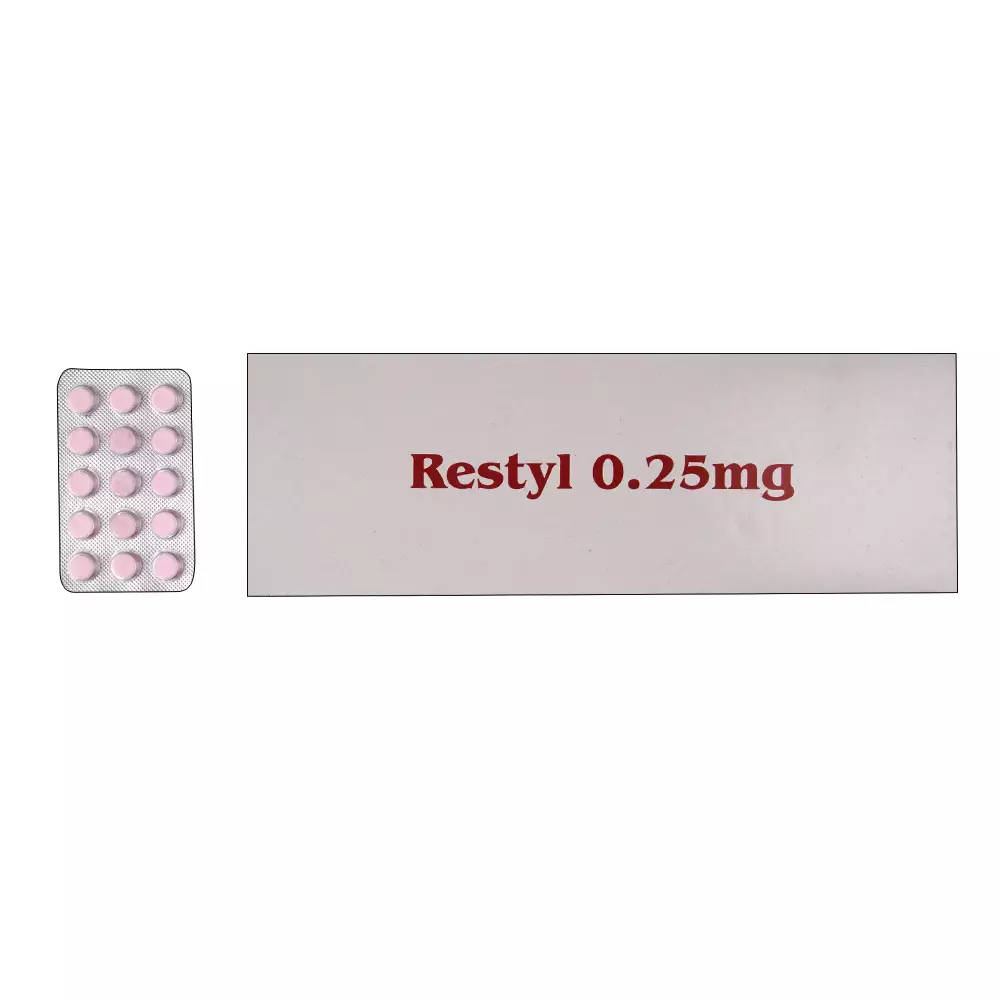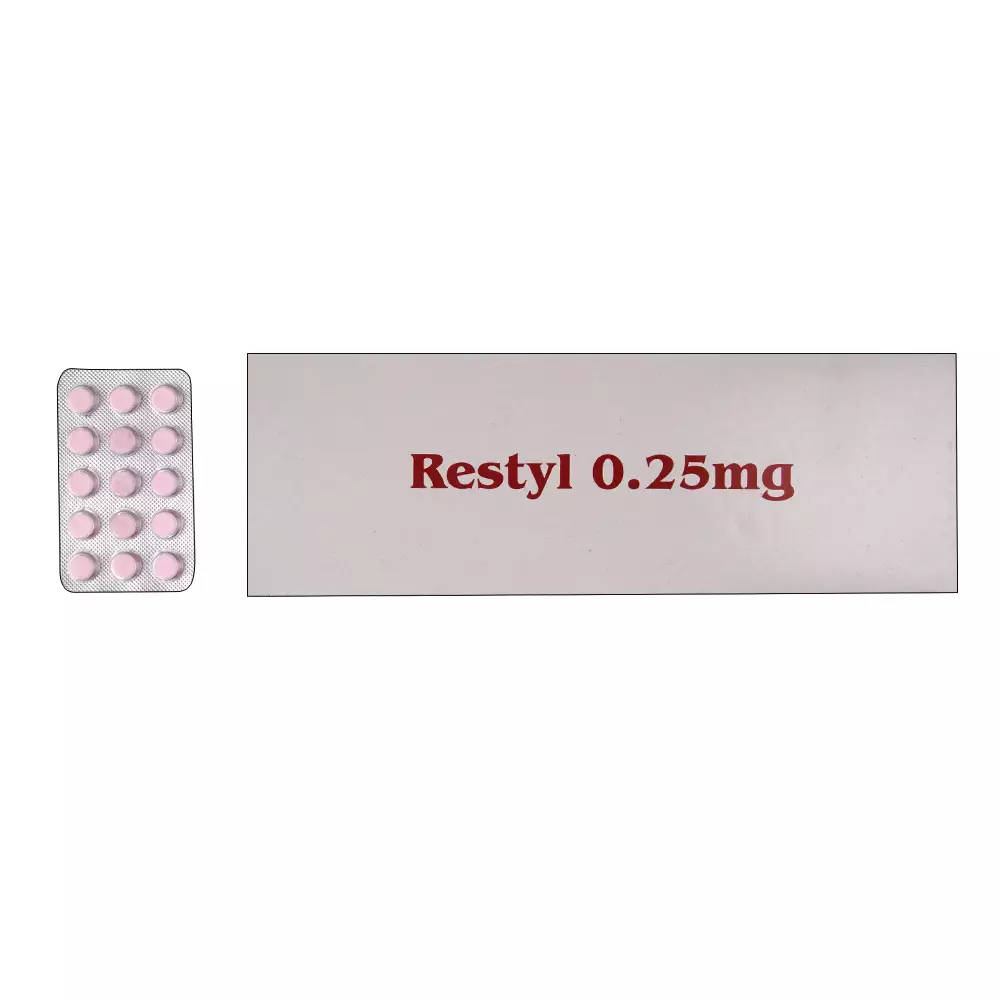 RESTYL 0.25MG 15TAB
Brand: Wellness Forever
14 Reviews
Rs. 25.60

Prescription required on this product.
Support 24/7

Call us anytime

100% Safety

Only secure payments

Hot Offers

Discounts up to 80%
NOT SOLD ONLINE
Restyl 0.25 MG Tablet belongs to the Benzodiazepine class of drugs. This tablet is used to treat anxiety and panic disorders, as well as stress-related anxiety disorders. It is effective in treating depression-related anxiety disorders and panic attacks. In individuals suffering from depression, this medication regulates the amount of imbalanced chemicals released by the brain. This class of medications works by calming the brain and central nervous system, which helps to prevent panic attacks. Doctors generally prescribe to start with tiny doses and gradually increase it. It is possible to have withdrawal symptoms such as convulsions, aggressive behaviour, blurred vision, and others if you suddenly stop taking this prescription.
Benefits of Restyl 0.25 MG Table:
Restyl 0.25mg Tablet reduces the symptoms of excessive anxiety and worry. It can also reduce feelings of restlessness, tiredness, difficulty concentrating, and feeling irritable. It will therefore help you go about your daily activities more easily and be more productive. Keep taking this medicine even if you feel well. Stopping it suddenly can cause serious problems. So, do not stop taking it without discussing it with your doctor.
In Treatment of Panic disorder
Restyl 0.25mg Tablet can help relieve symptoms of many panic disorders including panic attacks. It can help you feel calmer and improve your ability to deal with problems. Do not stop taking it, even when you feel better unless your doctor advises you to.
Benefits of Restyl 0.25 MG:
Treatment of Anxiety

Treatment of Restlessness

Treatment of Insomnia

Treatment of Panic disorder
Restyl 0.25 MG Tablet Offer At SecondMedic:
We at Secondmedic ensures that you get good health products at affordable price. Hence, we give you best Restyl 0.25 MG Tablet Offer that you can get online.
If you are booking this product, then you can book Restyl 0.25 MG Tablet at Rs 2.56/- OFF.
Side Effects:
Most side effects do not require any medical attention and disappear as your body adjusts to the medicine. Consult your doctor if they persist or if you're worried about them
Common side effects of Restyl 0.25 MG Tablet:
Lightheadedness

Drowsiness
Direction to Use:
These tablets should only be taken if a doctor has prescribed them. Your doctor will tell you how long you should take Restyl 0.25 Tablet based on your medical situation.

Swallow the whole tablet with water. It is not a chew able tablet.

Restyl 0.25 mg should not be crushed or broken in any way.
Precautions:
Restyl 0.25mg Tablet should be stored in a firmly closed container and

It should be kept out of reach from children.

The medicine should be stored at room temperature, away from heat and moisture.

Also out of direct sunshine (not in the bathroom).

Unused prescriptions need to be disposed of appropriately to prevent pets, children, and others from consuming them.
FAQs:
Q1. Is Restyl 0.25mg Tablet safe for people who have kidney disease?
Answer: Individuals with kidney disease should use this drug with caution due to the increased risk of side effects. It is essential to monitor kidney function regularly while using Restyl Tablet. Also, dose modification may be essential under some circumstances, depending on the clinical state of the kidney disease.
---
Q2. Can I take a higher dose of this Restyl 0.25mg Tablet than the prescribed amount?
Answer: No, consuming more Restyl 0.25mg Tablet than the recommended amount can raise the risk of adverse effects and harm. Please contact your doctor for a re-evaluation if the severity of your symptoms has worsened and is not being treated with the suggested doses.
---
Q3. Can I take a Restyl 0.25mg Tablet during pregnancy?
Answer: No. The Restyl 0.25mg Tablet is contraindicated in pregnancy. The effects of Restyl 0.25mg Tablet are harmful to the foetus. Therefore, pregnant women should not use this drug unless it is required. Always talk to your physician about the risks and benefits of using this medication.