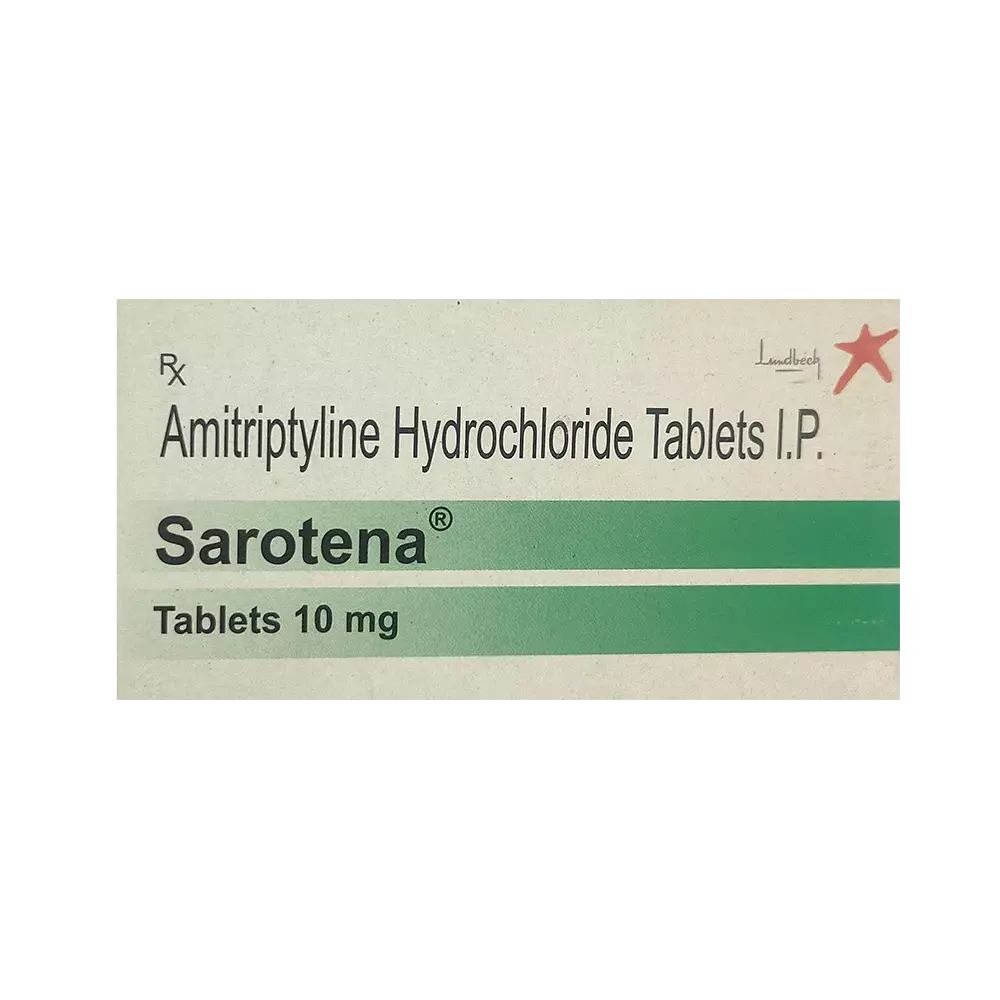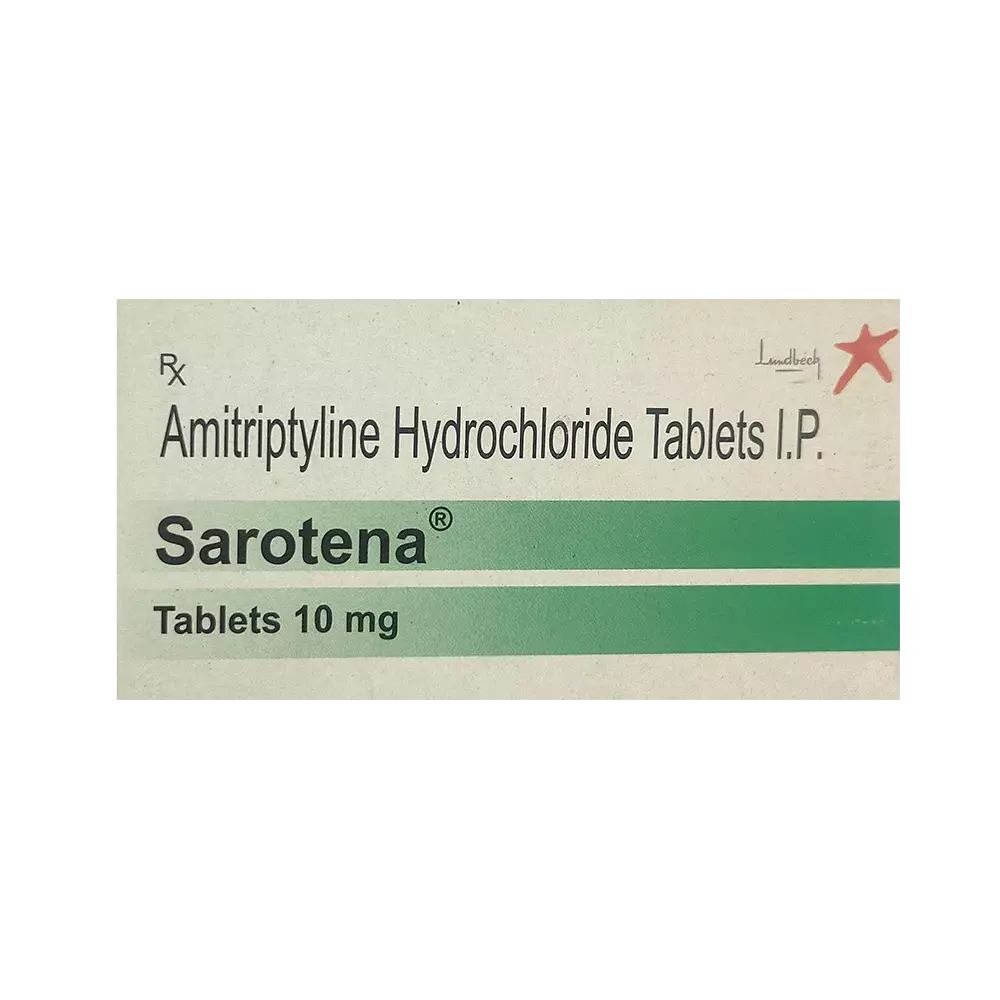 SAROTENA 10MG 10TAB
Brand: Wellness Forever
14 Reviews
Rs. 25.65

Prescription required on this product.
Support 24/7

Call us anytime

100% Safety

Only secure payments

Hot Offers

Discounts up to 80%
Sarotena Tablet belongs to a group of medicines called tricyclic antidepressants used to treat depression, neuropathic pain, chronic tension-type headache, and migraine in adults. Additionally, Sarotena Tablet is also used to treat bedwetting at night in children aged 6 years and above.
Sarotena Tablet contains Amitriptyline that works by affecting certain chemical messengers (serotonin, norepinephrine) in the brain which
communicate between brain cells, thereby helping in the regulation of mood and preventing depression. Besides this, Sarotena Tablet also the transmission of pain signals, thereby provides relief from neuropathic pain.
Benefits
Treatment of Depression

Neuropathic pain

Treatment of Migraine

Bed-wetting at night in children aged 6 years and above, only when organic causes such as spina bifida and related disorders
SAROTENA 10 MG 10 TAB Offer At SecondMedic:
We at Secondmedic ensure that you get good health products at affordable price. Hence, we give you best offer that you can get online for SAROTENA 10 MG 10 TAB.
If you are booking this product, then you can book at Rs 02.55/- OFF.
Direction for use
Always take SAROTENA 10MG exactly as your doctor has told you.

This medicine must be taken with or without food.

Try to take this medicine at the same time each day.

It should be swallowed whole with water.

Do not crush or chew the medicine.
Storage
Keep it in cool and dry place

Keep it away from the reach of children

Do not use expired medicine.
Precaution
It may cause sleepiness. Take it at bedtime and do not drive or do anything requiring concentration until you know how it affects you.

Avoid consuming alcohol when taking Sarotena 10mg Tablet as it may cause excessive sleepiness.

Monitor your weight during the treatment as this medicine can cause weight gain and increased appetite.

It may cause sudden drop in your blood pressure. Rise slowly if you have been sitting or lying down.

Talk to your doctor if you notice sudden mood changes or develop suicidal thoughts.

Pay close attention to any changes, especially sudden changes, in mood, behaviors, thoughts, or feelings. This is very important when an antidepressant medicine is started or when the dose is changed.

If you miss a dose of Sarotena 10mg Tablet, take it as soon as possible. However, if it is almost time for your next dose, skip the missed dose and go back to your regular schedule. Do not double the dose.
Side effects
Heart problem, irregular, hard or rapid heartbeat

Sleepiness/drowsiness

Dizziness, headache

Dry mouth

Constipation

Nausea

Excessive sweating

Weight gain

Slurred or slow speech

Aggression

Confusion

Sexual disturbances (decreased sex-drive, problems with erection)

Disturbance in attention

Numbness in the arms or legs

Disturbed coordination

Dilated pupils

Fatigue

Low sodium concentration in the blood

Agitation

Urination disorders

Feeling thirsty
FAQ
1. Can the use of SAROTENA 10MG affect my sex life?
Answer- Yes, it can affect sex life in both men and women. It may cause decreased sexual desire, or you may experience discomfort during intercourse. Men may experience inability to develop or maintain an erection during sexual activity and may be unable to have an orgasm. Consult your Doctor.
2. Is there anything I need to be careful about while on therapy with Sarotena 10mg Tablet?
Answer- Sarotena 10mg Tablet may cause drowsiness and dizziness, especially in the beginning of the treatment. So, avoid driving or using machinery until you know how the medicine affects you. Also, it is not advisable to drink alcohol during treatment with this medicine as it might increase sleepiness.
3. What other lifestyle changes should I make to get maximum benefit of Sarotena 10mg Tablet?
Answer- Antidepressants, including Sarotena 10mg Tablet, are just one of several approaches to treat depression. Keeping active and eating a healthy diet can make a significant difference to how quickly you recover from depression. Think positively and try to discuss your thoughts with others to reduce stress. Practice yoga or take up a hobby. Ensure that you have a sound sleep to calm your mind. Stay away from smoking or alcohol consumption as these will only worsen your depression. Take your medicines as prescribed even if you start feeling better.
4. Can I stop taking the medication if I feel well?
Answer- Do not discontinue Sarotena Tablet 10's without consulting your doctor as it could lead to recurring symptoms. To treat your condition effectually continue taking Sarotena Tablet 10's for as long as prescribed. Do not be reluctant to speak with your doctor if you feel any difficulty while taking Sarotena Tablet/