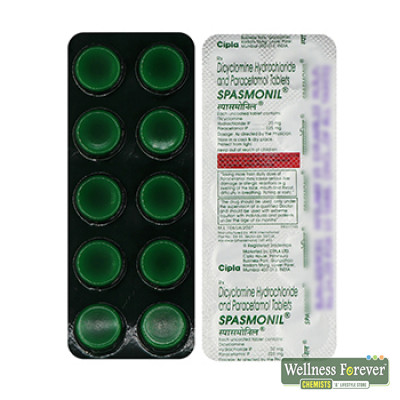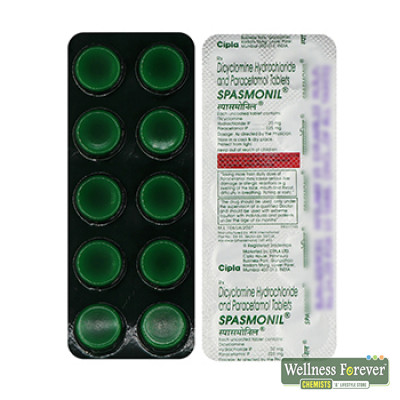 SPASMONIL 10TAB
Brand: Wellness Forever
14 Reviews
Rs. 24.00

Prescription required on this product.
Support 24/7

Call us anytime

100% Safety

Only secure payments

Hot Offers

Discounts up to 80%
Key Ingredients
Dicyclomine (20mg) + Paracetamol (325mg)
Storage- Keep it in cool and dry place below 30°C
Consume Type- Oral
Description
Spasmonil 10Tablet is a combination medicine used in the treatment of abdominal pain. It works effectively to reduce abdominal pain and cramps by relaxing the muscles of the stomach and gut. It also blocks certain chemical messengers that cause pain and fever.
Key Benefits
Treatment of Abdominal pain
Directions for use
It should be taken as directed by your doctor and in the prescribed quantity.

Swallow it as a whole with a glass of water. Do not cut, break or chew the medicine.

It would be best if you take it at a fixed time for optimal results.

Keep it away from the reach of children

Do not use expired medicine.
Safety Information
Tell the doctor about the medicines, supplements, or herbals you are currently taking or might take to avoid possible interaction.

If you have missed any dose, take it as soon as you remember. If it is time for the next dose, skip the missed dose and continue your regular dosing schedule.

If you get diarrhea while taking this medicine you should stop taking it and consult your doctor.

Dry mouth may occur as a side effect. Frequent mouth rinses, good oral hygiene, increased water intake and sugarless candy may help.

It may cause dizziness, drowsiness or visual disturbances. Use caution while driving or doing anything that requires concentration.

Avoid consuming alcohol while taking this medicine as it can cause excessive drowsiness and increase your risk of stomach problems.

Do not take it with any other medicine containing paracetamol (drugs for pain/fever or cough-and-cold) without asking your doctor first.

As a precautionary measure, do not consume alcohol and quit smoking

Eat healthy food and do regular exercises.
Side effects
It is not necessary for everyone to experience the side effects. In case of any discomfort, consult your doctor.
Nausea

Dryness in mouth

Blurred vision

Sleepiness

Weakness

Nervousness
1. Can I stop taking Spasmonil 10Tablet when my pain is relieved?
Answer :- Spasmodart Tablet is usually used for short term and can be discontinued if there is no pain. However, it should be continued if your doctor told you to do so.
2. Can the use of Spasmonil 10Tablet cause diarrhea?
Answer :- Answer Yes, the use of Spasmodart Tablet can cause diarrhea. In case of diarrhea, drink plenty of water or other fluids. Also, avoid taking fatty or fried foods along with this medicine. Talk to your doctor if diarrhea persists. Do not take any other medicines without speaking to a doctor.
3. Can the use of Spasmonil 10Tablet cause dry mouth?
Answer :- Yes, the use of Spasmonil 10Tablet can cause dry mouth. If you experience dry mouth, drink plenty of water. Take regular sips during the day and keep some water by your bed at night. You may use lip balm if your lips are also dry. Try to avoid foods that are acidic (like lemons), spicy and salty.
4. Can the use of Spasmonil 10Tablet cause damage to kidneys?
Answer :- Yes, long-term use of Spasmonil 10Tablet can cause damage to the kidneys. Use of Spasmonil 10Tablet is not recommended to patients with underlying kidney disease.
5. Can I take a higher than the recommended dose of Spasmonil 10Tablet?
Answer :- No, taking a higher than the recommended dose of Spasmonil 10Tablet can lead to increased chances of side effects. If the recommended doses do not relieve your symptoms or you experience increased severity of pain, please consult your doctor for re-evaluation.