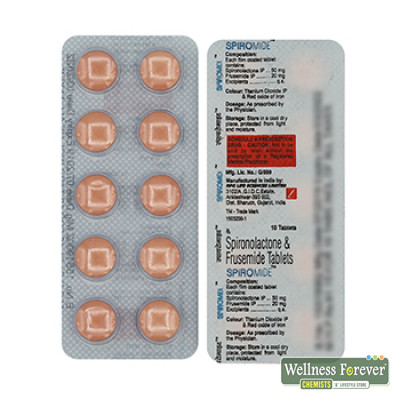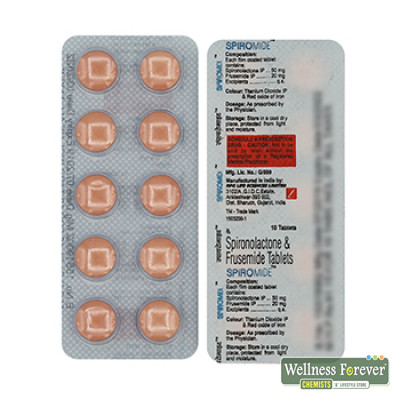 SPIROMIDE 10TAB
Brand: Wellness Forever
14 Reviews
Rs. 67.15

Prescription required on this product.
Support 24/7

Call us anytime

100% Safety

Only secure payments

Hot Offers

Discounts up to 80%
Key Ingredients
Furosemide (20mg) + Spironolactone (50mg)
Storage- Keep it in cool and dry place below 30°C
Consume Type- Oral
Description
SPIROMIDE10 Tab is a combination of Spironolactone and Frusemide which belongs to the group of medicines called Diuretics. It helps to reduce fluid build-up in the body. Edema is a type of swelling or puffiness of body parts caused due to excessive accumulation of fluid (water) in the body. These extra fluids can cause swollen ankles, shortness of breath and can make you feel more tired than usual. It can also put extra strain on your heart, blood vessels, lungs, kidneys, or liver. Spironolactone is a potassium sparing diuretic and frusemide is a loop diuretic. They act by removing the excess water and certain electrolytes from the body in the form of urine. Unlike other diuretics, SPIROMIDE retains potassium in the body which prevents the risk of developing hypokalaemia (low blood potassium levels).
Key Benefits
Directions for use
It should be taken as directed by your doctor and in the prescribed quantity.

Swallow it as a whole with a glass of water in the morning along with the food. Do not cut, break or chew the medicine.

It would be best if you take it at a fixed time for optimal results.

Keep it away from the reach of children

Do not use expired medicine.
Safety Information
Tell the doctor about the medicines, supplements, or herbals you are currently taking or might take to avoid possible interaction.

If you have missed any dose, take it as soon as you remember. If it is time for the next dose, skip the missed dose and continue your regular dosing schedule.

It may cause dizziness or sleepiness. Don't drive or do anything requiring concentration until you know how it affects you.

To lower the chance of feeling dizzy or passing out, rise slowly if you have been sitting or lying down.

It may cause excessive urine production, dehydration, and low electrolyte levels. Notify your doctor if you experience dizziness, tiredness, or muscle weakness that doesn't go away.

Your doctor may regularly monitor your blood pressure, kidney function and the level of salts such as potassium and sodium in your blood while you're taking this medication.

As a precautionary measure, do not consume alcohol and quit smoking

Eat healthy food and do regular exercises.
Side effects
It is not necessary for everyone to experience the side effects. In case of any discomfort, consult your doctor.
Headache, dizziness

Nausea, vomiting

General weakness

Increased urination

Excessive thirst

Impotence, reduced sex drive

Breast enlargement in men

Sensation of tingling and numbness
1. Can I take Spiromide daily?
Answer: - Take SPIROMIDE as advised by your physician. Your doctor will evaluate your health condition and suggests whether you can take Spiromide every day or not.
2. What is the best time to take Spiromide?
Answer: - It is advisable to take Spiromide in the morning preferably after meals. Avoid taking it at night as it may make urinate more at night which may affect your sleep. However, consult your doctor regarding the time of administration of SPIROMIDE.
3. How long does it take for SPIROMIDE to show the results?
Answer: - It may take a few weeks for Spiromide to show the results, and so take it regularly as advised by your physician to see the optimum results.
4. Can SPIROMIDE cause dizziness?
Answer: - Yes. It may cause dizziness due to the loss of fluids from the body. To avoid this, keep yourself hydrated by drinking plenty of fluids. Avoid driving or operating any heavy tools or machines if you feel dizzy. Consult your doctor if you experience extreme dizziness.
5. Can SPIROMIDE reduce my weight?
Answer: - The medicine does not have any impact on reducing your weight. But, due to removal of excess water from the body, you may experience a slight reduction in body weight.