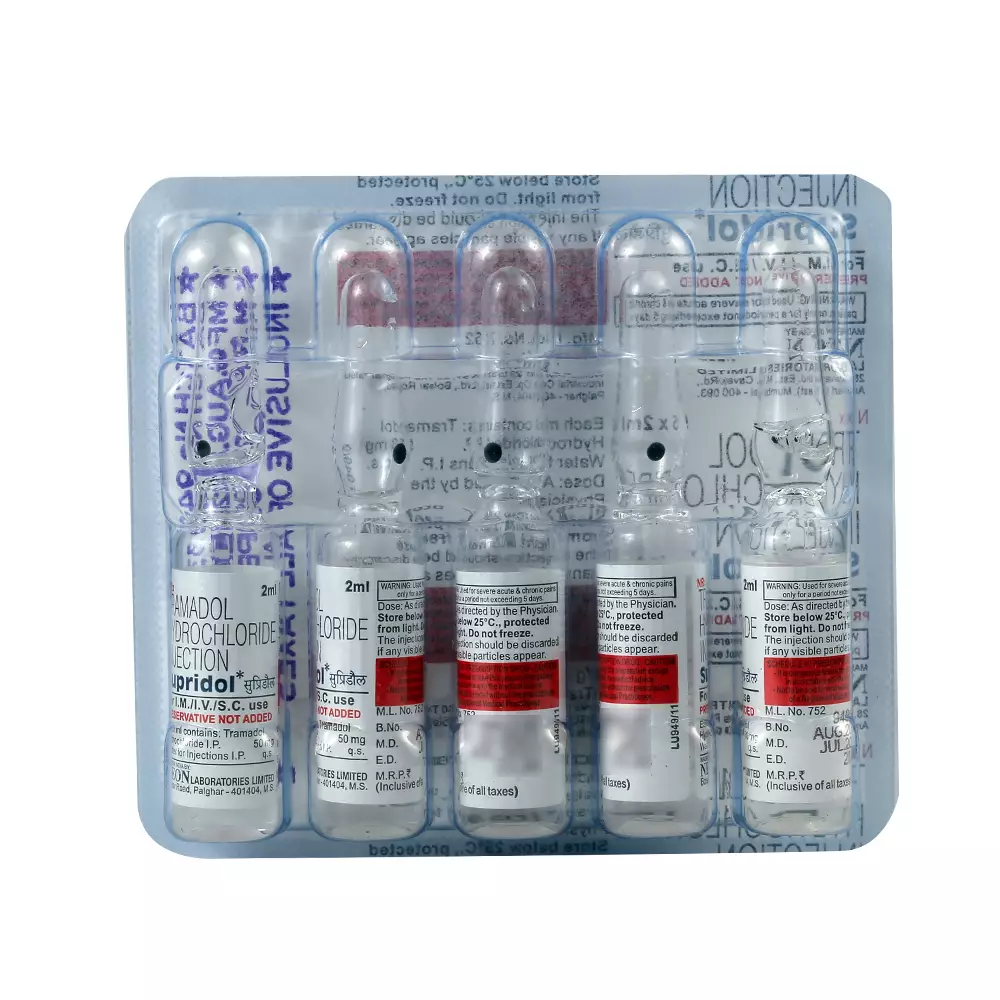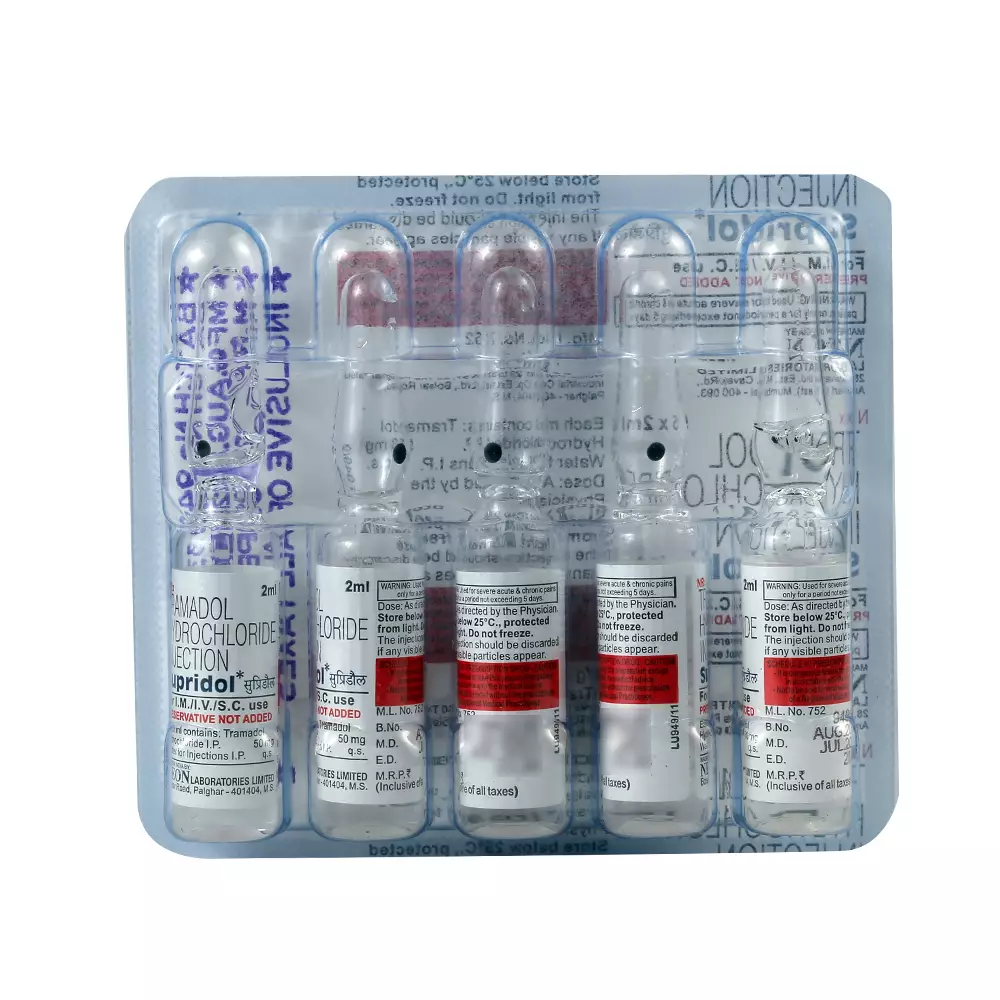 SUPRIDOL INJ 2ML AMP
Brand: Wellness Forever
14 Reviews
Rs. 23.00

Prescription required on this product.
Support 24/7

Call us anytime

100% Safety

Only secure payments

Hot Offers

Discounts up to 80%
Key Ingredients
Tramadol(100 Mg)
Storage- Keep it in cool and dry place below 30°C
Consume Type- Injection
Description
Supridol Injection 2ml Amp is a prescription medication used to treat and prevent mild to moderate pain. It belongs to a class of drugs called opioid analgesics Pain is an unpleasant sensation that can be triggered due to an injury or disease. Supridol Injection can relieve general or localised pain. Supridol Injection contains Tramadol which belongs to a group of medicines called opioid analgesics that are essentially pain killers. It works like other opioids by blocking pain signals from the brain and reducing pain perception. It relieves pain due to arthritis, headache or lower back pain, surgery etc.
Key Benefits
Directions for use
It should be taken as directed by your doctor and in the prescribed quantity.

Keep it away from the reach of children

Do not use expired medicine.

Your doctor or nurse will give you this medicine.

Kindly do not self administer.
Safety Information
Tell the doctor about the medicines, supplements, or herbals you are currently taking or might take to avoid possible interaction.

If you have missed any dose, take it as soon as you remember. If it is time for the next dose, skip the missed dose and continue your regular dosing schedule.

Prolonged use may result in physical and psychological dependence even atrecommended dosages.

Avoid driving or using machinery if you feel dizzy after taking Supridol Injection 2ml.

It is better to take with food to avoid an upset stomach.

Your doctor may adjust your dose if you have liver or kidney disease.

Avoid consumption of alcohol and quit smoking.

Do regular exercise such as swimming or walking.

Drink plenty of water
Side effects-
It is not necessary for everyone to experience the side effects. In case of any discomfort, consult your doctor.
Nausea

Dizziness

Headache

Vomiting

Dry mouth

Drowsiness

Constipation

Sweating

Tiredness (Mrs.) Ritu Saxena
Verified Buyer
Received in good condition. Rabbpreet
Verified Buyer
Product is very affordable and it is a great value for the price. Fateharaz Singh Brar
Verified Buyer Shaikh nazema anjum
Verified Buyer
Yet to find the result. I am using the medicine as advised. Geethanjali. P
Verified Buyer
I would recommend this medicine to anyone who is looking for relief from their symptoms!
Answer- Supridol Injection 2ml may cause drowsiness and dizziness, especially in the
beginning of the treatment. Do not drive or work with tools or machinery if your alertness
is affected. It is not advisable to drink alcohol during treatment with this medicine as it
might increase sleepiness.
Answer- No, Supridol Injection 2ml is not recommended for use during pregnancy as
baby may develop dependence on Supridol Injection 2ml and lead to withdrawal
symptoms after birth. Therefore, if you are pregnant or planning for pregnancy, please
inform your doctor before taking Supridol Inj 2ml.
Answer- Yes, Supridol Injection 2ml may cause fits especially when taken in high doses
or if you have a history of fits. Therefore, it is recommended to inform your doctor if you
ever had fits as it may increase the chance of getting fits and take the medicine only in
doses as prescribed by a doctor.
Answer- You are not recommended to take Supridol Injection 2ml with antidepressants
(medicines used to treat depression) and antipsychotics (medicines used to treat bipolar
disorder and psychosis) as co-administration of these medicines with it may increase
the risk of fits. However, please consult a doctor before taking the injection with other
medicines.
At Second Medic, we offer a wide range of high-quality pharmacy products to support our patients' health and wellbeing. Each of our pharmacy products is carefully selected to meet the diverse needs of our patients, and we are dedicated to providing personalized and compassionate care to ensure that our patients receive the right medication at the right dosage.
Our prescription medication products are available to patients who have been prescribed medication by their physician. Our experienced pharmacists work closely with our patients' physicians to ensure that they receive the right medication at the right dosage, and they are available to answer any questions or concerns that our patients may have about their medication. We also offer prescription refill reminders and prescription delivery services to make it easier for our patients to manage their medication regimen.
In addition to prescription medication, we also offer a wide range of over-the-counter medication and supplements to support our patients' overall health and wellbeing. Our pharmacy is stocked with a comprehensive selection of products to meet the diverse needs of our patients, including vitamins, pain relievers, allergy medication, and more. Our knowledgeable pharmacists are available to help our patients find the right products for their needs and to answer any questions they may have about over-the-counter medication or supplements.
At Second Medic, we understand that medical supplies can also play an important role in our patients' health and wellbeing. That's why we offer a wide range of medical supplies, including wound care products, diabetic supplies, and more. Our knowledgeable pharmacists are available to help our patients find the right medical supplies for their needs and to answer any questions they may have about their use.
We are committed to ensuring that our patients have access to the highest quality pharmacy products available. Contact us today to learn more about our comprehensive selection of pharmacy products and how we can support your ongoing medical care.
Get Quick Consultation & Support
Chat with Whatsapp