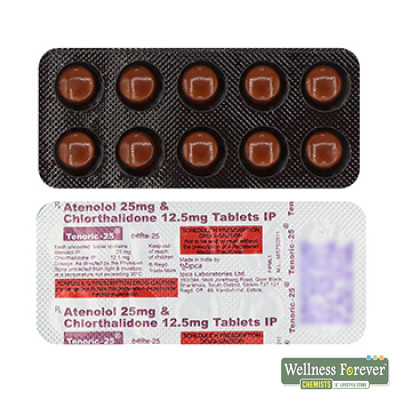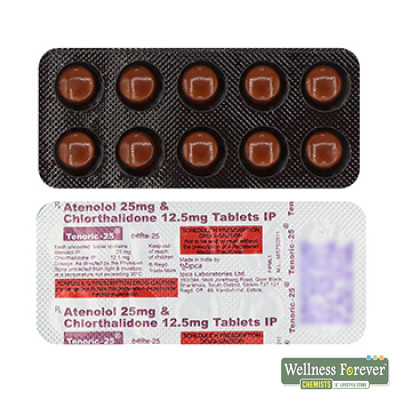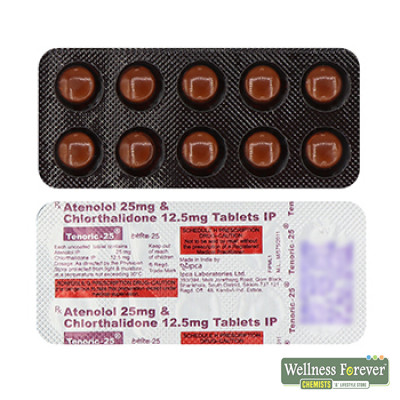 TENORIC 25MG 10TAB
Brand: Wellness Forever
14 Reviews
Rs. 47.55

Prescription required on this product.
Support 24/7

Call us anytime

100% Safety

Only secure payments

Hot Offers

Discounts up to 80%
Key Ingredients
Atenolol (25mg) + Chlorthalidone (12.5mg)
Storage- Keep it in cool and dry place below 30°C
Consume Type- Oral
Description
TENORIC 25MG TABLET belongs 'antihypertensive' medicines used for the management of high blood pressure. High blood pressure adds to the workload of the
heart and arteries. If not treated the heart and arteries may not function properly. This can damage the blood vessels of the brain, heart, and kidneys, resulting in a stroke, heart failure, or kidney failure. Lowering blood pressure may reduce the risk of stroke and heart attacks. Atenolol is a beta blocker which works specifically on the heart to reduce heart rate and make the heart more efficient at pumping blood throughout the body. Chlorthalidone is a diuretic which lowers blood pressure by removing extra water and certain electrolytes from the body. Over time it also relaxes blood vessels and improves blood flow.
Key Benefits
Hypertension (high blood pressure)
Directions for use
It should be taken as directed by your doctor and in the prescribed quantity.
Swallow it as a whole with a glass of water with or without food. Do not cut, break or chew the medicine.
It would be best if you take it at a fixed time for optimal results.
Keep it away from the reach of children
Do not use expired medicine.
Safety Information
Tell the doctor about the medicines, supplements, or herbals you are currently taking or might take to avoid possible interaction.
If you have missed any dose, take it as soon as you remember. If it is time for the next dose, skip the missed dose and continue your regular dosing schedule.
Do not stop taking the Tablet suddenly as it can cause your blood pressure to rise suddenly thereby increasing the risk of heart attack and stroke.
It may cause dizziness. If this happens to you, get up slowly when rising from a sitting or lying position.
It can hide symptoms of low blood sugar if you're diabetic. Monitor your blood sugar levels regularly.
Tenoric 25 Tablet may cause dehydration. Drink plenty of fluids and inform your doctor if you develop extreme thirst, muscle weakness or very dry mouth.
Do not take the Tablet if you are pregnant or planning for pregnancy.
Monitor your blood pressure regularly and seek medical advice if you notice any drastic fluctuations.
Limit sodium chloride intake (table salt) in your daily diet.
Avoid alcohol and try to quit smoking
Do physical activity and have healthy diet
Side effects-
It is not necessary for everyone to experience the side effects. In case of any discomfort, consult your doctor.
low pulse rate,
cold extremities,
diarrhoea,
nausea (feeling sick),
fatigue (feeling tired),
low levels of sodium,
being sick (vomiting), cramps,
low levels of potassium, and
Increase in the amount of uric acid.
1. Can I stop taking the medicine after my blood pressure comes under control?
Answer-It is advised to continue your medicine even after your blood pressure is under
control or becomes normal as blood pressure can shot up any time. If you have any
discomfort, please consult your doctor immediately.
2. Can Diabetic patients take TENORIC 25MG TABLET?
Answer- Yes, Diabetic patients can take TENORIC 25 mg if prescribed by the doctor.
However, diuretics (water pills) may increase blood sugar levels. Besides this, beta-
blockers (blood pressure-lowering agents) can mask the symptoms of hypoglycemia
(low blood sugar).
3. Can I use the medicine during pregnancy?
Answer- Tenoric 25 Tablet is unsafe to use during pregnancy as there is definite
evidence of risk to the developing baby. However, the doctor may rarely prescribe it in
some life-threatening situations if the benefits are more than the potential risks. Please
consult your doctor.