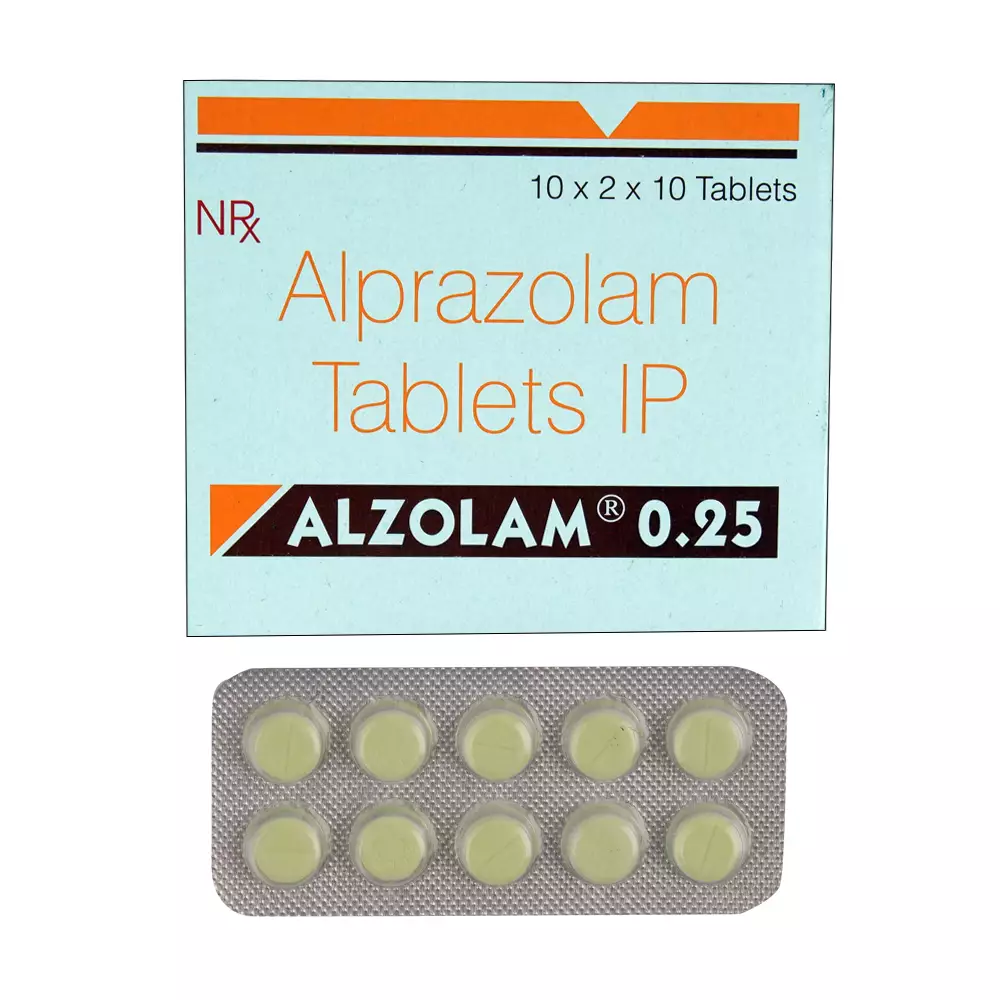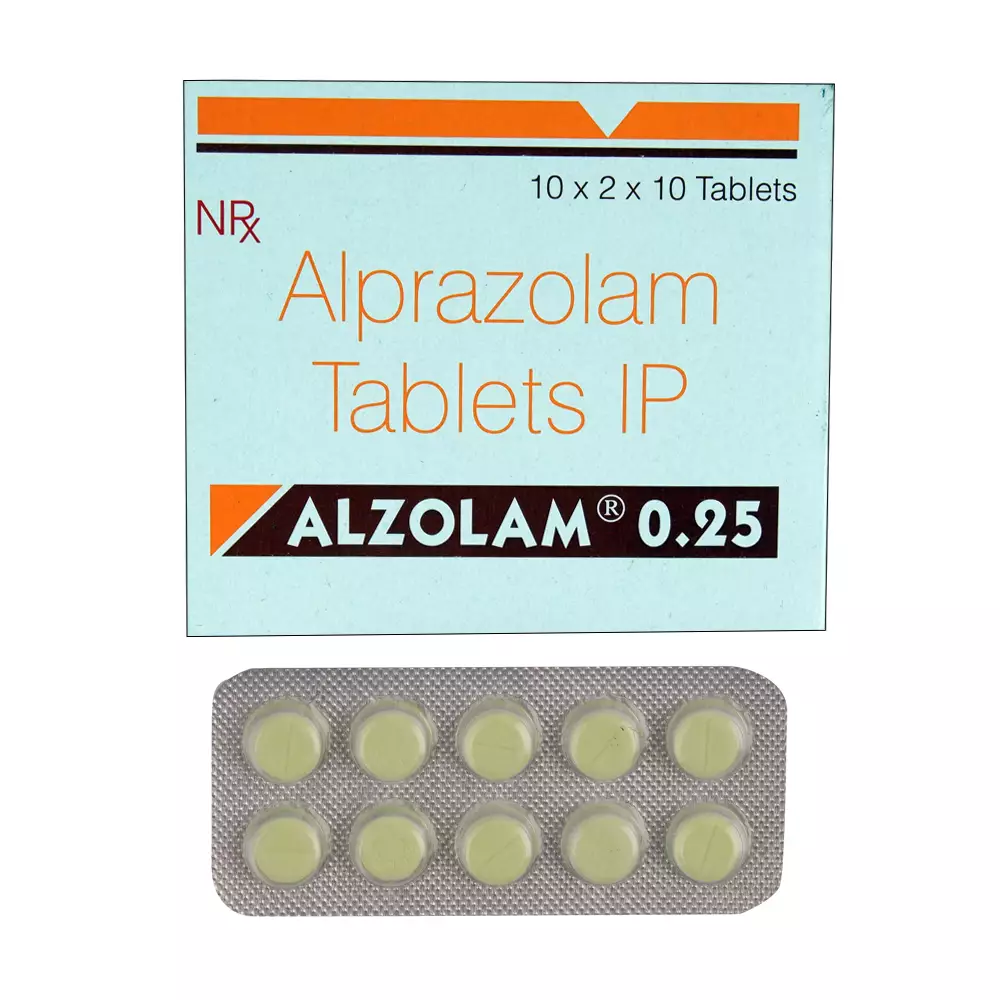 ALZOLAM 0.25MG 10TAB
Brand: Wellness Forever
14 Reviews
Rs. 17.45

Prescription required on this product.
Support 24/7

Call us anytime

100% Safety

Only secure payments

Hot Offers

Discounts up to 80%
Key Ingredients
Alprazolam (0.25mg)
Storage- Keep it in cool and dry place below 30°C
Consume Type- Oral
Description
Alzolam 0.25mg belongs to a class of medicines known as benzodiazepines. It is used to treat anxiety. It alters brain activity, calms it, and provides relief from panic attacks by relaxing the nerves. ALZOLAM 0.25mg reduces anxiety/panic, by decreasing abnormal and excessive excitement of nerve cells in the brain. It works by increasing the activity of GABA (a chemical messenger in the brain that acts as a natural nerve-calming agent). Thereby, ALZOLAM 0.25mg relaxes muscles, reduces anxiety, produces a feeling of calm, and helps to fall asleep.
Key Benefits
Anxiety disorder,
Panic disorder
Directions for use
It should be taken as directed by your doctor and in the prescribed quantity.
Swallow it as a whole with a glass of water with or without food. Do not cut, break or chew the medicine.
It would be best if you take it at a fixed time for optimal results.
Keep it away from the reach of children
Do not use expired medicine.
Safety Information
Tell the doctor about the medicines, supplements, or herbals you are currently taking or might take to avoid possible interaction.
If you have missed any dose, take it as soon as you remember. If it is time for the next dose, skip the missed dose and continue your regular dosing schedule.
The addiction / habit-forming potential of this medicine is very high. Take it only as per the dose and duration advised by your doctor. Do not take for prolong time.
It may cause dizziness. Do not drive or do anything that requires mental focus until you know how this medicine affects you.
Avoid consuming alcohol as it may increase dizziness and drowsiness.
Inform your doctor if you are pregnant, planning to conceive or breastfeeding.
Do not stop taking medication suddenly without talking to your doctor as that may lead to nausea, anxiety, agitation, flu-like symptoms, sweating, tremor, and confusion.
Do regular exercise and maintain healthy body weight.
Side effects-
It is not necessary for everyone to experience the side effects. In case of any discomfort, consult your doctor.
Changes in pattern of speech
Unsteadiness
Loss of coordination
Drowsiness
Blurred vision
Abdominal pain
Difficult or painful urination
Headache
Chest pain
Sleeplessness
Irregular menstrual periods
Decreased appetite
Weight loss
Double vision
Sudden sweating
Heartburn
1. Is Alzolam 0.25mg Tablet addictive (habit-forming)?
Answer- Yes, the use of Alzolam 0.25mg Tablet has addictive potential. Its use is
associated with the risk of addiction for physical or psychological effects. The abrupt
discontinuation of Alzolam 0.25mg Tablet is therefore not advised to avoid serious
withdrawal symptoms.
2. Is the medicine safe during the pregnancy?
Answer- No, ALZOLAM 0.25mg is not recommended for use during pregnancy as it
may cause adverse effects in the baby such as changes in heart rate, movements,
muscle weakness, breathing problems, drowsiness, or drop in body temperature. If you
are pregnant or planning for pregnancy, please inform your doctor.
3. Is Alzolam 0.25mg Tablet an opioid?
Answer- No, Alzolam 0.25mg Tablet is not an opioid, it belongs to a class of substances
called benzodiazepines.
4. Can I take ALZOLAM 0.25mg for heart palpitations?
Answer- No; Alzolam 0.25 mg is not indicated for the treatment of heart palpitations.
However, it may help in reducing heart palpitation associated with anxiety. ALZOLAM
0.25mg should always be taken only when advised by your doctor.