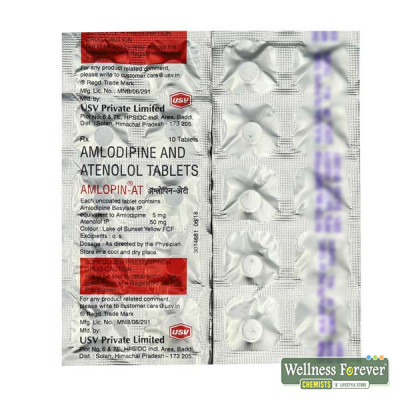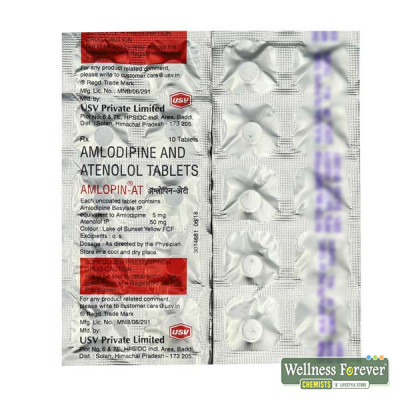 AMLOPIN-AT 10TAB
Brand: Wellness Forever
14 Reviews
Rs. 77.75

Prescription required on this product.
Support 24/7

Call us anytime

100% Safety

Only secure payments

Hot Offers

Discounts up to 80%
AMLOPIN AT Tablet contains Amlodipine (a calcium channel blocker) and Atenolol (a beta-blocker). Amlodipine acts by relaxing and widening the constricted the blood vessels. This ultimately reduces the heart's workload and makes the heart more efficient at pumping blood throughout the body. Atenolol works by blocking stress hormones like adrenaline and epinephrine,thereby slowing down the increased heart rate. Thus, it collectively helps lower raised blood pressure, reducing the chances of heart attack or stroke in future.

Key Benefits
Treatment of Hypertension (high blood pressure)
Direction/dosage
Take this medicine in the dose and duration as advised by your doctor.
Swallow it as a whole.
Do not chew, crush or break it.
Amlopin-AT Tablet is to be taken on empty stomach.
Storage
Store in a cool and dry place away from sunlight
Safety Precautions
Try to include heart-healthy omega 3 fatty acid containing food drinks in your daily diet.
A sudden drop in your blood pressure may occur, especially when you first start taking Amlopin-AT Tablet. To lower the chance of feeling dizzy or passing out, rise slowly if you have been sitting or lying down.
It can cause ankle or foot swelling. To reduce the swelling, raise your legs while you are sitting down. Talk to your doctor if it does not go away.
It may cause dizziness. Do not drive or perform any activity that requires mental focus until you know how Amlopin-AT Tablet affects you.
Inform your doctor if you are pregnant, planning a pregnancy or breastfeeding.
Do not take if you are allergic or hypersensitive to Amlodipine or to any other ingredients in this medicine.
AMLOPIN-AT is not recommended in patients with severe heart disease. Consult your doctor for advice.
Side effects
Nausea
Sleepiness
Ankle swelling
Headache
Palpitations
Cold extremities
Flushing (sense of warmth in the face, ears, neck, and trunk)
Slow heart rate
Oedema (swelling)
Constipation
Tiredness
FAQ

1. Can I take Amlopin AT when my blood pressure is under control?
Answer- No, you are advised to inform your doctor and monitor your blood pressure for at least two weeks before stopping the medicine. Depending upon your current blood pressure readings, there is a possibility your doctor may lower your medicine dosage and not recommend discontinuing it. If you suddenly stop taking AMLOPIN AT TABLET, it may cause a jump in blood pressure, chest pain, or can even lead to a heart attack.

2. WHAT IF YOU FORGET TO TAKE AMLOPIN-AT TABLET?
Answer- If you miss a dose of Amlopin-AT Tablet, take it as soon as possible. However, if it is almost time for your next dose, skip the missed dose and go back to your regular schedule. Do not double the dose.

3. What should I avoid while taking AMLOPIN-AT ?
Answer- Consult your doctor first before starting any new prescription or non-prescription medicines or supplements. Follow low sodium and low-fat diet and adhere to the lifestyle changes as advised by your doctor. Drinking grapefruit juice and taking grapefruit should be avoided while taking this medicine.
At Second Medic, we offer a wide range of high-quality pharmacy products to support our patients' health and wellbeing. Each of our pharmacy products is carefully selected to meet the diverse needs of our patients, and we are dedicated to providing personalized and compassionate care to ensure that our patients receive the right medication at the right dosage.
Our prescription medication products are available to patients who have been prescribed medication by their physician. Our experienced pharmacists work closely with our patients' physicians to ensure that they receive the right medication at the right dosage, and they are available to answer any questions or concerns that our patients may have about their medication. We also offer prescription refill reminders and prescription delivery services to make it easier for our patients to manage their medication regimen.
In addition to prescription medication, we also offer a wide range of over-the-counter medication and supplements to support our patients' overall health and wellbeing. Our pharmacy is stocked with a comprehensive selection of products to meet the diverse needs of our patients, including vitamins, pain relievers, allergy medication, and more. Our knowledgeable pharmacists are available to help our patients find the right products for their needs and to answer any questions they may have about over-the-counter medication or supplements.
At Second Medic, we understand that medical supplies can also play an important role in our patients' health and wellbeing. That's why we offer a wide range of medical supplies, including wound care products, diabetic supplies, and more. Our knowledgeable pharmacists are available to help our patients find the right medical supplies for their needs and to answer any questions they may have about their use.
We are committed to ensuring that our patients have access to the highest quality pharmacy products available. Contact us today to learn more about our comprehensive selection of pharmacy products and how we can support your ongoing medical care.