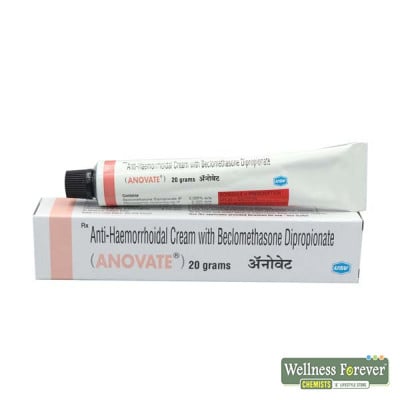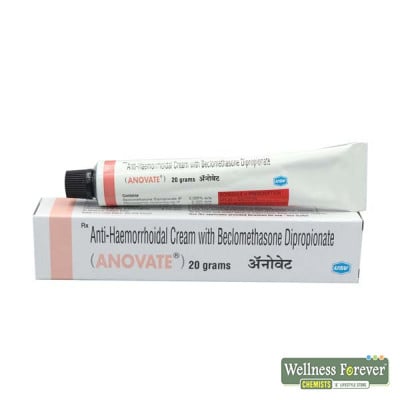 ANOVATE CREAM 20GM
Brand: Wellness Forever
14 Reviews
Rs. 122.00

Prescription required on this product.
Support 24/7

Call us anytime

100% Safety

Only secure payments

Hot Offers

Discounts up to 80%
Key Ingredients
Phenylephrine (0.10% w/w) + Beclometasone (0.025% w/w) + Lidocaine (2.50% w/w)
Storage- Keep it in cool and dry place below 30°C
Consume Type- External use
Description
Anovate Cream is a combination medicine used for the treatment of piles (hemorrhoids). It relieves the pain, swelling, itching, and discomfort associated with passing of stools in people who suffer this problem in the anal area. Anovate Cream is a combination of Phenylephrine, Beclometasone and Lidocaine, which treats piles. Phenylephrine is a decongestant which shrinks the blood vessels in the affected area of skin and decreases swelling. Beclometasone is a steroid which blocks the production of certain chemical messengers (prostaglandins) that make the skin red, swollen and itchy. Lidocaine is a local anesthetic which works by blocking pain signals from the nerves to the brain thereby decreasing pain sensation.
Key Benefits
Directions for use
It should be taken as directed by your doctor and in the prescribed quantity.
Keep it away from the reach of children
Do not use expired medicine.
For external use only. Read the instruction on the label carefully before use.
Wash your hands before and after using this cream.
Avoid direct contact of the container with the wound. Use an applicator if the internal application is required.
Safety Information
Tell the doctor about the medicines, supplements, or herbals you are currently taking or might take to avoid possible interaction.
Do not use it on damaged or infected areas of skin.
Stop using Anovate Cream and inform your doctor if you experience any bleeding from the back passage or irritation at the application site.
Use it as per the dose and duration advised by your doctor. Overuse may result in increased side effects.
Side effects-
It is not necessary for everyone to experience the side effects. In case of any discomfort, consult your doctor.
Application site reactions (burning, irritation, itching and redness) Shweta Atheeshwar
Verified Buyer
this product is very effective and it has helped me a lot. Wahida Suresh
Verified Buyer Mahesh Batham
Verified Buyer Smt.Kamla Devi
Verified Buyer
Received in good condition. Rashmi TN
Verified Buyer
I am so glad I found this medicine!
Answer- Piles, also known as haemorrhoids, are simply swollen blood vessels in your
rectal area or anus. Swollen blood vessels can cause severe pain or an itchy sensation.
This sensation can be very stressful and irritating. Anovate Cream is an effective
treatment in piles.
Answer- No, you should avoid applying more Anovate cream than what is prescribed.
Applying more than the necessary amount would cause more of it to be absorbed
through the skin into the bloodstream and cause an overdose of its components causing
side effects.
Answer- Consume a diet with good amounts of fibre, as it can improve the passage of
bowels. Consume whole grains, leafy vegetables, lentils and fruits. Avoid binge drinking
and smoking and drink plenty of water. Avoid lifting heavy weights as it can put pressure
on the anal area.
Answer- It is advised that you should not use this cream for more than 14 days at a
stretch, as it may cause thinning of the skin in the area of application. Nonetheless,
every medicine should be used for the duration as prescribed by your doctor.
Answer-No, it is not effective in fungal infection. Anovate cream is used to treat pain and
bleeding in conditions like anal fissures (ulcers) and piles.
At Second Medic, we offer a wide range of high-quality pharmacy products to support our patients' health and wellbeing. Each of our pharmacy products is carefully selected to meet the diverse needs of our patients, and we are dedicated to providing personalized and compassionate care to ensure that our patients receive the right medication at the right dosage.
Our prescription medication products are available to patients who have been prescribed medication by their physician. Our experienced pharmacists work closely with our patients' physicians to ensure that they receive the right medication at the right dosage, and they are available to answer any questions or concerns that our patients may have about their medication. We also offer prescription refill reminders and prescription delivery services to make it easier for our patients to manage their medication regimen.
In addition to prescription medication, we also offer a wide range of over-the-counter medication and supplements to support our patients' overall health and wellbeing. Our pharmacy is stocked with a comprehensive selection of products to meet the diverse needs of our patients, including vitamins, pain relievers, allergy medication, and more. Our knowledgeable pharmacists are available to help our patients find the right products for their needs and to answer any questions they may have about over-the-counter medication or supplements.
At Second Medic, we understand that medical supplies can also play an important role in our patients' health and wellbeing. That's why we offer a wide range of medical supplies, including wound care products, diabetic supplies, and more. Our knowledgeable pharmacists are available to help our patients find the right medical supplies for their needs and to answer any questions they may have about their use.
We are committed to ensuring that our patients have access to the highest quality pharmacy products available. Contact us today to learn more about our comprehensive selection of pharmacy products and how we can support your ongoing medical care.
Get Quick Consultation & Support
Chat with Whatsapp