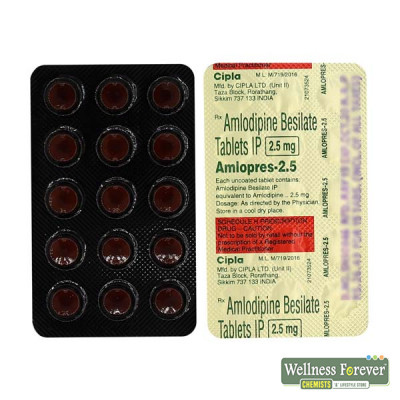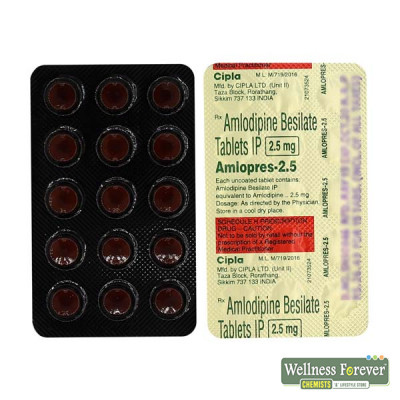 AMLOPRES 2.5MG 15TAB
Brand: Wellness Forever
14 Reviews
Rs. 26.98

Prescription required on this product.
Support 24/7

Call us anytime

100% Safety

Only secure payments

Hot Offers

Discounts up to 80%
Amlopres 2.5 Tablet belongs to a class of medicines known as calcium channel blockers. It is used to treat high blood pressure (hypertension) and prevent angina (heart-related chest pain). It lowers blood pressure and reduces the heart's workload, which helps prevent heart attacks and strokes. Amlopres-2.5 Tablet 10's may be prescribed alone or in combination with other blood pressure lowering medicines depending upon your blood pressure levels.

Key Benefits
High blood pressure (hypertension),
Heart related chest pain (angina),
Prevention of heart attack.
Direction/dosage
Amlopres- 2.5Tablet 10's can be taken orally with or without food or as prescribed by your doctor.
Swallow the whole tablet with approximately a glass of water.
Do not crush, chew or break it.
Try to take it at the same day every day.
Do not stop or skip the medicine without physician's advice.
Do not consume more than the prescribed quantity.
Storage
Store in a cool and dry place away from sunlight
Keep away from the children Do not use expired medication.
Safety Precautions
Take it at the same time every day to help you remember to take it.
A sudden drop in your blood pressure may occur, especially when you first start taking Amlopres 2.5 Tablet. To lower the chance of feeling dizzy or passing out, rise slowly if you have been sitting or lying down.
It can cause ankle or foot swelling. To reduce the swelling, raise your legs while you are sitting down. Talk to your doctor if it does not go away.
It may cause dizziness. Do not drive or perform any activity that requires mental focus until you know how Amlopres 2.5 Tablet affects you.
Inform your doctor if you are pregnant, planning a pregnancy or breastfeeding.
Keep your weight under control
Do regular physical activity or exercise
Opt for diet rich in whole grains, fruits, veggies and low-fat dairy products.
Limit intake of sodium chloride (table salt) in your daily diet
If allergic to this medicine, inform the physician immediately. If you find any other complication inform the physician immediately.
Side effects
Most side effects do not require any medical attention consult your doctor if
they persist or if you're worried about them.
Headache
Fatigue
Nausea
Abdominal pain
Sleepiness
FAQ

1. Should I take Amlopres 2.5 Tablet in the morning or at night?
Answer- Amlopres 2.5 Tablet can be taken anytime of the day. Usually, it is advised to be taken in the morning, but your doctor may advise to take it in the evening as well. You should take it at the same time each day so that you remember to take it and consistent levels of medicine are maintained in the body.
2. Will Amlopres 2.5 MG affect my fertility?
Answer- It's unlikely that Amlopres-2.5 Tablet 10's affects fertility in men or women. However, there's not enough evidence to say for certain. For best advise, consult your doctor.
3. How long can Amlopre 2.5 mg can be taken?
Answer- Amlopres-2.5 Tablet 10's can be safely taken as long as your doctor has prescribed it to you. Conditions such as high blood pressure are life-long conditions and one should not abruptly discontinue it without discussing it with a doctor.