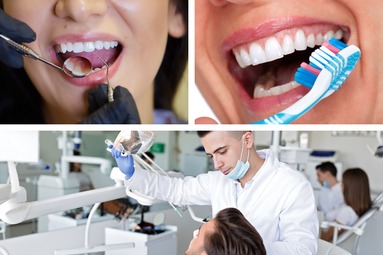 Mar 06,2023
By: SECONDMEDIC
The Benefits of Regular Dental Check-Ups and Cleanings: Why Prevention is Key for a Healthy Smile
Regular dental check-ups and cleanings are essential for maintaining good dental health.
Regular dental check-ups and cleanings are essential for maintaining good dental health. Here are some of the benefits of scheduling regular visits to your dentist:
 
1.Preventing Dental Problems: Regular check-ups and cleanings can help prevent dental problems before they start. Your dentist can identify early signs of tooth decay, gum disease, and other issues and provide treatment to prevent them from getting worse.
2. Early Detection of Oral Cancer: Oral cancer screenings are often part of a routine dental check-up. Catching oral cancer early increases the chances of successful treatment and recovery.
3. Saving Money: Preventative dental care can save you money in the long run. By catching dental problems early, you can avoid the need for more extensive and expensive procedures later on.
4. Improving Overall Health: Poor dental health has been linked to a number of health problems, including heart disease, stroke, and diabetes. Regular dental check-ups can help prevent these health issues by promoting good oral hygiene and identifying potential problems early.
5. Maintaining a Healthy Smile: Regular cleanings help remove plaque and tartar buildup, which can lead to tooth decay and gum disease. This helps keep your teeth and gums healthy and your smile looking its best.
6. Addressing Bad Breath: Regular dental check-ups can also help address bad breath, also known as halitosis. Your dentist can identify the underlying cause of your bad breath and provide treatment or recommendations to help improve it.
7. Personalized Oral Hygiene Advice: Your dentist can provide personalized advice on how to best care for your teeth and gums based on your individual needs. This includes advice on brushing and flossing techniques, as well as recommendations for dental products that may be beneficial.
8. Monitoring the Development of Wisdom Teeth: Wisdom teeth can cause a range of dental problems if they become impacted or don't grow in properly. Regular dental check-ups can help your dentist monitor the development of your wisdom teeth and identify any potential issues early.
9. Addressing Dental Anxiety: Many people experience anxiety or fear when visiting the dentist. Regular check-ups can help you become more comfortable with the dental environment and build trust with your dentist, making future visits less stressful.
10. Establishing a Relationship with Your Dentist: Regular dental check-ups allow you to establish a relationship with your dentist, which can be beneficial in the event of a dental emergency or unexpected problem. Having a dentist who knows your dental history and is familiar with your individual needs can help ensure that you receive the best possible care.
Our Services
Request A Callback
Recent Posts
Request a Callback