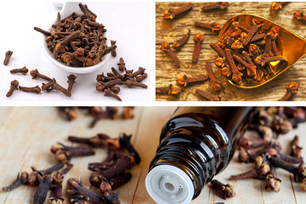 Published on: Mar 20, 2023
1 minute read
By: SECONDMEDIC. EXPERT
10 Surprising Health Benefits Of Cloves: From Pain Relief To Immune Boosting
Clove, a popular spice derived from the dried flower buds of the clove tree, is not only a culinary delight but also a powerhouse of health benefits. This small yet mighty spice has been used for centuries in traditional medicine to treat a variety of ailments, from toothaches to respiratory infections.
In this blog post, we will explore 10 surprising health benefits of cloves that you may not have known about.
Pain Relief: Cloves contain a compound called eugenol, which has powerful pain-relieving properties. It can help alleviate headaches, toothaches, and muscle pain.

Digestive Health: Cloves can aid digestion by promoting the production of digestive enzymes and reducing inflammation in the gut. They can also help relieve nausea, bloating, and gas.

Oral Health: Eugenol in cloves has antibacterial and anti-inflammatory properties that make it effective in combating oral health issues like bad breath, gum disease, and tooth decay.

Immune Boosting: Cloves are rich in antioxidants, which help strengthen the immune system and protect against infections.

Anti-Inflammatory: Cloves contain compounds that have anti-inflammatory properties and can help reduce inflammation throughout the body.

Diabetes Management: Cloves can help regulate blood sugar levels by improving insulin sensitivity and reducing insulin resistance.

Respiratory Health: The essential oil in cloves can help ease respiratory issues like cough, cold, and asthma by reducing inflammation and clearing the airways.

Cancer Prevention: Cloves contain compounds that have been shown to have anti-cancer properties, which can help prevent the growth and spread of cancer cells.

Skin Health: Cloves have antimicrobial and anti-inflammatory properties that can help treat skin issues like acne, eczema, and psoriasis.

Mood Booster: The aroma of cloves has a calming effect on the mind and can help relieve stress and anxiety.
Our Services
Request A Callback
Recent Posts