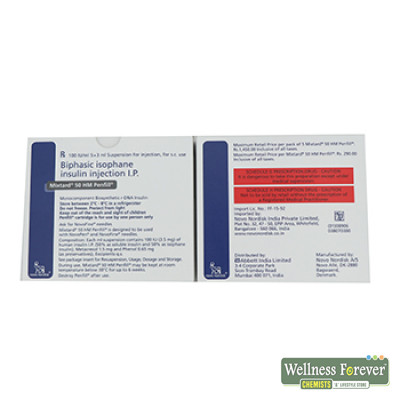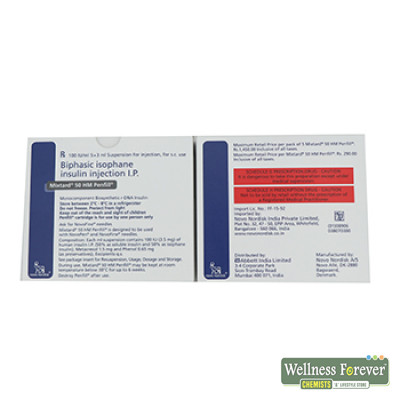 MIXTARD 50HM PENFILL 5X3ML
Brand: Wellness Forever
14 Reviews
Rs. 1595.00

Prescription required on this product.
Support 24/7

Call us anytime

100% Safety

Only secure payments

Hot Offers

Discounts up to 80%
Key Ingredients
Insulin Isophane/NPH (50%) + Human Insulin/Soluble Insulin (50%)
Storage- Keep it in cool and dry place in refrigerator (2°C–8°)
Consume Type- Subcutaneous Inj
Description
Mixtard 50 HM Penfill is a combination of two medicines, an intermediate-acting and a short-acting type of insulin. It is used in the treatment of diabetes mellitus (type 1 and 2) to improve blood sugar control both in adults and children. It helps maintain the blood sugar levels in diabetic patients. Insulin Isophane / NPH has a prolonged duration of action, while human insulin / soluble insulin has a fast onset of action. Together, they ensure rapid and consistent sugar control by facilitating reuptake of sugar in muscle and fat cells and suppressing the production of sugar in the liver.
Key Benefits
Directions for use
It should be taken as directed by your doctor and in the prescribed quantity.
Your doctor or nurse will give you this medicine. Kindly do not self administer.
It would be best if you take it at a fixed time for optimal results.
Keep it away from the reach of children
Do not use expired medicine.
Safety Information
Tell the doctor about the medicines, supplements, or herbals you are currently taking or might take to avoid possible interaction.
If you have missed any dose, take it as soon as you remember. If it is time for the next dose, skip the missed dose and continue your regular dosing schedule.
Injection below the skin of the abdomen results in faster absorption than other injection sites such as skin of the upper arms, thighs, or buttocks. After injection, the site of injection should not be massaged.
Injection sites must be rotated to prevent hard lumps from developing at one site.
Change to another type or brand of insulin should be done under strict medical supervision as it may require a change in dosage.
Hypoglycemia (low blood sugar level) may occur when taken along with other antidiabetic medicines, alcohol or on delaying/skipping a meal. Carry a sugar source with you for immediate relief.
Do not share your insulin device with other people, even if the needle has been changed. You may give other people a serious infection or get a serious infection from them.
Have healthy food and do regular exercises.
Monitor blood sugar levels.
Avoid alcohol and try to quit smoking.
Side effects-
It is not necessary for everyone to experience the side effects. In case ofn any discomfort, consult your doctor.
Hypoglycemia (low blood glucose level)
Injection site reactions (pain, swelling, redness)
?Weight gain
1. Which is the best area to inject Mixtard 50 HM Penfill?
Answer- Mixtard 50 HM Penfill is to be injected under the skin (subcutaneously). The
best areas to give Mixtard 50 HM Penfill are your stomach, upper thigh, upper arm or
buttocks.
2. What are the symptoms of high blood sugar?
Answer- Symptoms of high blood sugar include frequent urination, increased thirst,
fatigue, nausea, vomiting, and shortness of breath, stomach pain, fruity breath odor, dry
mouth and a fast heartbeat.
3. Does Mixtard 50 HM Penfill cause hypoglycemia (low blood glucose levels)?
Answer- It may sometimes lower the blood glucose levels more than normal, leading to
hypoglycemia. Regularly monitor your blood sugar levels while taking Mixtard 50 HM
Penfill. Hypoglycemia symptoms include headache, drowsiness, cold sweat, feeling
sick, unusual tiredness or weakness, and visual disturbances.
4. Can I stop taking Mixtard 50 HM Penfill on my own?
Answer- Do not stop taking Mixtard 50 HM Penfill without consulting your doctor on your
own as it may cause an increase in blood glucose levels. Continue taking it for as long
as your doctor has prescribed it to you. Do not be reluctant to speak with your doctor if
you experience any difficulty while taking Mixtard 50 HM Penfill.