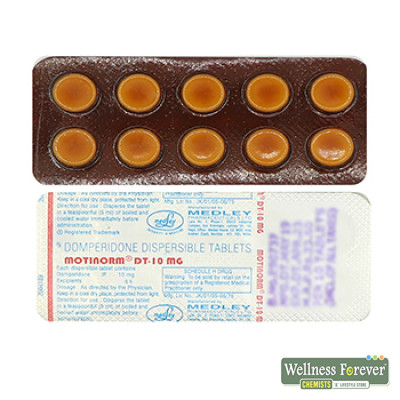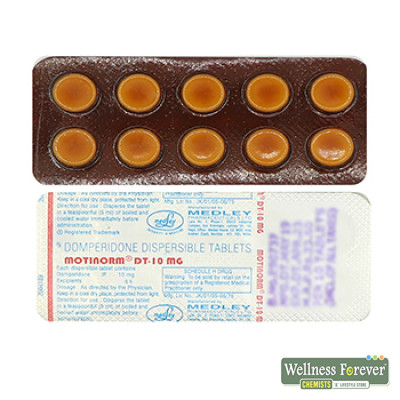 MOTINORM 10DT 10TAB
Brand: Wellness Forever
14 Reviews
Rs. 23.90

Prescription required on this product.
Support 24/7

Call us anytime

100% Safety

Only secure payments

Hot Offers

Discounts up to 80%
Key Ingredients
Domperidone (10mg)
Storage- Keep it in cool and dry place below 30°C
Consume Type- Oral
Description
Motinorm 10DT tablets contain domperidone as its active ingredient. It is used to prevent nausea, vomiting and indigestion. It also increases the movement of food into the stomach, thus helps in the digestion of food. This medicine is designed for children'suse only.
Motinorm 10 DT is a prokinetic. It works on the region in the brain that controls vomiting. It also acts on the upper digestive tract to increase the movement of the stomach and intestines, allowing food to move more easily through the stomach.
Key Benefits
Treatment of Indigestion
Treatment of Nausea
Treatment of Vomiting
Directions for use
It should be taken as directed by your doctor and in the prescribed quantity.
Dissolve in a glass of water and have it
Keep it away from the reach of children
Do not use expired medicine.
Safety Information
Tell the doctor about the medicines, supplements, or herbals you are currently taking or might take to avoid possible interaction.
If you have missed any dose, take it as soon as you remember. If it is time for the next dose, skip the missed dose and continue your regular dosing schedule.
It may cause dizziness and sleepiness. Do not drive or do anything that requires mental focus until you know how it affects you.
Dry mouth may occur as a side effect. Frequent mouth rinses, good oral hygiene, increased water intake and sugarless candy may help.
Inform your doctor if you get watery diarrhea, fever, or stomach pain that does not go away.
Do not take it for longer than 7 days without consulting your doctor.
Side effects-
It is not necessary for everyone to experience the side effects. In case of any discomfort, consult your doctor.
Headache
Dryness in mouth
Stomach pain
Diarrhea
1. Can Motinorm 10 DT cause dry mouth?
Answer-Yes, Motinorm 10DT can cause dry mouth. In case you feel excessively thirsty,
please increase your fluid intake and do frequent mouth rinses.
2. What if I forget to take Motinorm 10 DTl?
Answer- If you miss a dose, take your medicine as soon as you remember. If it is almost
time for your next dose, wait until that is due and continue as usual. Do not take a
double dose to make up for a forgotten dose.
3. What will happen if I have taken too much Motinorm 10DT?
Answer- If you or someone else have taken too much of Motinorm Drops 5 ml, contact
your doctor or nearest hospital casualty department.