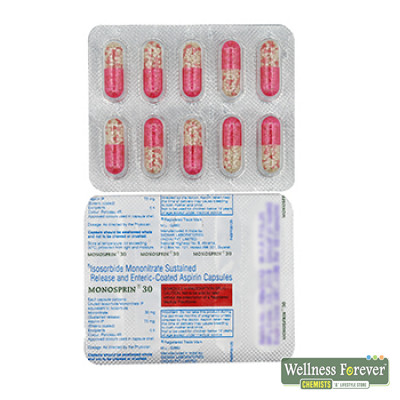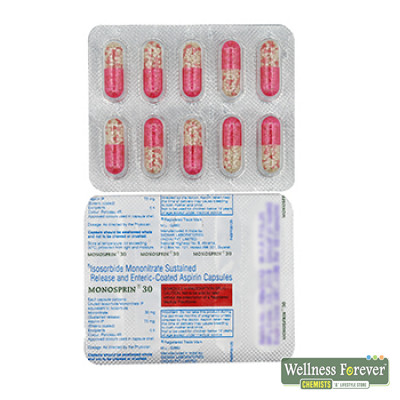 MONOSPRIN 30MG 10CAP
Brand: Wellness Forever
14 Reviews
Rs. 17.75

Prescription required on this product.
Support 24/7

Call us anytime

100% Safety

Only secure payments

Hot Offers

Discounts up to 80%
Key Ingredients
Isosorbide Mononitrate (30mg) + Aspirin (75mg)
Storage- Keep it in cool and dry place below 30°C
Consume Type- Oral
Description
Monosprin 30 Capsule is used in the treatment of angina (heart-related chest pain). It is a combination of two medicines that are helpful in preventing future episodes of angina.
MONOSPRIN 30MG is a combination of medication containing Isosorbide Mononitrate and aspirin. Isosorbide Mononitrate is a powerful vasodilator (widens blood vessels). It works by the formation of the free radical nitric oxide (NO) inside our body which leads to relaxation of muscles of blood vessels especially of heart leading to proper blood flow towards heart muscle which has been working under immense pressure due to decreased blood flow to it. Aspirin has an antithrombotic action that interferes with platelet functioning and does not let them stick together, thus helping to prevent or reduce blood clots.
Key Benefits
Angina (heart-related chest pain)
Directions for use
It should be taken as directed by your doctor and in the prescribed quantity.
Swallow it as a whole with a glass of water with food. Do not cut, break or chew the medicine.
It would be best if you take it at a fixed time for optimal results.
Keep it away from the reach of children
Do not use expired medicine.
Safety Information
Tell the doctor about the medicines, supplements, or herbals you are currently taking or might take to avoid possible interaction.
If you have missed any dose, take it as soon as you remember. If it is time for the next dose, skip the missed dose and continue your regular dosing schedule.
Monosprin 30 Capsule may cause dizziness, rise slowly if you have been sitting or lying down.
Let your doctor know you are taking it before undergoing any surgical procedure.
It may increase your risk of bleeding. Be careful while shaving, cutting nails, using sharp objects, or engaging in contact sports (e.g. football, wrestling).
Avoid vigorous physical activity that may aggravate anginal attack.
Avoid smoking and avoid alcohol.
A patient should avoid places where airflow is restricted.
Exercise, walking, running helps to control cholesterol levels and blood pressure, which in turn improves heart health.
Side effects-
It is not necessary for everyone to experience the side effects. In case of any discomfort, consult your doctor.
? Increased bleeding tendency
Stomach pain
Diarrhea
Headache
Fatigue
Indigestion
Upper respiratory tract infection
Dizziness
Itching
Flushing of skin anuj dhakad
Verified Buyer
Good constitute contain all the necessary ingredient. Jyoti Bali
Verified Buyer B Ashok Reddy
Verified Buyer P. Suganya Devi
Verified Buyer
Product is very affordable and it is a great value for the price. Abhishtita Mudunuri
Verified Buyer
Good product, value for money.
Answer- It can induce headache, spinning sensation, blurry vision, fainting or passing
out if you take more than the prescribed dose of the medicine. Seek emergency
treatment and seek urgent consultation with your doctor if you are taking more than the
prescribed dosage of this drug.
Answer- It should not be taken before doing any physical workout to prevent angina
pain. A person should consult with the doctor to know the right time of taking
MONOSPRIN 30MG TABLET.
Answer- Yes, MONOSPRIN 30MG can cause a headache. Please increase fluid intake
as it is known to decrease headache when taking the medicine. If the problem persists,
consult your doctor and do as advised.
Answer- MONOSPRIN 30MG is not advised in patients with severe anaemia, and one
should tell their doctor if they have this condition.
Answer- A person who is already taking phosphodiesterase type 5 (PDE-5) inhibitors,
such as avanafil, sildenafil, tadalafil, or vardenafil, should not consume MONOSPRIN
30MG as it may cause serious side effects in the body.
At Second Medic, we offer a wide range of high-quality pharmacy products to support our patients' health and wellbeing. Each of our pharmacy products is carefully selected to meet the diverse needs of our patients, and we are dedicated to providing personalized and compassionate care to ensure that our patients receive the right medication at the right dosage.
Our prescription medication products are available to patients who have been prescribed medication by their physician. Our experienced pharmacists work closely with our patients' physicians to ensure that they receive the right medication at the right dosage, and they are available to answer any questions or concerns that our patients may have about their medication. We also offer prescription refill reminders and prescription delivery services to make it easier for our patients to manage their medication regimen.
In addition to prescription medication, we also offer a wide range of over-the-counter medication and supplements to support our patients' overall health and wellbeing. Our pharmacy is stocked with a comprehensive selection of products to meet the diverse needs of our patients, including vitamins, pain relievers, allergy medication, and more. Our knowledgeable pharmacists are available to help our patients find the right products for their needs and to answer any questions they may have about over-the-counter medication or supplements.
At Second Medic, we understand that medical supplies can also play an important role in our patients' health and wellbeing. That's why we offer a wide range of medical supplies, including wound care products, diabetic supplies, and more. Our knowledgeable pharmacists are available to help our patients find the right medical supplies for their needs and to answer any questions they may have about their use.
We are committed to ensuring that our patients have access to the highest quality pharmacy products available. Contact us today to learn more about our comprehensive selection of pharmacy products and how we can support your ongoing medical care.
Get Quick Consultation & Support
Chat with Whatsapp