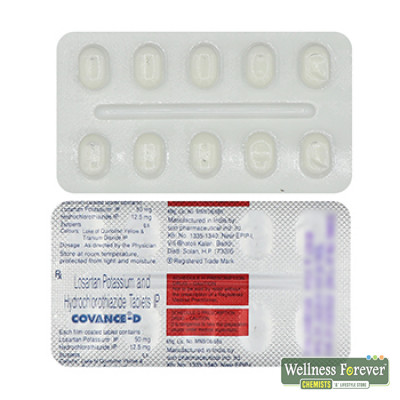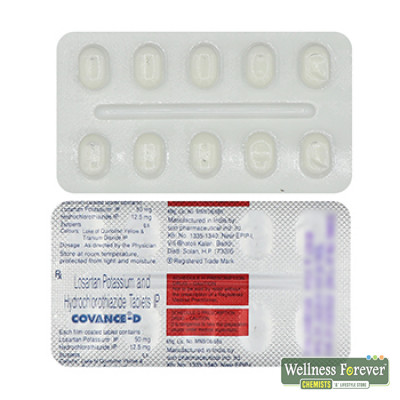 COVANCE-D 10TAB
Brand: Wellness Forever
14 Reviews
Rs. 119.50

Prescription required on this product.
Support 24/7

Call us anytime

100% Safety

Only secure payments

Hot Offers

Discounts up to 80%
Losartan is a angiotensin II antagonist used for the treatment of hypertension, diabetic nephropathy. It is a combination of Losartan (angiotensin II receptor antagonist) and Hydrochlorothiazide (thiazide diuretic or water pill). Losartan is an angiotensin receptor blocker that helps to relax and widen the blood vessels (arteries) for easy blood flow to the whole body. Hydrochlorothiazide is a diuretic  that prevents absorption of excess salt in the body, preventing fluid retention. Together it lowers blood pressure and prevents the risk of stroke, heart attack, and edema (fluid overload).
Benefits
 Treatment of Hypertension (high blood pressure)
 Treatment of Heart failure
 Prevention of heart attack and stroke
COVANCE- D 10 TAB Offer At SecondMedic:
We at Secondmedic ensure that you get good health products at affordable price. Hence, we give you best offer that you can get online for COVANCE-D 10 TAB. 

  If you are booking this product, then you can book at Rs 07.20/- OFF.
Direction for use
 Use COVANCE-D TABLET only when prescribed by a doctor. A
 Always take COVANCE-D TABLET exactly as your doctor advised you. Your doctor will advise you how often you take your tablets on the basis of your medical condition.
 Take COVANCE-D TABLET irrespective of food with a glass of water daily at the same time for effective results.
 Do not crush, chew or break it.
Storage
 Keep it in cool and dry place
 Keep it away from the reach of children
 Do not use expired medicine.
Precaution
 The missed dose should be taken as soon possible. It is advisable to skip the missed dose if it's already time for your next scheduled dose.

 Seek emergency medical treatment or contact the doctor in case of overdose.

 Avoid taking anti-inflammatory medicines such as ibuprofen along with this medicine without consulting your doctor.

 Your doctor may get regular tests done to monitor the level of urea, creatinine, and potassium in your blood.

 It can make you feel dizzy for the first few days. Rise slowly if you havebeen sitting or lying down for a long time.

 Do not stop taking it suddenly without talking to your doctor.

 Avoid taking excess salt in your diet

 Do not take if you are allergic (hypersensitive) to Losartan or any ingredients of this medicine.
Side effects
 Nausea
 Taste change
 Upset stomach
 Diarrhea
 Headache
 Dizziness
 Weakness
 Decreased blood pressure
 Increased blood uric acid
 Increased blood lipid level
 Glucose intolerance
 Electrolyte imbalance
FAQ
1. Is it safe to consume alcohol while taking this medicine?
Answer- Consumption of alcohol is not recommended during treatment with this medicine due to the increased risk of side effects such as dizziness, lightheadedness, and fainting.
2. What are some of the lifestyle changes I should make while using Covance-D Tablet?
Answer- Lifestyle changes will cause a major change in keeping you healthy if you are taking Covance-D Tablet. Avoid taking excess salt in your diet and find ways to reduce or manage stress in your life. Practice yoga or meditation or take up a hobby. Ensure that you have a sound sleep every night as this also helps to reduce stress levels and help to keep your blood pressure normal. Stop smoking and alcohol consumption as this helps in lowering your blood pressure and preventing heart problems Consult your doctor if you need any further guidance.

3. For how long do I need to take Covance-D Tablet?
Answer- You may have to take Covance-D Tablet for a long term, even life long. Covance 50 Tablet only controls blood pressure but does not cure it. Talk to your doctor in case you have any concerns regarding Covance 50 Tablet, but do not stop taking it without consulting the doctor.
4. Can I use Covance-D Tablet in pregnancy?
Answer- No, Covance-D Tablet should be avoided in pregnancy. However if needed your Doctor will recommend the dose.
5. Can this medication cause increased blood potassium level?
Answer- Yes, prolonged intake of Covance D Tablet 10's can cause an increase in blood potassium level. So, patients taking Covance D Tablet 10's should avoid taking supplements and food rich in potassium to avoid any unpleasant side- effect.
At Second Medic, we offer a wide range of high-quality pharmacy products to support our patients' health and wellbeing. Each of our pharmacy products is carefully selected to meet the diverse needs of our patients, and we are dedicated to providing personalized and compassionate care to ensure that our patients receive the right medication at the right dosage.
Our prescription medication products are available to patients who have been prescribed medication by their physician. Our experienced pharmacists work closely with our patients' physicians to ensure that they receive the right medication at the right dosage, and they are available to answer any questions or concerns that our patients may have about their medication. We also offer prescription refill reminders and prescription delivery services to make it easier for our patients to manage their medication regimen.
In addition to prescription medication, we also offer a wide range of over-the-counter medication and supplements to support our patients' overall health and wellbeing. Our pharmacy is stocked with a comprehensive selection of products to meet the diverse needs of our patients, including vitamins, pain relievers, allergy medication, and more. Our knowledgeable pharmacists are available to help our patients find the right products for their needs and to answer any questions they may have about over-the-counter medication or supplements.
At Second Medic, we understand that medical supplies can also play an important role in our patients' health and wellbeing. That's why we offer a wide range of medical supplies, including wound care products, diabetic supplies, and more. Our knowledgeable pharmacists are available to help our patients find the right medical supplies for their needs and to answer any questions they may have about their use.
We are committed to ensuring that our patients have access to the highest quality pharmacy products available. Contact us today to learn more about our comprehensive selection of pharmacy products and how we can support your ongoing medical care.