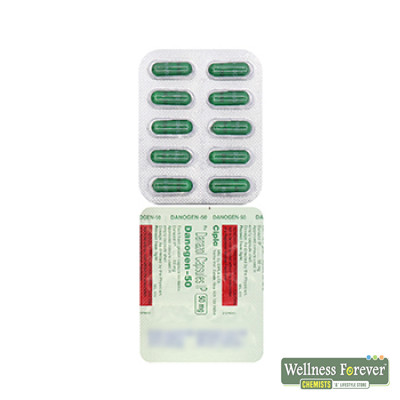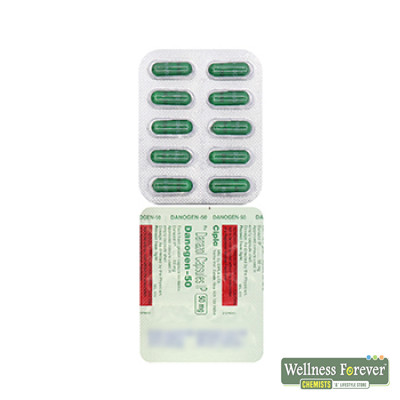 DANOGEN 50MG 10CAP
Brand: Wellness Forever
14 Reviews
Rs. 154.39

Prescription required on this product.
Support 24/7

Call us anytime

100% Safety

Only secure payments

Hot Offers

Discounts up to 80%
Danazol is a synthetic androgen (hormone), used to treat pain and infertility caused by endometriosis (a condition involving the tissue of the uterus) as well as in the treatment of cysts or lumps in the breast. Androgens are hormones produced by the male testes. They are responsible for the functioning of the male reproductive system and the development of the male characteristics, such as facial hair and a deep voice. The ovaries also produce small amounts of androgens.
Benefits
Endometriosis (where the tissue that normally lines your womb and is shed during your period grows outside your womb)

Painful or heavy periods (menorrhagia)

Painful breast disease but not malignant

Used for enlarged breasts (in both men and women)
Direction for use
Always take DANOGEN 50MG exactly as prescribed by your doctor.

Do not split, chew, or crush this medicine.

Swallow the medicine whole, with water.

Do not take in larger or smaller amounts than advised/prescribed or share this medicine with other people.
Storage
Keep it in cool and dry place

Keep it away from the reach of children
Do not use expired medicine.
Precaution
Do not drink alcohol during treatment with this medicine as it can make you feel sick or short of breath.

Inform your doctor immediately if you experience symptoms such as hair loss, marked increase in facial or body hair, voice change, altered vision, severe headache and vomiting, stabbing pains and/or unusual swelling in one leg, sudden breathlessness or sudden chest pain, while taking this medicine.

Do not take this medicine, if you are allergic (hypersensitive) to this medicine or any other ingredients in this medicine.

This medicine is not recommended for use in children and adolescent or in geriatric use.

Do not stop the use of this medicine without consulting your doctor.

Avoid refined carbohydrates that are high in sugars.
Side effects
Sore throat

Hoarse voice

Hair loss

Excessive hair growth on body or face

Stomach pain

Skin rashes

Chest pain
FAQ
1. What is DANOGEN 50MG used for in men?
Answer- It is used in both men and women to prevent attacks of angioedema of all types (cutaneous, abdominal, and laryngeal).
2. Is DANOGEN 50MG a steroid?
Answer- It is a synthetic steroid used to treat pelvic pain and infertility due to endometriosis and also to treat breast pain/tenderness/nodules due to fibrocystic breast disease.
3. Can Danogen 50 be taken during pregnancy or in breast feeding women?
Answer- This medicine is not recommended for use in pregnant or breast feeding women. Consult your physician.
4. Does the medication affect blood sugar levels?
Answer- Danogen 50 Capsule 10's may cause changes in blood sugar levels. Therefore, it is advised to regularly monitor blood sugar levels while taking Danogen 50 Capsule 10's and inform your doctor if you have diabetes.
5. How does Danogen 50 work?
Answer- Danogen-50 Capsule 10's contains Danazol that works by suppressing the activity of ovaries. Thus, it decreases the amount of oestrogen in the body and induces temporary menopause. Thereby, it shrinks the tissue outside the uterus or stops its growth.