Prescription required as per the Government regulations.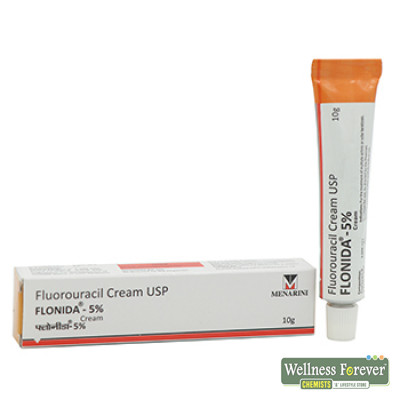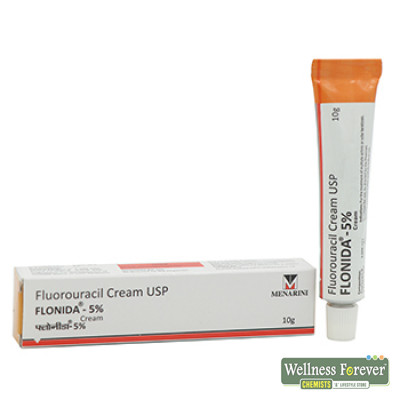 FLONIDA 5% CREAM 10GM
Rs. 224.00

Prescription required on this product.
Support 24/7

Call us anytime

100% Safety

Only secure payments

Hot Offers

Discounts up to 80%
Description
FLONIDA 5% contain Fluorouracil which belongs to a group of anti-cancer medicines. It works by interfering with the growth of genetic material (DNA and RNA) of the cancer cells. This prevents the cancer cells from multiplying and growing and eventually kills them. Flonida 5% Cream 10 gm is used as chemotherapy for colon cancer, esophageal (food pipe) cancer, stomach cancer, pancreatic cancer, breast cancer and cervical cancer. When you use this medicine, the area of the skin that you are treating will become red and you may also notice swelling, some discomfort, tearing of skin and will then heal. This shows that the medicine works.
Key Benefits
Flonida 5 % cream is used on the skin to treat pre-cancerous (may develop into cancer) and cancerous skin growth.
Direction for use
Clean and dry the affected area.
Then, apply a thin layer of the medicine to the affected area.
Wash your hands before and after use.
Use the medicine as recommended by your doctor.
For external use only
Apply it on a healthy skin surface. Avoid applying on cuts and wounds.
Safety Information
It may cause redness, dryness, burning, pain, erosion, and swelling that may continue for two or more weeks after treatment is over. Inform your doctor if it does not go away.
It may make your skin more sensitive to sunlight. Avoid exposing your skin to strong sunlight, use a sunscreen lotion or make sure your skin is protected with clothing.
Do not use Flonida 5% Cream if you are pregnant or breastfeeding.
It is not recommended for use under the age of 18 years.
Avoid prolonged exposure to sunlight.
Do not wrap or cover the treated area with airtight dressings unless advised by a doctor.
Avoid smoking or going near naked flames as the fabric (bedding, clothing, dressings) in contact with Flonida 5% Cream 10 gm catches fire and burns easily.
Your doctor may get routine blood tests done to monitor your liver function, electrolyte levels, blood cell count in your blood.
Flonida 5% Cream 10 gm should be taken under strict medical supervision. The doctor will regularly monitor your condition.
Consult a doctor immediately if you notice any signs of infection, fever, diarrhea, chills, etc.
Side effects
It is not necessary for everyone to experience the side effects. In case of any discomfort, consult your doctor.
---
Eye irritation like eye-stinging or watery eye.
Trouble sleeping, feeling irritated, temporary loss of hair or abnormal taste in the mouth.
You should consult your doctor immediately if any of these rare serious side effects like stomach pain, bloody diarrhoea, nausea, vomiting, fever, chills, continuous sore throat, mouth sores, bruising or bleeding, rash, itching or swelling (of the face, tongue or throat), low blood count, dizziness, difficulty breathing or headache occur.
1. Can Flonida 5 % cream be used in children?
Answer- No, Flonida 5 % cream is not recommended for use in children.
2. Can I use sunscreen while using Flonida 5 % cream?
Answer- Yes, you can use sunscreen, but you should use it 2 hours after using Flonida 5 % cream. You should avoid using other creams or lotions. If you still experience any burns, you should visit your doctor.
3. Does the medication cause hair loss?
Answer- Yes, Flonida 5% Cream 10 gm commonly affects the hair by making them thin which further causes loss of hair. However, it is not very common. Hair reduction possibly happens due to the estrogen lowering effect of Flonida 5% Cream 10 gm. These effects are not long-lasting and may return after some time.