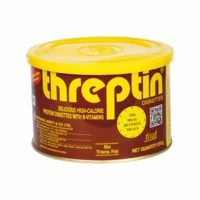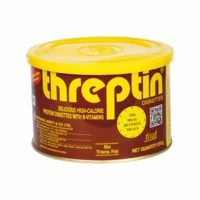 Threptin Chocolate Nutrition Diskettes Tin Of 275 G
Brand: Pharm Easy
14 Reviews
Rs. 445.00
Support 24/7

Call us anytime

100% Safety

Only secure payments

Hot Offers

Discounts up to 80%
Threptin chocolate nutrition diskettes are an easy to consume, high-calorie protein-rich snack that can be consumed by people of all ages. These diskettes come in a compact tin and can be stored away easily or even carried during travel. However, the Threptin protein biscuits are best consumed by children to fulfil their protein needs in a fun way. With your children happily munching on these protein diskettes, you can rest assured that they are getting their daily requirement of macronutrients.
Benefits
 High protein biscuits
 Reduces hunger pangs and cravings
 Delicious chocolate flavoured
 Serves as a perfect snack between meals
 Cholesterol and trans fat free
Threptin Chocolate Nutrition Diskettes Tin Of 275 G Offer At SecondMedic:
We at Secondmedic ensures that you get good health products at affordable price. Hence, we give you best Threptin Chocolate Nutrition Diskettes Tin Of 275 G Offer that you can get online. 
If you are booking this product, then you can book Threptin Chocolate
Nutrition Diskettes Tin Of 275 G at Rs 44.50/- OFF.

Direction/dosage
 An individual can consume 3 – 5 diskettes at a time
 Can be taken 3 times in a day
Precautions
 Make sure to tightly cover the product after every use
 Store in a cool and dry place (away from direct sunlight)
 Keep away from children
Side effects
 Threptin diskettes is a safe nutritional supplement formulated to health benefits to all age groups.
 Does not pose any side effects.
 In special cases, please consult your doctor.
FAQ

1. How much protein does a Threptin biscuit have?
Answer-As mentioned, Threptin biscuits contain a lot of proteins. A 100g packet of Threptin diskettes contains around 30g of proteins. It also contains Casein which is a rare protein that helps build muscle growth and aids recovery post-exercise
2. How do further make these diskettes interesting for my kids?
Answer. You can serve these diskettes with ketchup, mayonnaise, or even
whipped cream to add to their attraction as a popular snack for your kids.
3. Are these diskettes gluten-free?
Answer. Yes, these diskettes are completely gluten-free.

4. How long can I store them after opening the seal?
Answer. After opening the seal, it is best to consume them as quickly as
possible or else you can store them in an airtight container for longer shelf
life.