Prescription required as per the Government regulations.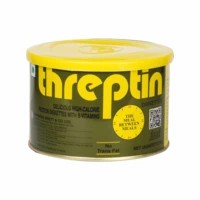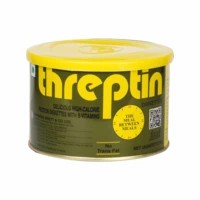 Threptin Vanilla Butterscotch Nutrition Diskettes Tin Of 275 G
Rs. 452.00

Prescription required on this product.
Support 24/7

Call us anytime

100% Safety

Only secure payments

Hot Offers

Discounts up to 80%
Threptin biscuits are full of energy and can be hunger-busters when you need a snack. Because of its protein content, Threptin helps your body by boosting energy and supporting muscle building. Children are more prone to eating a diet of high carbohydrates and fats, missing out on essential proteins and amino acids that help them grow and strengthen their immune system. The Threptin biscuits are thus the perfect dietary supplement for such children.

Benefits
 Threptin Diskettes is ready to eat protein which relieves hunger in between meals
 It can be used by individuals of all ages
 It provides proteins to the individual with low protein intake.
 It helps with weight gain, muscle increase and bodybuilding.
 The yummy flavour makes them appetising for children.
Threptin Vanilla Butterscotch Nutrition Diskettes Tin Of 1 Kg Offer At SecondMedic:
We at Secondmedic ensures that you get good health products at affordable price. Hence, we give you best Threptin Vanilla Butterscotch Nutrition Diskettes Tin Of 1 Kg Offer that you can get online. 
If you are booking this product, then you can book Threptin Vanilla Butterscotch Nutrition Diskettes Tin Of 1 Kg at Rs 149.50/- OFF.
Direction/dosage
 Eat 3-5 Threptin Protein Biscuits up to 3 times a day. 

 Can be eaten with or in between meals.
Storage
 Store in a safe, dry place.
Precautions
 Once the tin is opened, Threptin Biscuits should be eaten within the next 3 weeks.
 Read the package label carefully before eating.
Side effects
 Threptin diskettes is a safe nutritional supplement formulated to health benefits to all age groups like growing children, pregnant or lactating women, people with stressful life, the aged and recuperating patients.
 Does not pose any side effects.
 In special cases, please consult your doctor.
FAQ
1. Can I give Threptin biscuits to baby?

Answer: It is recommended to consult your doctor before giving
this biscuit to babies. Usually these biscuits are prescribed to
children with growth problems.
2. Can a diabetic patient eat this?
Answer: Threptin biscuits contain sugar, and hence, if someone
has diabetes then it is recommended they eat Threptin Lite
diskettes that do not contain sugar.

3. Can I use Threptin Biscuits for weight gain?
Answer: Yes, Threptin diskettes will help those trying to build
muscle and weight.

4. Is Threptin diskettes vegetarian?
Answer-Yes, it is a Vegetarian product.