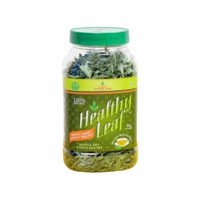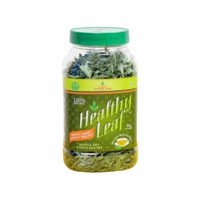 Stevia World - Healthy Leaf (50g)
Brand: Pharm Easy
14 Reviews
Rs. 110.00
Support 24/7

Call us anytime

100% Safety

Only secure payments

Hot Offers

Discounts up to 80%
As the world over people are getting health conscious the demand for sugar free sweetener is increasing. Stevia World Healthy Leaf is a sugar-free sweetener that acts as a perfect substitute for sugar which also has several health benefits. These leaves contain vital nutrients and can be used to sweeten both beverages and food. The leaves used by Stevia World Healthy
Leaf are handpicked, unprocessed and 100% natural for the benefit of health- conscious fitness lovers.
Benefits
 This low-calorie alternative is much sweeter than processed sugar and helps in weight loss and controlling blood sugar levels.
 Stevia World Healthy Leaf keeps your teeth cavity-free and reduces the risk of other dental complications.
 It is known to be rich in antioxidants and vitamins.
 It also provides overall health and body cleansing benefits.
 It is good for use in tea, coffee, milk and other beverages as well as in different food products.
Stevia World - Healthy Leaf (50 g) Offer At SecondMedic:
We at Secondmedic ensures that you get good health products at affordable price. Hence, we give you best Stevia World - Healthy Leaf (50 g) Offer that you can get online. 
If you are booking this product, then you can book Stevia World - Healthy Leaf (50 g) at Rs 11.00/- OFF.
Direction/dosage
 Sweeten your coffee, tea or milk by adding 4-6 leaves of Stevia World Healthy Leaf.
 You can prepare Stevia herbal green tea by adding 4-6 dried leaves to hot boiling water for around 2-3 minutes and filter.
 The dried leaves can also be crushed into a powder and added to food products like cakes and pies.
Storage
 Store it in a cool, dry place.
 Keep away from sunlight
Precautions
 Do not refrigerate.
 Consume moderate amounts during pregnancy.
 In case of mild side effects or allergic reactions, visit your doctor.
 Check the expiration date.
Side Effects
 This natural herb has no common side effects and in most cases, it can safely be consumed by everyone including pregnant women and children.
FAQ

1. How safe is Stevia leaf extract?

Answer: The extract from the Stevia leaf is considered and recognised as
safe (GRAS) by the Food and Drug Administration (FDA).
2. Is Stevia Healthy Leaf healthier than sugar?

Answer: Yes, it is healthier than sugar as it contains zero calories and zero
carbohydrates. Stevia World Healthy Leaf is very beneficial for weight loss
management.
3.  How much Stevia leaf is safe to consume per day?

Answer: Consume moderate amounts of the product daily. Generally, the
recommended daily intake should not exceed 4 mg per kg of body weight.