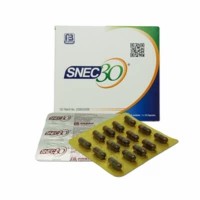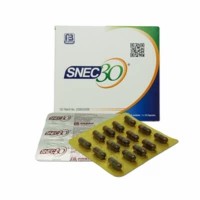 Snec 30 - Nano Curcumin Turmeric Capsules I Ayurvedic Immunity Booster And Anti-inflammatory Supplement I Pack Of 15 Capsules
Brand: Pharm Easy
14 Reviews
Rs. 330.00

Prescription required on this product.
Support 24/7

Call us anytime

100% Safety

Only secure payments

Hot Offers

Discounts up to 80%
A major barrier to curcumin's clinical efficacy is its poor bioavailability because it does not absorb in the gut and get metabolized in the liver. The answer to the problem comes in turmeric supplement which is linked with SNEDDS (Self Nano-emulsifying Drug Delivery System) that dissolves faster than any other curcumin supplement available. It is a novel drug delivery system that enhances the solubility of curcumin in the gut, protects the curcumin from getting metabolized in the intestines, and bypasses the liver that makes active compounds available to the body. The US Patented formulation SNEC30 capsules is the most bio-available form of curcumin to date due to the SNEDDS technology that goes behind its formation. SNEC30 ensures that the Curcumin achieves the desired concentration of active curcuminoids in the blood. This is a health supplement.
Key Benefits
SNEC 30 Curcumin Capsules with 95% curcuminoids is a plant-based ayurvedic antioxidant that supports healthy inflammation
It has powerful anti-inflammatory effects and is a very strong antioxidant.
Curcumin Is a Natural Anti-Inflammatory Compound that helps in Improved Brain Function, Risk of Heart Disease, Joint pain support, Digestion, Cleansing of the blood, Immune boosting capabilities and in Liver Detoxification
Contains supply of daily recommended value of curcumin with the highest bioavailability and derived from the purest source of the Indian Turmeric