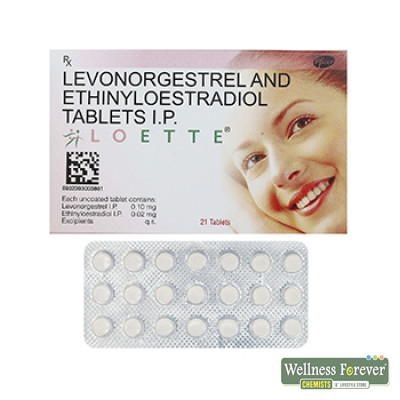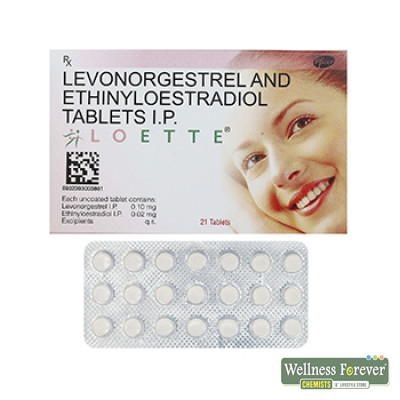 LOETTE 21TAB
Brand: Wellness Forever
14 Reviews
Rs. 259.25

Prescription required on this product.
Support 24/7

Call us anytime

100% Safety

Only secure payments

Hot Offers

Discounts up to 80%
Key Ingredients
Ethinyl Estradiol (0.02mg) + Levonorgestrel (0.10mg)
Storage- Keep it in cool and dry place below 30°C
Consume Type- Oral
Description
Loette Tablet is a medicine used for contraception (to prevent pregnancy) and in the treatment of irregular periods. It helps to prevent the release of the egg and its fertilization by the sperm. Loette Tablet is a combined oral contraceptive pill. It works by preventing the release of egg (ovulation) and affecting sperm movement in the womb to prevent its union with the egg. It also changes the lining of the womb and renders it unsuitable for pregnancy.
Key Benefits
Directions for use
It should be taken as directed by your doctor and in the prescribed quantity.

Swallow it as a whole with a glass of water. Do not cut, break or chew the medicine.

It would be best if you take it at a fixed time for optimal results.

Keep it away from the reach of children

Do not use expired medicine.
Safety Information
Tell the doctor about the medicines, supplements, or herbals you are currently taking or might take to avoid possible interaction.

If you have missed any dose, take it as soon as you remember. If it is time for the next dose, skip the missed dose and continue your regular dosing schedule.

Take your pill at the same time every day to help you remember to take it.

You may experience menstrual irregularities such as spotting or bleeding between menstrual periods or missed periods. Consult your doctor if this persists.

Do not use Loette Tablet if you are obese, over 35, smoke, on prolonged bed rest or have a history of blood clots.

Stop taking this medicine and inform your doctor immediately if you notice unexplained swelling and pain in your limbs, shortness of breath, chest pain or changes in vision. These could be symptoms of a blood clot in a vein.

As a precautionary measure, do not consume alcohol and quit smoking

Eat healthy food and do regular exercises.
Side effects-
It is not necessary for everyone to experience the side effects. In case of any discomfort, consult your doctor.
Nausea

Headache

Breast pain

Abdominal pain

Weight gain

Depression
1. What if I forget to take Loette Tablet?
Answer: - If you forget to take one tablet, take it as soon as you remember, even if it means taking two tablets at same time and then follow the usual dosing schedule. However, if you forget to take two or more doses, you may not be totally protected against pregnancy. In this case, start taking the tablet as soon as you remember and use a non-hormonal method of contraception such as condoms for at least next 7 days to prevent pregnancy. Frequent missing of doses may lead to unexpected vaginal bleeding or spotting (blood stain). Consult your doctor if this persists.
2. How and in what dose should I take Loette Tablet?
Answer :- Take this medicine as per the advice of your doctor. However, take it at the same time each day, to ensure consistent levels of medicine in your body.
3. Can Loette Tablet be taken by a patient who smokes?
Answer :- Loette Tablet should not be taken by a person who smokes. Smoking increases the risk of serious side effects like death from heart attack, blood clots or stroke. The risk increases in patients who are obese or over 35 years of age and people who are heavy smokers. Inform your doctor if you smoke, before taking Loette Tablet.
4. Can Loette Tablet cause bleeding or spotting between the regular menstrual periods?
Answer :- Yes, Loette Tablet can cause some unexpected bleeding or spotting, especially during the first three months. Do not stop taking Loette Tablet because of this. This bleeding or spotting decreases with time. You may have unexpected bleeding if you do not take the pills regularly. Consult your doctor if the spotting continues for more than seven days or if the bleeding is heavy.
4. What if I vomit after taking Loette Tablet?
Answer :- If you vomit within 3-4 hours after taking Loette Tablet tablet, then it is considered as a missed dose. So, you should take an another dose as soon as you feel well enough.