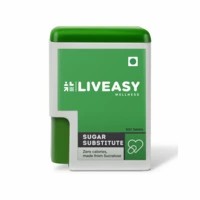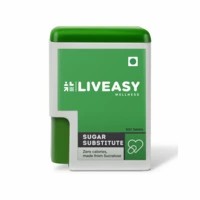 Liveasy Wellness Zero Calorie Sugar Substitute (sugar Free) Tablets - Weight Management - 300 Tablets
Brand: Pharm Easy
14 Reviews
Rs. 175.00

Prescription required on this product.
Support 24/7

Call us anytime

100% Safety

Only secure payments

Hot Offers

Discounts up to 80%
LivEasy Wellness Sugar Substitute Tablets are made from artificial sweetener sucralose, which tastes exactly like sugar but without the harmful effects of it. LivEasy Wellness Sugar Substitute Tablets contain zero calories because most of the sucralose ingested is not broken down by the body, which makes it non-caloric.
People with diabetes, who need to keep their blood sugar level in control can consume this health supplement safely as sucralose does not cause blood sugar spikes after consumption. These are also suitable for people who are trying to lose weight. Sugary foods and drinks are one of the chief causes of weight gain. LivEasy Wellness Sugar Substitute Tablets do not contain any fats or calories. This makes them perfect for a keto and low-calorie diet. Sucralose tablets also protect the teeth from decay as opposed to regular sugar which causes bacterial build-up inside the mouth and teeth and causes gum problems.
Key Benefits
Helps manage blood sugar
Can aid in weight control
Contains zero calories
Can sweeten any beverage
Can be used as a sugar substitute in sweet dishes