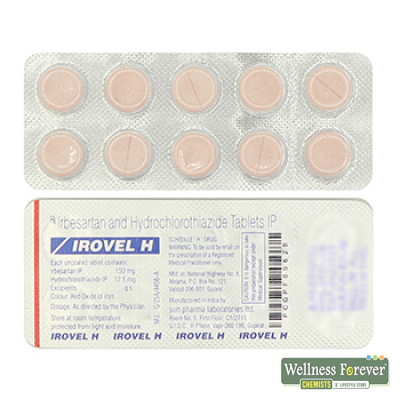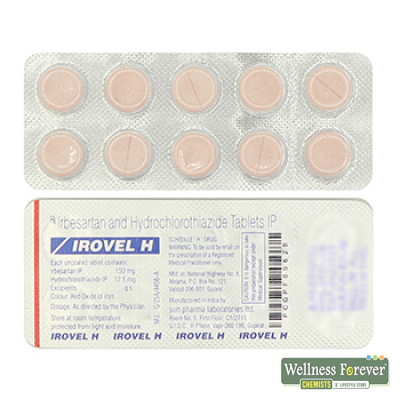 IROVEL-H 10TAB
Brand: Wellness Forever
14 Reviews
Rs. 157.00

Prescription required on this product.
Support 24/7

Call us anytime

100% Safety

Only secure payments

Hot Offers

Discounts up to 80%
Key Ingredients
Irbesartan (150mg) + Hydrochlorothiazide (12.5mg)
Storage- Keep it in cool and dry place below 30°C
Consume Type- Oral
Description
Irovel H 10 Tablet is a combination of two medicines. It helps to control high blood pressure in different ways. If high blood pressure is not treated it can lead to heart attacks, strokes and kidney failure. Irovel H Tablet is a combination of Irbesartan and hydrochlorothiazide which lower blood pressure effectively. Irbesartan is an angiotensin receptor blocker (ARB). It works by blocking the hormone angiotensin thereby relaxing blood vessels. This
allows the blood to flow more smoothly and the heart to pump more efficiently. Hydrochlorothiazide is a diuretic that removes extra water and certain electrolytes from the body. Over time it also relaxes blood vessels and improves blood flow.
Key Benefits
Hypertension (high blood pressure)
Directions for use
It should be taken as directed by your doctor and in the prescribed quantity.

Swallow it as a whole with a glass of water. Do not cut, break or chew the medicine.

It would be best if you take it at a fixed time for optimal results.

Keep it away from the reach of children

Do not use expired medicine.
Safety Information
Tell the doctor about the medicines, supplements, or herbals you are currently taking or might take to avoid possible interaction.

If you have missed any dose, take it as soon as you remember. If it is time for the next dose, skip the missed dose and continue your regular dosing schedule.

Irovel H Tablet may cause dehydration. Drink plenty of fluids and inform your doctor if you develop extreme thirst, very dry mouth or muscle weakness.

It may cause dizziness. Get up slowly when rising from a sitting or lying position.

Use of Irovel H Tablet during pregnancy or breastfeeding is unsafe.

It may also decrease the risk of stroke and heart attacks.

As a precautionary measure, do not consume alcohol and quit smoking

Eat healthy food and do regular exercises.
Side effects
It is not necessary for everyone to experience the side effects. In case of any discomfort, consult your doctor.
Nausea

Taste change

Upset stomach

Diarrhea

Weakness

Dizziness

Headache

Glucose intolerance

Increased blood uric acid

Increased blood lipid level

Electrolyte imbalance

Decreased blood pressure
1. How should I take Irovel H Tablet?
Answer: - You should take Irovel H Tablet exactly as directed by your doctor. It is for oral use and is usually taken once a day. You should take it with plenty of water, with or without food. It is recommended that you take this medicine at the same time every day.
2. What if I forget to take a dose of Irovel H Tablet?
Answer :- If you have missed a dose of Irovel H Tablet, take it as soon as you remember it. However, if it is almost time for your next dose, take it in the regular schedule instead of taking the missed dose. Do not double the dose to make up for the missed one as this may increase the chances of developing side effects.
3. Can I stop Irovel H Tablet on my own?
Answer :- No, do not stop taking Irovel H Tablet without speaking to your doctor, even if you are feeling well or your blood pressure is controlled. Stopping it suddenly may increase your blood pressure which may increase your risk of stroke.
4. What are the symptoms of overdose of Irovel H Tablet?
Answer: - Taking more than the recommended dose of Irovel H Tablet may decrease your blood pressure due to which you may feel dizzy or may even faint. Consult your doctor immediately or seek emergency medical aid in a nearby hospital.