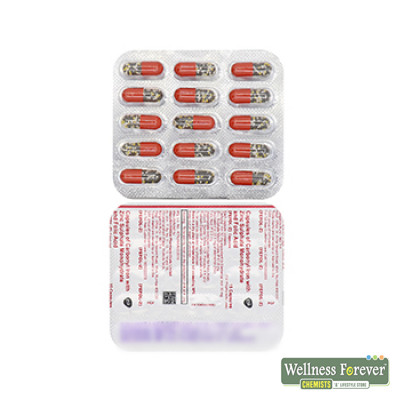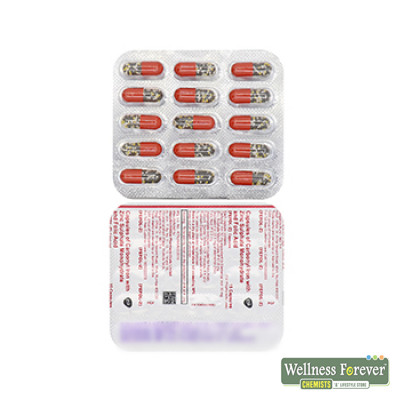 FEFOL-Z 15CAP
Brand: Wellness Forever
14 Reviews
Rs. 172.30

Prescription required on this product.
Support 24/7

Call us anytime

100% Safety

Only secure payments

Hot Offers

Discounts up to 80%
Key Ingredients
Iron, Vitamin B9, and Zinc
Storage- Keep it in cool and dry place below 30°C
Consume Type- Oral
Description
Fefol Z Capsule is a combination medication, belongs to the class of drugs called hematinic; primarily used to prevent and treat the low levels of folic acid, zinc, and iron in blood during certain health conditions. Iron plays a key role in improving blood circulation and oxygen saturation in the body. It also helps to preserve various key functions of the body such as maintaining your energy levels, improving your gastrointestinal functions, boosting your immune response, and regulating your body temperature. Vitamin B9 (Folic acid) is another water-soluble B-complex vitamin that is naturally available in food as folate and folic acid. This vitamin acts as a coenzyme in the synthesis of nucleic acid (DNA) and red blood cells. Zinc plays a very critical role in maintaining several functions of the body such as neurological functions, immunity, fertility, and overall energy levels of the body.
Key Benefits
Iron deficiency anaemia,
Iron deficiency due to chronic blood loss or low intake of iron
Nutritional anaemia that occurs especially during pregnancy and lactation.
Directions for use
It should be taken as directed by your doctor and in the prescribed quantity.
Swallow it as a whole with a glass of water preferably after meals. Do not cut, break or chew the medicine.
It would be best if you take it at a fixed time for optimal results.
Keep it away from the reach of children
Do not use expired medicine.
Safety Information
Tell the doctor about the medicines, supplements, or herbals you are currently taking or might take to avoid possible interaction.
If you have missed any dose, take it as soon as you remember. If it is time for the next dose, skip the missed dose and continue your regular dosing schedule.
You should not consume vitamin and mineral supplements more than the recommended daily dose as it may lead to unwanted side effects.
Avoid taking this medication along with tea or coffee as it may interfere with the absorption of iron.
Include foods rich in Vitamin C such as orange juice, lemon water, etc. in your diet as it helps in the absorption of iron.
Do not consider supplements as a replacement for your diet. Eat a healthy diet rich in all the essential nutrients to lead a healthy life.
If the symptoms fail to improve or you experience any unwanted side effects, consult your doctor at the earliest to avoid any complications.
Avoid smoking and alcohol consumption
Side effects-
It is not necessary for everyone to experience the side effects. In case of any discomfort, consult your doctor.
Skin rashes
Stomach discomfort
Diarrhea
Vomiting
1. Can I take Fefol Z Capsule along with tea or milk?
Answer- It is recommended not to take Fefol Z Capsule along with tea, coffee, or milk,
and even eggs as the body might absorb less iron supplements if you take them
together, which may reduce the effectiveness of Fefol Z Capsule.
2. What foods are rich in iron and folic acid?
Answer- Taking a lot of Vitamin C or drinking orange juice regularly along with foods
rich in iron can help maintain adequate levels of iron and folic acid in the body. Some of
the common food sources of iron include beetroots, dates, sweet potatoes, and
pomegranate. Foods items rich in folic acid comprise leafy vegetables, citrus fruits,
beets, legumes, broccoli, and foods.
3. Can I take Fefol-Z Capsule during pregnancy?
Answer- Generally, it is recommended to improve iron and folic levels during pregnancy
and breastfeeding, but it would be wise to consult your doctor first. This tablet is
commonly suggested to treat and prevent different forms of anemia. It helps in
preventing iron and folic acid deficiencies during pregnancy, breastfeeding, after
surgery, or in conditions of nutritional malabsorption.
4. What are the symptoms of lack of iron (anemia) in your body?
Answer- Symptoms of anemia are subtle and vague, hence they commonly get ignored
quite. But, ignoring these symptoms can have devastating effects later. Some of the
common symptoms of anemia include fatigue, shortness of breath, brittle nails, pale
skin, strange cravings (such as for ice cubes, clay, chalk, etc.), chest pain, numbness,
black stools, heavy or irregular periods, and restless leg syndrome.