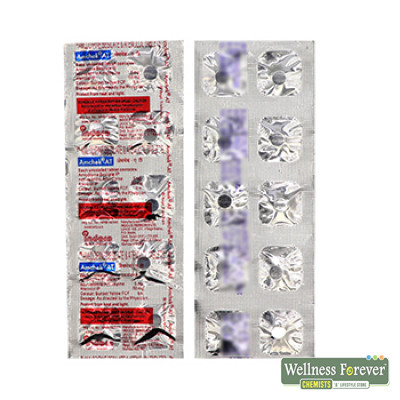 AMCHEK-AT 10TAB
Brand: Wellness Forever
14 Reviews
Rs. 72.00

Prescription required on this product.
Support 24/7

Call us anytime

100% Safety

Only secure payments

Hot Offers

Discounts up to 80%
Key Ingredients
Atenolol (50mg) + Amlodipine (5mg)
Storage- Keep it in cool and dry place below 30°C
Consume Type- Oral
Description
Amchek-AT Tablet contains two medicines, Losartan and Amlodipine both of which help to control high blood pressure. It lowers the blood pressure by relaxing the blood
vessels and making it easier for your heart to pump blood around your body. This will reduce your risk of having a heart attack or a stroke. Losartan belongs to a group of drugs called angiotensin II receptor antagonists. It lowers the blood pressure and increases the blood flow by preventing the narrowing of blood vessels. Losartan is also used to treat stroke and slow down kidney damage in people with type 2 diabetes. Amlodipine is a calcium channel blocker that dilates (widens) blood vessels and increases blood flow. Altogether, it helps to lower high blood pressure, chest pain (angina) and other conditions caused by coronary artery disease.
Key Benefits
Directions for use
It should be taken as directed by your doctor and in the prescribed quantity.
Swallow it as a whole with a glass of water with or without food. Do not cut, break or chew the medicine.
It would be best if you take it at a fixed time for optimal results.
Keep it away from the reach of children
Do not use expired medicine.
Safety Information
Tell the doctor about the medicines, supplements, or herbals you are currently taking or might take to avoid possible interaction.
If you have missed any dose, take it as soon as you remember. If it is time for the next dose, skip the missed dose and continue your regular dosing schedule.
Amchek-AT Tablet may cause dizziness or sleepiness. Do not drive or do anything requiring concentration until you know how it affects you.
It may cause you to feel lightheaded or weak especially when you stand up. Rise slowly if you have been sitting or lying down.
Avoid consuming alcohol as it may enhance the blood pressure lowering effect of this medicine.
It can cause ankle or foot swelling. Raise your legs while you are sitting down and talk to your doctor if it does not go away.
Do not take it if you are pregnant, planning to conceive or breastfeeding.
Keep a check on your daily blood pressure, and if you notice any fluctuations, please consult a doctor.
Low salt/sodium diet and regular exercise are recommended along with Amchek- AT Tablet for effective results.
Side effects-
It is not necessary for everyone to experience the side effects. In case of any discomfort, consult your doctor.
Sleepiness
Taste change
Ankle swelling
Headache
Flushing (sense of warmth in the face, ears, neck and trunk)
Dizziness
Tiredness
Palpitations
Upset stomach
Increased potassium level in blood
1. Can I use Amchek-AT Tablet in pregnancy?
Answer- No, Amchek-AT Tablet should be avoided in pregnancy. Its use can cause
injury and even endanger the baby. If you conceive while using the medicine, stop using
it and contact your doctor immediately. Your doctor will recommend to you other ways
to lower the blood pressure.
2. What are some of the lifestyle changes I should make while using Amchek- AT Tablet?
Answer- Lifestyle changes play a major role in keeping good health. Avoid taking
excess salt in your diet and find ways to reduce or manage stress in your life. Practice
yoga or meditation or take up a hobby. Ensure that you have a sound sleep every night.
Stop smoking and alcohol consumption as this helps in lowering your blood pressure
and preventing heart problems. Exercise regularly and take a balanced diet that
includes whole grains, fresh fruits, vegetables and fat-free products. Consult your doctor
if you need any further guidance.
3. Can I feel dizzy after using Amchek AT Tablet?
Answer- Yes, Amchek AT Tablet can make you feel dizzy. Dizziness usually occurs
when you suddenly stand up from a lying or sitting position. Try rising slowly when you
change your posture to relieve from dizziness. If the side effect persists longer, please
seek medical help.
4. Can I take potassium supplements with Amchek AT Tablet?
Answer- No, Amchek AT Tablet can cause high levels of potassium in the blood leading
to hyperkalaemia. Hence it is not recommended to use potassium supplements along
with it. However, consult your doctor if you are already taking other medicines before
starting the medicine.