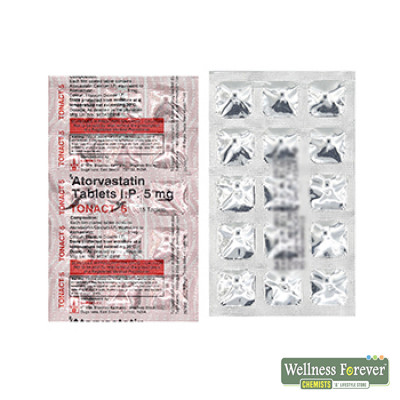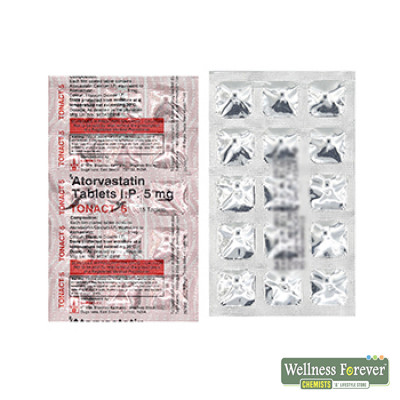 TONACT 5MG 15TAB
Brand: Wellness Forever
14 Reviews
Rs. 104.50

Prescription required on this product.
Support 24/7

Call us anytime

100% Safety

Only secure payments

Hot Offers

Discounts up to 80%
Composition
Atorvastatin (5mg)
Storage- Keep it in cool and dry place below 30°C
Consume Type- Oral
Description
Tonact 5mg Tablet belongs to a group of medicines called statins. It works by slowing the production of cholesterol in the body to decrease the amount of cholesterol that may build up on the arteries' walls and block blood flow to the heart, brain, and other parts of the body. Cholesterol is a fatty substance that builds up in your blood vessels and causes narrowing, which may lead to a heart attack or stroke.
Key Benefits
Prevention of Heart attack
Antihyperlipidemic
Antistroke
Direction for use
It should be taken as directed by your doctor and in the prescribed quantity.
Swallow it as a whole with a glass of water. Do not cut, break or chew the medicine.
It would be best if you take it at a fixed time for optimal results preferably at night after dinner.
Keep it away from the reach of children
Do not use expired medicine.
Safety Precaution
Tell the doctor about the medicines, supplements, or herbals you are currently taking or might take to avoid possible interaction.
Inform your doctor if you experience fatigue, muscle weakness or muscle pain.
Inform your doctor if you notice signs of liver problems such as stomach pains, unusually dark urine or yellowing of skin or eyes.
Inform your doctor if you have kidney disease, liver disease or diabetes before starting treatment with this medicine.
If you are diabetic, monitor your blood sugar level regularly as Tonact 5mg Tablet may cause an increase in your blood sugar level.
Do not take Tonact 5mg Tablet if you are pregnant, planning a pregnancy or breastfeeding.
As a precautionary measure, do not consume alcohol and quit smoking
Eat healthy food and do regular exercises.
Side effects
It is not necessary for everyone to experience the side effects. In case of any discomfort, consult your doctor.
Constipation
Flatulence
Dyspepsia
Abdominal pain Sunita Jonwal
Verified Buyer Sonia Mangal
Verified Buyer Himanshu Bavishi
Verified Buyer
Very good and useful product in a house hold. Dhivya
Verified Buyer
Good product, value for money. Bhagyashree Dhakulkar
Verified Buyer
Received in good condition.
Answer- Yes, taking Tonact 5mg Tablet can cause muscle problems or muscle injury
because of the reduced oxygen supply to the muscle cells which leads to fatigue,
muscle pain, tenderness, or muscle weakness. Consult your doctor to know about ways
to prevent this.
Answer- Increase your daily diet with fiber, fruits, vegetables, whole grains and fish, and
cut saturated fat as well. Stop smoking and drinking and try to work out every day as
well.
Answer- Yes. Muscle weakness can be the long term side effects of Tonact 5mg tablet.
You may have muscle fatigue or muscle pain which affects your daily activity. Try to
contact doctor if you have muscle weakness or fatigue.
Answer- No, you should not stop taking Tonact 5mg tablet without consulting your
doctor. It may aggravate the symptoms.
Answer- People affected with hypothyroidism (underactive thyroid), muscle weakness,
joint pain, kidney disease, diabetes, liver disease, uncontrolled epilepsy, high or low
potassium level, or severely low blood pressure
At Second Medic, we offer a wide range of high-quality pharmacy products to support our patients' health and wellbeing. Each of our pharmacy products is carefully selected to meet the diverse needs of our patients, and we are dedicated to providing personalized and compassionate care to ensure that our patients receive the right medication at the right dosage.
Our prescription medication products are available to patients who have been prescribed medication by their physician. Our experienced pharmacists work closely with our patients' physicians to ensure that they receive the right medication at the right dosage, and they are available to answer any questions or concerns that our patients may have about their medication. We also offer prescription refill reminders and prescription delivery services to make it easier for our patients to manage their medication regimen.
In addition to prescription medication, we also offer a wide range of over-the-counter medication and supplements to support our patients' overall health and wellbeing. Our pharmacy is stocked with a comprehensive selection of products to meet the diverse needs of our patients, including vitamins, pain relievers, allergy medication, and more. Our knowledgeable pharmacists are available to help our patients find the right products for their needs and to answer any questions they may have about over-the-counter medication or supplements.
At Second Medic, we understand that medical supplies can also play an important role in our patients' health and wellbeing. That's why we offer a wide range of medical supplies, including wound care products, diabetic supplies, and more. Our knowledgeable pharmacists are available to help our patients find the right medical supplies for their needs and to answer any questions they may have about their use.
We are committed to ensuring that our patients have access to the highest quality pharmacy products available. Contact us today to learn more about our comprehensive selection of pharmacy products and how we can support your ongoing medical care.
Get Quick Consultation & Support
Chat with Whatsapp