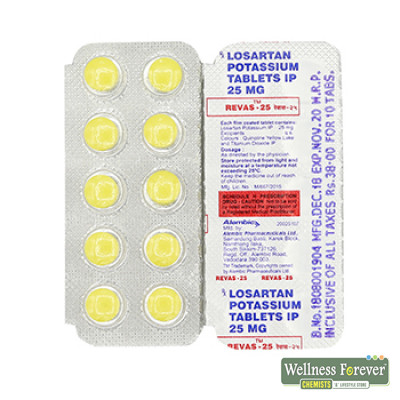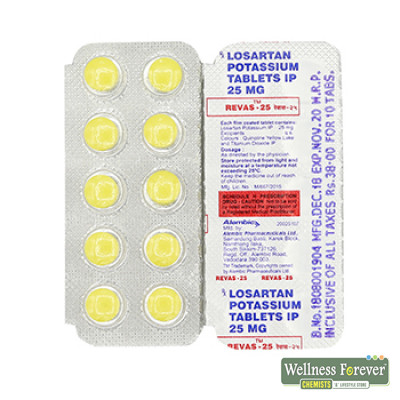 REVAS 25MG 10TAB
Brand: Wellness Forever
14 Reviews
Rs. 41.60

Prescription required on this product.
Support 24/7

Call us anytime

100% Safety

Only secure payments

Hot Offers

Discounts up to 80%
Key Ingredients
Losartan 25 mg
Storage- Keep it in cool and dry place below 30°C
Consume Type- Oral
Description
REVAS 25MG contains Losartan which belongs to a group of medicines known as angiotensin receptor blocker. It is used to treat high blood pressure alone or with other blood pressure medicines. It also lowers the chance of stroke in patients with high blood pressure and a heart problem called left ventricular hypertrophy. Lowering blood pressure lowers the risk of strokes and myocardial infarction. It is indicated for the treatment of diabetic nephropathy with an elevated serum creatinine and proteinuria in patients with type 2 diabetes and a history of hypertension. REVAS 25mg lowers your blood pressure by relaxing and widening your blood vessels thus making it easier for your heart to pump blood around your body.
Key Benefits
Treatment of High Blood Pressure
Directions for use
It should be taken as directed by your doctor and in the prescribed quantity.
Swallow it as a whole with a glass of water. Do not cut, break or chew the medicine.
It would be best if you take it at a fixed time for optimal results.
Keep it away from the reach of children
Do not use expired medicine.
Safety Information
Tell the doctor about the medicines, supplements, or herbals you are currently taking or might take to avoid possible interaction.
If you have missed any dose, take it as soon as you remember. If it is time for the next dose, skip the missed dose and continue your regular dosing schedule.
As a precautionary measure, do not consume alcohol and quit smoking
Eat healthy food and do regular exercises.
It can make you feel dizzy for the first few days. Rise slowly if you have been sitting or lying down for a long time.
Your doctor may get regular tests done to monitor the level of urea, creatinine, and potassium in your blood.
Avoid taking anti-inflammatory medicines such as ibuprofen along with this medicine without consulting your doctor.
Do not take Revas 25 Tablet if you are pregnant or breastfeeding.
Do not stop taking it suddenly without talking to your doctor.
Limit dietary intake of salt.
Side effects-
It is not necessary for everyone to experience the side effects. In case of any discomfort, consult your doctor.
Dizziness
Feeling tired
Nausea
Diarrhoea
Dehydration
Back pain
Cold/flu symptoms
1. Can I stop taking Revas-25 Tablet 10 when my blood pressure is under control?
Answer :- No, you are advised to inform your doctor and monitor your blood pressure
for at least two weeks before stopping the medicine. Depending upon your current
blood pressure readings, there is a possibility your doctor may lower your medicine
dosage and not recommend to discontinue it.
2. For how long can Revas-25 Tablet 10 be taken?
Answer: - Revas-25 Tablet 10 can be safely taken as long as your doctor has
prescribed it to you. Conditions such as high blood pressure are life-long conditions,
and one should not abruptly discontinue it without discussing it with a doctor.
3. Can I take Revas-25 Tablet 10 in pregnancy?
Answer :- It is not recommended to take Revas-25 Tablet 10 if you are pregnant as
it can damage the unborn baby (may lead to fetal toxicity).
4. Can use of Revas-25 Tablet 10 cause dizziness?
Answer :- Yes, Revas-25 Tablet 10 can cause dizziness. It is advised to avoid
driving or operate any heavy machinery while taking Revas-25 Tablet 10. In case
you feel dizzy or lightheaded, it is advised to rest for some time until you feel better.