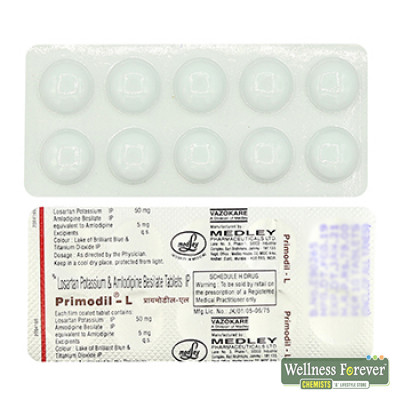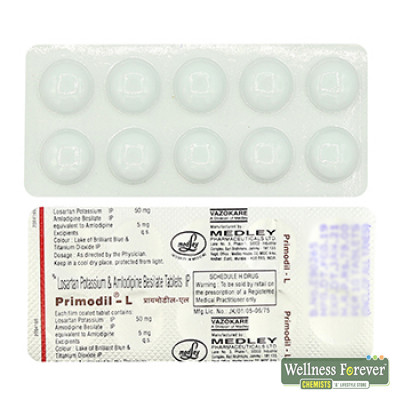 PRIMODIL-L 10TAB
Brand: Wellness Forever
14 Reviews
Rs. 78.00

Prescription required on this product.
Support 24/7

Call us anytime

100% Safety

Only secure payments

Hot Offers

Discounts up to 80%
Key Ingredients
Losartan (50mg) + Amlodipine (5mg)
Storage- Keep it in cool and dry place below 30°C
Consume Type- Oral
Description
Primodil-L Tablet is a blood pressure-lowering medicine used for the treatment of high blood pressure. It contains amlodipine and Losartan which are an antihypertensives. It is also used for the treatment of angina pectoris (chest pain due to reduced blood flow to the heart). It works by relaxing the blood vessels and improving the blood flow. Primodil-L Tablet is a combination of two medicines: Losartan and Amlodipine which lower blood pressure effectively. Losartan is an angiotensin receptor blocker (ARB) and Amlodipine is a calcium channel blocker (CCB). They work by relaxing the blood vessels and making the heart more efficient at pumping blood throughout the body.
Key Benefits
High blood pressure (hypertension),
Directions for use
It should be taken as directed by your doctor and in the prescribed quantity.
Swallow it as a whole with a glass of water with or without food. Do not cut, break or chew the medicine.
It would be best if you take it at a fixed time for optimal results.
Keep it away from the reach of children
Do not use expired medicine.
Safety Information
Tell the doctor about the medicines, supplements, or herbals you are currently taking or might take to avoid possible interaction.
If you have missed any dose, take it as soon as you remember. If it is time for the next dose, skip the missed dose and continue your regular dosing schedule.
Limit intake of sodium chloride (table salt) in your daily diet
A sudden drop in your blood pressure may occur, especially when you first start taking Primodil-L. To lower the chance of feeling dizzy or passing out, rise slowly if you have been sitting or lying down.
It can cause ankle or foot swelling. To reduce the swelling, raise your legs while you are sitting down. Talk to your doctor if it does not go away.
It may cause dizziness. Do not drive or perform any activity that requires mental focus until you know how the medicine affects you.
Inform your doctor if you are pregnant, planning a pregnancy or breastfeeding.
Avoid alcohol and try to quit smoking
Do regular physical activity and control your weight.
Side effects-
It is not necessary for everyone to experience the side effects. In case of any discomfort, consult your doctor.
Nausea
Sleepiness
Ankle swelling
Headache
Palpitations
Cold extremities
Flushing (sense of warmth in the face, ears, neck, and trunk)
Slow heart rate
Edema (swelling)
Constipation
Tiredness
1. Can I stop taking Primodil-L Tablet if I start feeling better and my symptoms are gone?
Answer- No, do not stop taking this medicine suddenly. Instead, you should consult your
doctor and he/she may adjust your dose as per your needs. Follow up with your doctor
regularly.
2. What lifestyle modifications I should make to control my blood pressure?
Answer- You should take your medicine regularly at the same time. These changes
include eating a healthy diet, low in fat and salt, maintaining a healthy weight, exercising
at least 30 minutes every day and reducing alcohol consumption and taking a pause on
smoking habits. White salt should be replaced with Himalayan or rock salt.
3. Are there any specific contraindications associated with PRIMODIL-L Tablet?
Answer-Yes, PRIMODIL-L is contraindicated in people with known allergy to any of the
components of this medicine. It should be used with caution in people with liver
impairment. It should also be avoided in women who are in the second and third
trimesters of their pregnancy.
4. Can PRIMODIL-L Tablet cause ankle swelling?
Answer-Yes, PRIMODIL-L Tablet is known to cause ankle swelling upon long term use.
Please try to keep your feet up when sitting for long hours. If the problem persists still,
consult your doctor and do as advised.
5. Can I use Primodil-L Tablet in pregnancy?
Answer- No, Primodil-L Tablet should be avoided in pregnancy. Its use can cause injury
and even endanger the baby. If you conceive while using Primodil-L Tablet, stop using it
and contact your doctor immediately