Prescription required as per the Government regulations.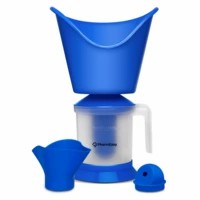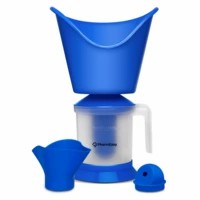 All In One Vaporizer
Rs. 352.40

Prescription required on this product.
Support 24/7

Call us anytime

100% Safety

Only secure payments

Hot Offers

Discounts up to 80%
 All In One Vaporizer is the best device to boost health of facial skin. It opens up pores and unclogs them, which can be effective in preventing acne or pimples for women who use it regularly after removing makeup but before shaving boys' faces too. 
This is made up of good quality copper wire to generate dense steam and contains 3 attachments that can be used for multiple purposes. This device can help relieve the symptoms of a common cold or the flu. It can decongest the lungs, clear away the sinuses, and aid in easier breathing and better sleep. PharmEasy All In One Vaporizer can be utilized for steam therapy that can ease headaches and sinus pain.
Benefits of All In One Vaporizer:
Can be used for steam therapy

Effective in relieving blocked nose and congested sinuses

Can ease headache and sinus ache

Can cleanse the skin by removing accumulated dirt in pores

Will smoothen beard for convenience of shaving

Can be used for aromatherapy to rejuvenate the skin

Comes with 3 attachment for different purposes
 All In One Vaporizer Offer At SecondMedic:
We at Secondmedic ensures that you get good health products for an affordable price. We have launched a special deal on  All In One Vaporizer which is available online with extra Rs 52.86/- OFF.
Direction to Use:
Plugin the device

Turn the switch on and let the coil heat up

Flip the switch off

Pour water into the container up to the mark etched on the container

Affix the attachment you need

After use, pour the water out
Precautions:
Use the device indoors

If children are using it, make sure they do it under adult supervision

Make sure the device is switched off when you use it

Keep the device standing straight while using it, to prevent spillage of hot water

After use, dry the device with a clean towel
FAQ:
Q1: When should I use All In One Vaporizer?
Ans: All In One Vaporizer can be of huge help when you've caught a cold or sinusitis. Steam can decongest your nose and sinuses, and bring instant relief from the symptoms of these illnesses. You will be able to sleep better at night.
---
Q2: Can I use PharmEasy All In One Vaporizer for cosmetic purposes?
Ans: Using steam therapy can give anyone clear and healthy skin. Steam expands pores and dislodges the dirt and grime. This can prevent acne.