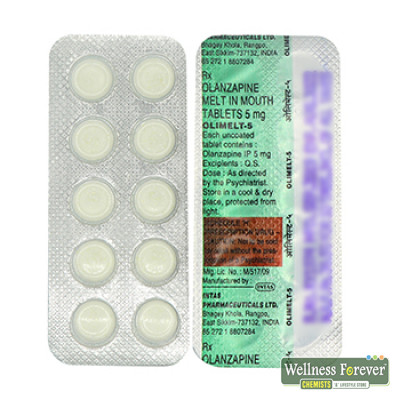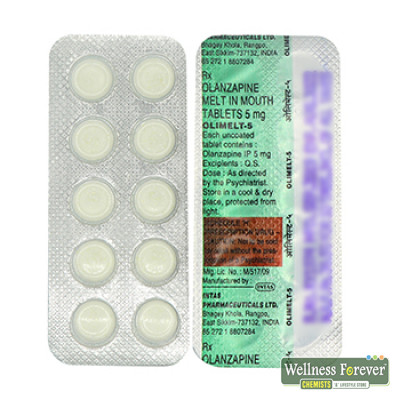 OLIMELT 5MG 10TAB
Brand: Wellness Forever
14 Reviews
Rs. 42.00

Prescription required on this product.
Support 24/7

Call us anytime

100% Safety

Only secure payments

Hot Offers

Discounts up to 80%
Key Ingredients
Olanzapine (5mg)
Storage- Keep it in cool and dry place below 30°C
Consume Type- Oral
Description
Olimelt 5mg Tablet belongs to a group of medicines called 'atypical antipsychotics primarily used to treat schizophrenia and manic depression (bipolar disorder). Schizophrenia is a mental condition in which the person may feel, hear or see things that are not there (hallucinations), believe things that are not true, and feel unusually suspicious or confused. Manic depression or bipolar disorder is a serious brain disorder
in which a person experiences extreme mood swings (variance in thinking) and frequent mood and behavioral changes. It contains Olanzapine' that works by restoring the balance of chemical messengers (dopamine and serotonin) in the brain and improves thinking mood, and behavior. Olanzapine is sometimes used together with other antipsychotic medications or antidepressants.
Key Benefits
Treatment of Schizophrenia
Treatment of Manic depression
Directions for use-
It should be taken as directed by your doctor and in the prescribed quantity.
Swallow it as a whole with a glass of water with or without food. Do not cut, break or chew the medicine.
It would be best if you take it at a fixed time for optimal results.
Keep it away from the reach of children
Do not use expired medicine.
Safety Precaution
If allergic to this medicine inform the physician immediately.
Consult with the physician during pregnancy & lactation.
Use caution while driving or doing anything that requires concentration as Olimelt 5 Tablet can cause dizziness and sleepiness.
To lower the chance of feeling dizzy or passing out, rise slowly if you have been sitting or lying down.
Do not self-medicate, take it in the dose and duration as advised by your physician. Inform the doctor if you are taking any other medications.
It may increase your weight, blood sugar and cholesterol. Eat healthy, exercise regularly and monitor your blood levels regularly.
Avoid smoking and alcohol consumption.
Try to avoid stress by practicing meditation or yoga.
Eat nutritious food as it helps in cognitive stimulation.
Drink plenty of water.
Side effects
Drowsiness
Dizziness
Restlessness
Tremors/shakiness
Stomach upset
Dry mouth
Constipation
Increased appetite
Fatigue
Decreased libido
Swelling of the hands or feet
Weight gain
1. Olimelt 5mg Tablet a sleeping pill?
Answer- No Olimelt 5 Tablet is not a sleeping pill. It belongs to the atypical antipsychotic
class of medicines. It is used to treat schizophrenia. Schizophrenia is a mental illness
that causes disturbed or unusual thinking, loss of interest in life, and strong or
inappropriate emotions. Olimelt 5mg Tablet also helps with bipolar disorder (manic
depressive disorder). It is a disease that causes episodes of depression, mania, and
other abnormal moods.
2. What is the most important information that I should know about Olimelt 5 Tablet?
Answer- It is important to know that it may increase blood sugar levels in diabetics
and also in patients who never had diabetes. Furthermore, it may cause weight
gain and high fat levels in the blood which is more common in teenagers. To lower
the chance of feeling dizzy or passing out, rise slowly if you have been sitting or
lying down.
3. Does Olimelt 5mg make you sleepy?
Answer- Olanzapine can cause you to be tired and have some shakiness when moving,
which could lead to a fall. It makes you feel sleepy.
4. What happens if you stop taking olanzapine suddenly?
Answer- Do not stop using olanzapine suddenly, even if you feel fine. Stopping
suddenly may cause serious side effects.
5. In which conditions should I be careful about taking Olimelt 5 mg?
Answer- Olimelt 5mg Tablet should be used with caution in the medical history of
allergic reactions, liver or kidney diseases, heart problems, breathing problems,
Alzheimer disease, high cholesterol, glaucoma, diabetes, stomach/intestinal problems,
breathing problem during sleep (sleep apnea), low white blood cell count, breast cancer,
enlarged prostate, and fits. Please let your doctor know if you have any other medical
problems before starting Olimelt 5 Tablet.