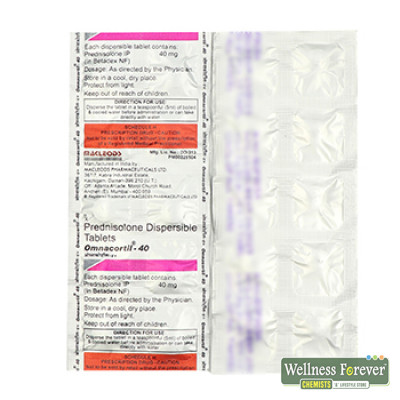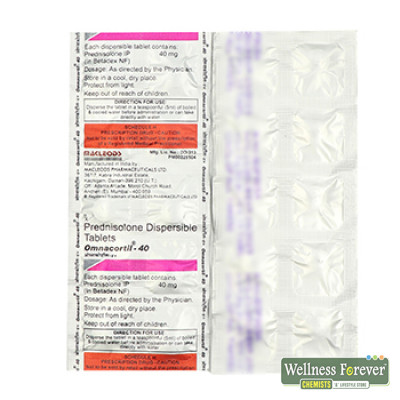 OMNACORTIL 40MG 10TAB
Brand: Wellness Forever
14 Reviews
Rs. 31.52

Prescription required on this product.
Support 24/7

Call us anytime

100% Safety

Only secure payments

Hot Offers

Discounts up to 80%
Omnacortil 40 Tablet DT is a steroid. It is used to treat a wide variety of medical conditions such as severe allergic reactions, allergic conditions, asthma, rheumatic disorder, skin and eye disorders, and nephrotic syndrome. It suppresses the immune system and provides relief from inflammation.
It also dampens the immune system, which may aid with autoimmune disorders such as rheumatoid arthritis, where the immune system incorrectly attacks its own tissues. 
Prednisolone is a naturally occurring steroid. Steroids are hormones produced in the human body and responsible for normal body functions. It acts by suppressing the immune response in allergies and inflammation and during organ transplantation.
Benefits
 Treatment of Severe allergic reactions

 Treatment of Allergic conditions

 Treatment of Rheumatic disorder

 Treatment of Skin disorders

 Treatment of Eye disorders

 Treatment of  Nephrotic syndrome
OMNACORTIL 40 MG 10 TAB Offer At SecondMedic:
We at Secondmedic ensure that you get good health products at affordable price. Hence, we give you best offer that you can get online for OMNACORTIL 40 MG 10 TAB. 
  If you are booking this product, then you can book at Rs 03.81/- OFF.
Direction for use
 It should be taken as directed by your doctor.

  Dissolve it in a glass of water before taking it.. Do not cut, break or chew the medicine.

 It would be best if you take it at a fixed time for optimal results.

 You should not consume it more than that prescribed by your doctor.
Storage
 Keep it in cool and dry place

 Keep it away from the reach of children

 Do not use expired medicine.
Precaution
 Omnacortil 40 Tablet can make it harder for you to fight off infections. Notify your doctor if you have any signs of infection such as a fever or sore throat.

 Side effects such as mood changes or stomach problems can happen when you start taking Omnacortil. Inform your doctor if this bothers you.

 Do not stop taking Omnacortil 40 Tablet suddenly without talking to your doctor first as it may worsen your symptoms.

 If you missed any dose of this medicine take it as soon as you remember. If it time for your next dose then skip the missed dose and continue with your regular dose schedule. Do not take a double dose of medicine.

 Do not take it if you are allergic to prednisolone, any other steroids or any other ingredients of this medicine.

 You may experience mood disturbances, fits and other psychiatric problems including suicidal thoughts. Immediately get in touch with the Doctor.

 Children and adolescents receiving steroids should be observed for growth abnormalities as steroids can retard the growth.

 Take it with food to avoid an upset stomach.
Side effects
 headaches, or generally feeling unwell,

 Cramps and spasms, due to the loss of potassium from your body,

 peptic ulcer,

 burst or bleeding ulcers,

 skin atrophy,

 acne, muscular weakness,

 myalgia (muscle aches),

 infections,

 headaches,

 swelling,

 poor wound healing,

 Thinning of the skin.
FAQ

1. Can I take the vaccine if I am taking Omnacortil?
Answer- Omnacortil 40 tablets can reduce the effectiveness of some vaccines. Hence, it is best to consult your doctor before doing so.
---
2. Is Omnacortil safe for children?
Answer- It should only be given to children if it is prescribed by the doctor and in the exact dose as prescribed under adult supervision. Giving steroids to children for long term treatment can impair their growth.
---
3. Can Omnacortil 40 tablets cause weight gain?
Answer- Yes, Omnacortil 40 tablets can cause weight gain in few individuals. However, this is not common and not everyone gets affected by this side effect.
---
4. Can I take Omnacortil 40 Tablet during pregnancy and lactation?
Answer- Omnacortil 40 Tablets should not be used during pregnancy or lactation as it may affect the growth of the fetus. Thus, it should be taken only when a doctor recommends.
---
5. Can I stop taking Omnacortil 40mg tablet on my own?
Answer- No, steroids therapy should not be stopped abruptly as it can lead to psychological problems, your dose will be gradually reduced by your doctor before completely withdrawing from this therapy.
---