Prescription required as per the Government regulations.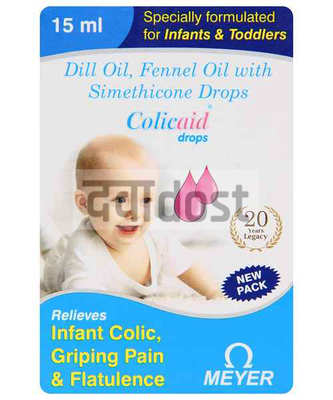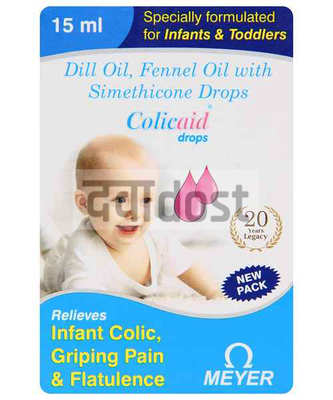 Colicaid Drop 15ml
Rs. 49.00

Prescription required on this product.
Support 24/7

Call us anytime

100% Safety

Only secure payments

Hot Offers

Discounts up to 80%
Colicaid Drops, 15 ml is used for Gastrointestinal disorder. Colicaid Drops, 15 ml is made up of three medicines: simethicone( is an antifoaming medicine which disintegrates gas bubbles and allows easy passage of gas) whereas fennel oil and Dil oil (which are herbal medicines which help to increase the movement of the stomach and intestines to push food through the digestive system). Colicaid Drops, 15 ml is generally prescribed to treat infant colic pain, Griping pain, reduces gas in the stomach, flatulence.
Eating foods that are more likely to produce gas. Gas pain may occur if gas is trapped/ not moving well through your digestive system. Simethicone acts in the stomach and intestines to change the surface tension of gas bubbles, enabling smaller bubbles to form bigger bubbles. It results in the elimination of gas more easily by belching/passing flatus. Whereas Fennel oil and Dil oil will reduce the muscle cramps in the gut and increase the stomach and intestine motility to push food through the digestive system.

Before starting Colicaid Drops, 15 ml, please inform your doctor if you have any allergy with Colicaid Drops, 15 ml if your doctor prescribes it. If you develop any side-effects, please inform your doctor.Colicaid Drops, 15 ml is safe to use during pregnancy , breastfeeding and also in liver and kidney diseases