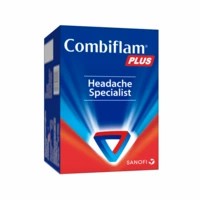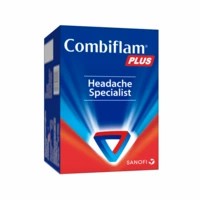 Combiflam Plus Headache Relief Tablet - Strip Of 10 Tablets
Brand: Pharm Easy
14 Reviews
Rs. 30.23

Prescription required on this product.
Support 24/7

Call us anytime

100% Safety

Only secure payments

Hot Offers

Discounts up to 80%
Combiflam Plus Tablet 10's belongs to the group of analgesics. It is a combination of two medicines: Paracetamol (analgesic and antipyretic) and Caffeine. Combiflam Plus Tablet 10's is used for the treatment of Mild to Moderate pain including, headache, migraine, toothache, period pain, Pain of Osteoarthritis and Musculoskeletal pains. Analgesic refers to the action of relieving pain. Pain is caused by the activation of pain receptors due to the release of certain chemicals or enzymes.
It is Scientifically proven, Combination of formula of Paracetamol 650 mg and Caffeine 50 mg, found very effective to manage pain from various types of mild to moderate general pain conditions which the body tends to suffer.
Benefits of Combiflam Plus Tablet 10's:
It can be used for symptomatic relief from mild to moderate pain in conditions like headache, migraine, muscle pain and in backache, tooth pain and other musculoskeletal pain (body pain).

It is an over counter medicine for mild to moderate pain in the body.

It act as a Pain Releiver against Neuralgia (nerve pain) and Menstrual pain.

Paracetamol is effective as an analgesic, thus shows analgesic properties. 

 In addition, Caffeine can reduce fatigue, make you stay awake and alert.
Dosage:
Take one tablet and swallow it with the help of water.

Take the tablet either before or after a meal.

Preferably take the tablet post a meal to prevent gastric issues.

Avoid chewing the tablet if you can't swallow it whole. Break the tablet into 2  pieces and swallow both separately with water.

Make sure to take each dose at a fixed time evenly spaced apart for best results.
Precaution:
Store in a cool and dry place away from sunlight.

Keep it away from children's reach.

Check the expiry date before use.

Pregnant and lactating mothers should check with their doctor before taking these tablets.

Individuals who are taking other medication should consult their doctor before taking these tablets.

In case of an allergic reaction to the medicine such as the appearance of skin rash, wheezing, problems with breathing, etc., get in touch with your doctor immediately.
Side Effect:
Increased heart rate, insomnia, restlessness, and irritation, etc

Some may experience allergic skin reactions such as peeling and blistering of the skin.