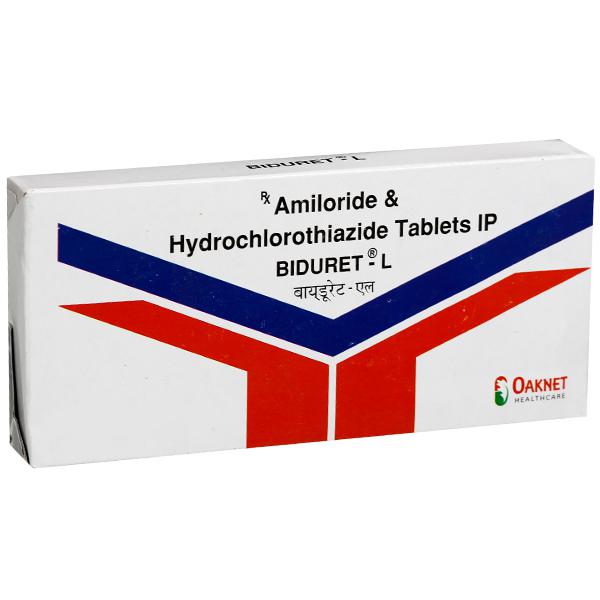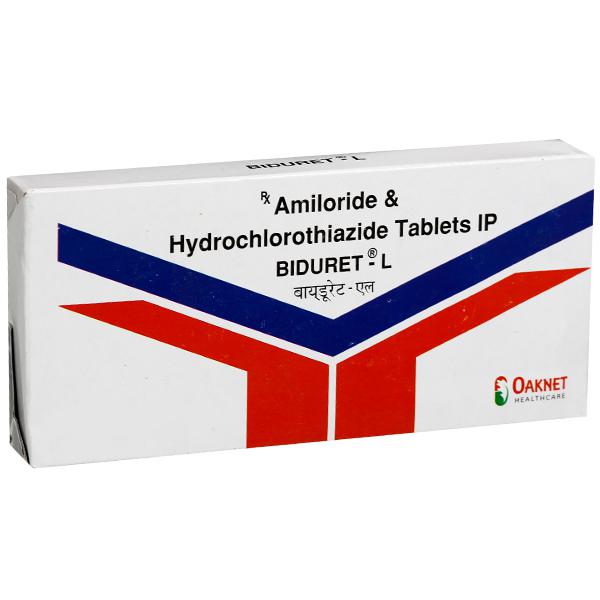 BIDURET-L 10TAB
Brand: Wellness Forever
14 Reviews
Rs. 35.21

Prescription required on this product.
Support 24/7

Call us anytime

100% Safety

Only secure payments

Hot Offers

Discounts up to 80%
Key Ingredients
Amiloride (2.5mg) + Hydrochlorothiazide (25mg)
Storage- Keep it in cool and dry place below 30°C
Consume Type- Oral
Description
Biduret -L Tablet is a combination of two medicines used to treat hypertension (high blood pressure). It reduces excess fluid levels in your body and maintains the potassium balance in the body. This medicine makes you lose excess water through urine. BIDURET L Tab contains two medicines: Amiloride and Hydrochlorothiazide. They work by eliminating extra water and several electrolytes from the body via urine. Amiloride blocks sodium-potassium exchange in the distal tubule of nephron (functional unit of the kidney). It helps in clearing the excess fluids in the body in the form of urine. When not removed from the body, this extra water can cause strain the heart, blood vessels, lungs, kidneys or liver. Hydrochlorothiazide (diuretic) works by increasing the amount of urine passed out from the kidneys. It effectively reduces excess fluid overload in the body and treats oedema (swelling) associated with heart, liver, kidney, or lung disease. This reduces the heart's workload and makes the heart more efficient at pumping blood throughout the body.
Key Benefits
Antihypertensive, heart failure and Edema (fluid retention)
Directions for use
It should be taken as directed by your doctor and in the prescribed quantity.
Swallow it as a whole with a glass of water with food. Do not cut, break or chew the medicine.
It would be best if you take it at a fixed time for optimal results.
Keep it away from the reach of children
Do not use expired medicine.
Safety Information
Tell the doctor about the medicines, supplements, or herbals you are currently taking or might take to avoid possible interaction.
If you have missed any dose, take it as soon as you remember. If it is time for the next dose, skip the missed dose and continue your regular dosing schedule.
It can make you feel dizzy for the first few days. Do not drive or do anything requiring concentration until you know how Biduret -L Tablet affects you.
It may increase the level of potassium in your blood. Avoid taking potassium supplements and potassium-rich foods such as banana and broccoli.
Notify your doctor if you experience diarrhea, vomiting, fast or irregular heartbeat, swelling in feet, or difficulty breathing.
Monitor your blood pressure after starting Biduret -L Tablet, and notify your doctor if it does not lower down.
Quit smoking and try to avoid alcohol
Limit sodium chloride intake (table salt) in your daily diet
Do regular physical activity or exercise
Side effects-
It is not necessary for everyone to experience the side effects. In case of any discomfort, consult your doctor.
Nausea
Vomiting
Diarrhoea
Headache
Glucose intolerance
Weakness
Muscle cramp
Electrolyte imbalance
The increased uric acid level in the blood
1. Can I stop taking Biduret -L Tablet if I feel well?
Answer- No, keep using Biduret -L Tablet as advised by your doctor, even if you feel
well. Stopping it suddenly may lead to serious complications such as heart attack and
stroke.
2. How would I know if I have high potassium level?
Answer- Your doctor will check your blood potassium levels periodically for high
potassium levels. Make sure that you do not miss any future appointments with the
doctor.
3. Can BIDURET L cause dry mouth?
Answer- Yes, the use of BIDURET L Tab may cause dry mouth. If you feel dry mouth,
drink plenty of water. Take normal sips during the day and keep some water at night. If
your lips are also dry, you may use lip balm. Try to prevent foods that are spicy, acidic
(like lemons), and salty.
4. Can BIDURET L TABLET cause dizziness?
Answer- BIDURET L Tab can cause dizziness as one of its side effects. If you feel
dizzy, try getting up slowly from a sitting or lying position. If your dizziness is severe or
unmanageable, please seek medical advice.