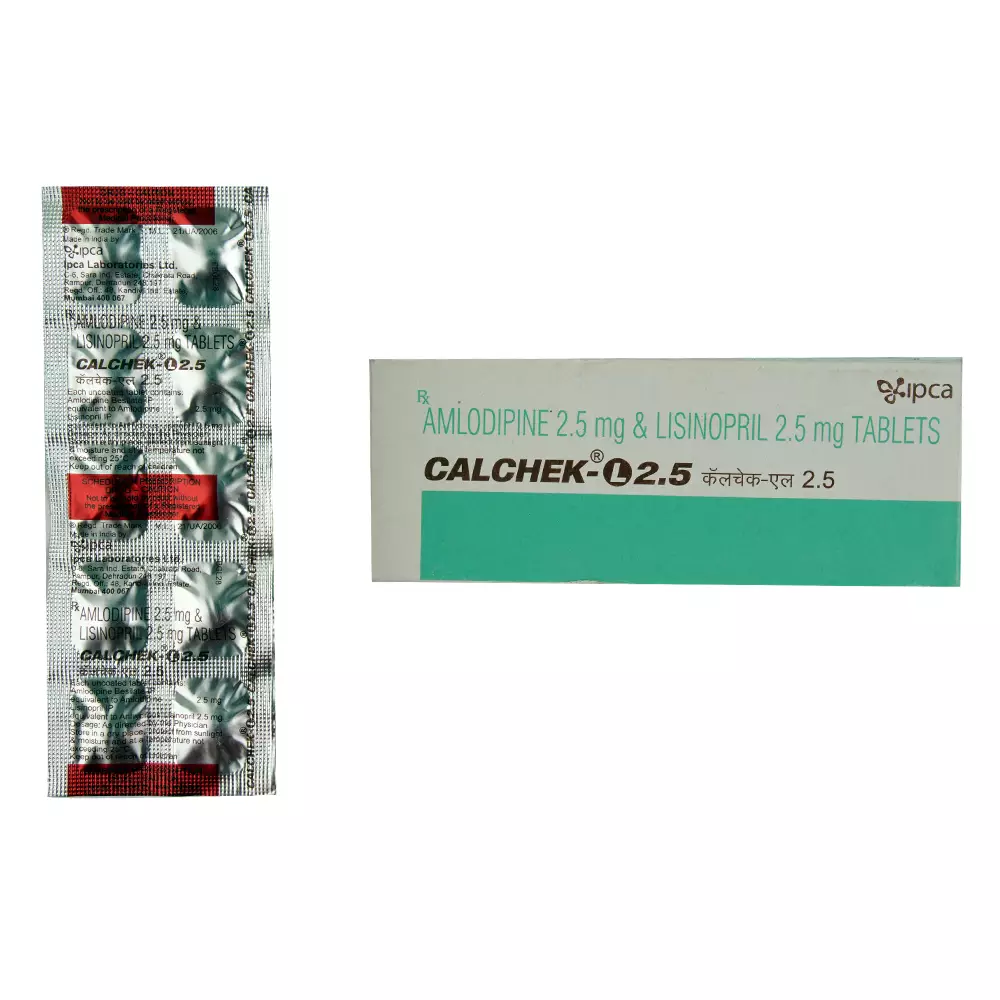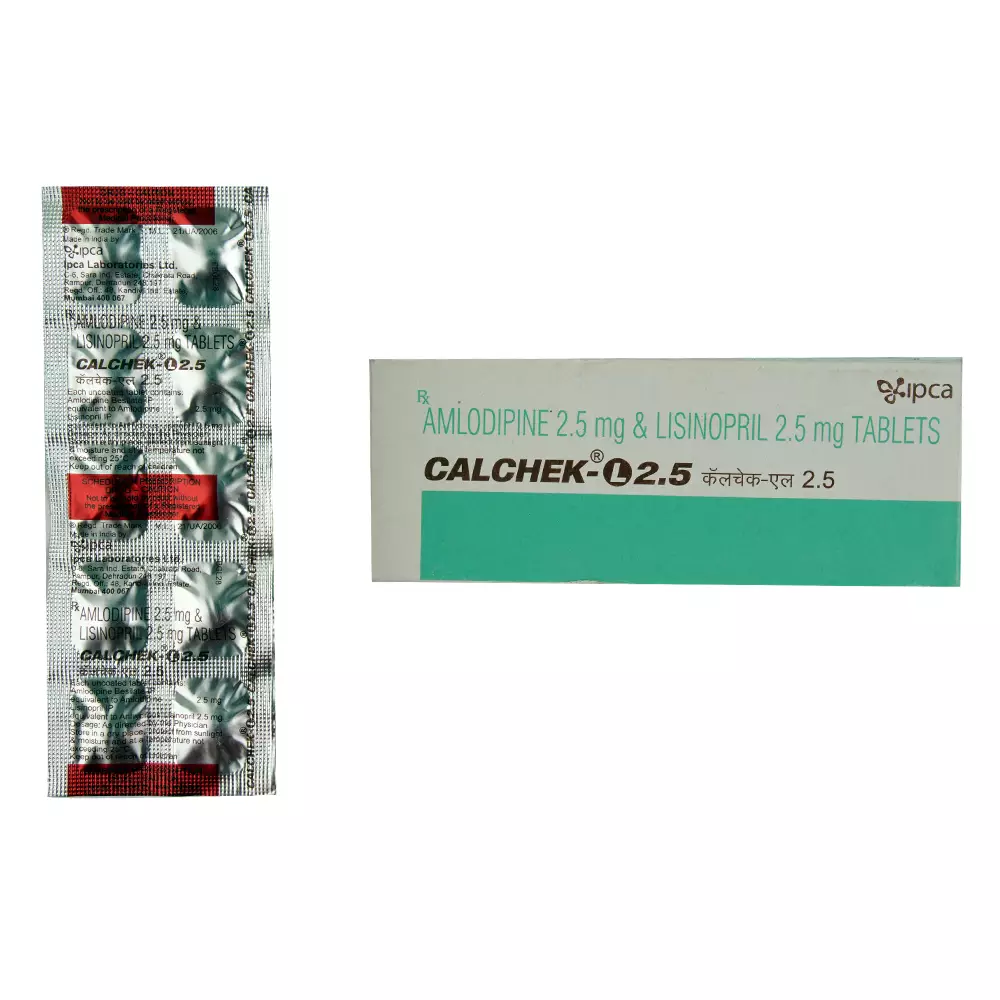 CALCHEK-L 2.5MG 10TAB
Brand: Wellness Forever
14 Reviews
Rs. 85.15

Prescription required on this product.
Support 24/7

Call us anytime

100% Safety

Only secure payments

Hot Offers

Discounts up to 80%
Key Ingredients
Amlodipine (2.5mg) + Lisinopril (2.5mg)
Storage- Keep it in cool and dry place below 30°C
Consume Type- Oral
Description
Calchek-L 2.5 Tablet is used to treat hypertension (high blood pressure). This is a combination of two medicines that controls blood pressure when a single medication is not effective. It helps to lower high blood pressure and thus reduces the chances of future heart attack and stroke.
Amlodipine belongs to the class of calcium channel blockers and is used to treat high blood pressure, variant angina (chest pain), and other conditions caused by coronary artery disease. It relaxes blood vessels, so that blood passes through them easily, thereby lowering the blood pressure. It also improves blood supply to the heart muscle to receive more oxygen and thus preventing chest pain. Lisinopril belongs to the class
of Angiotensin-Converting Enzyme (ACE) Inhibitors. It relaxes and widens the blood vessels making it easier for the heart to pump blood throughout the body, thereby lowering blood pressure. Lisinopril also decreases the body's production of certain substances that raise blood pressure.
Key Benefits
Hypertension (high blood pressure)
Directions for use
It should be taken as directed by your doctor and in the prescribed quantity.
Swallow it as a whole with a glass of water with or without food. Do not cut, break or chew the medicine.
It would be best if you take it at a fixed time for optimal results.
Keep it away from the reach of children
Do not use expired medicine.
Safety Information
Tell the doctor about the medicines, supplements, or herbals you are currentlyntaking or might take to avoid possible interaction.
If you have missed any dose, take it as soon as you remember. If it is time for the next dose, skip the missed dose and continue your regular dosing schedule.
It may cause dizziness. Get up slowly when rising from a sitting or lying position.
Do not take the Tablet if you are pregnant or planning for pregnancy.
Monitor your blood pressure regularly and seek medical advice if you notice any drastic fluctuations.
Limit sodium chloride intake (table salt) in your daily diet.
Avoid alcohol and try to quit smoking
Do physical activity and have healthy diet
Side effects-
It is not necessary for everyone to experience the side effects. In case of any discomfort, consult your doctor.
Ankle swelling
Headache
Tiredness
Palpitations
Increased potassium level in blood
Sleepiness
Cough
Taste change
Flushing (sense of warmth in the face, ears, neck and trunk)
Decreased blood pressure
Upset stomach
1. I am diabetic; can I take CALCHEK L 2.5MG TABLET?
Answer- It may increase blood potassium levels in people with diabetes, poor kidney
function, and patients using potassium-sparing diuretics or taking potassium
supplements. Please consult your doctor before taking it.
2. Can CALCHEK L 2.5MG TABLET cause ankle swelling?
Answer- Amlodipine in CALCHEK L 2.5MG can cause ankle swelling upon long term
use. Please try to keep your feet at the elevated position when sitting for long hours. If
the problem persists, please consult your doctor and do as advised.
3. Do I need to take CALCHEK L 2.5MG even if my blood pressure becomesb normal?
Answer- Even though your blood pressure becomes normal after using CALCHEK L
2.5MG, it may switch back to high ranges if you stop using it. Your doctor may change
the dose as per the need. Stopping may lead to a sudden rise in blood pressure
increases the risk of heart attack and stroke.
4. Can this medicine be taken during pregnancy?
Answer- Calchek-L 2.5 Tablet is not recommended for use if you are pregnant as it may
harm your foetus. Inform your doctor if you plan to get pregnant so that a safer
alternative may be prescribed.