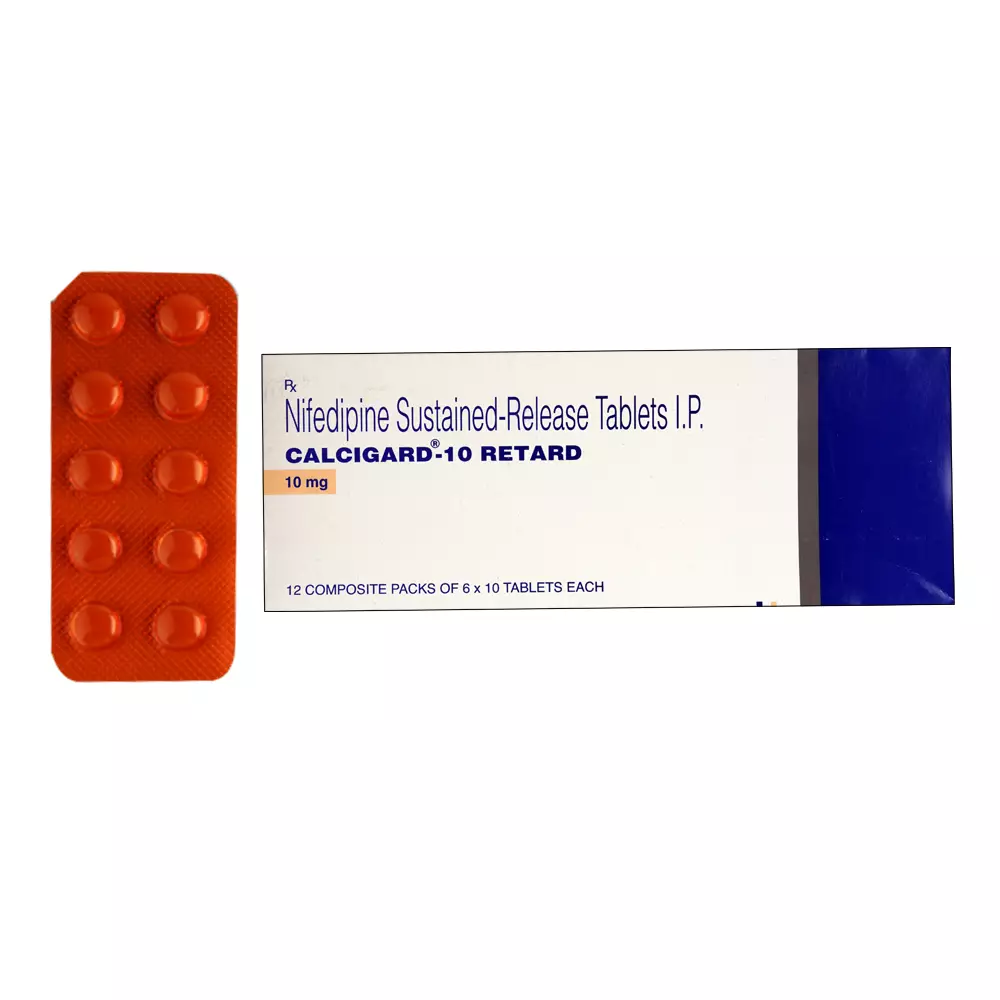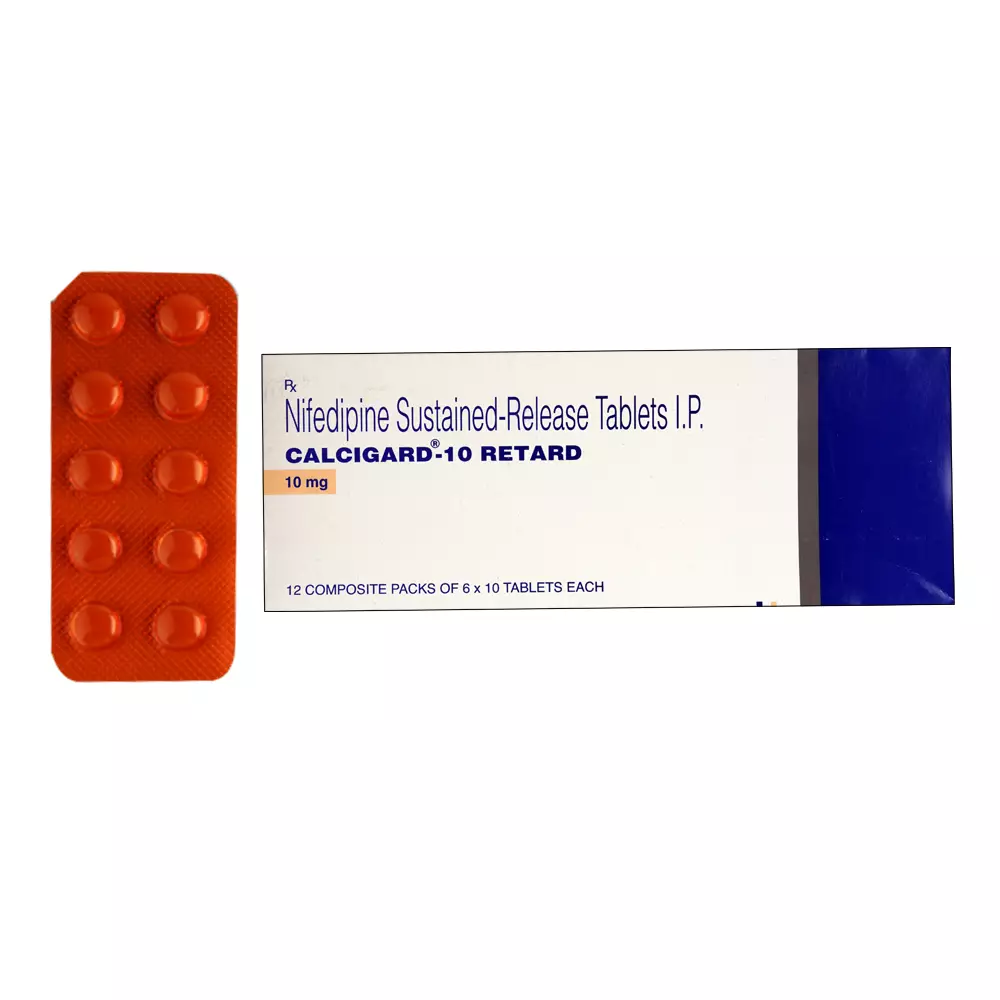 CALCIGARD-RETARD 10MG 10TAB
Brand: Wellness Forever
14 Reviews
Rs. 16.70

Prescription required on this product.
Support 24/7

Call us anytime

100% Safety

Only secure payments

Hot Offers

Discounts up to 80%
Key Ingredients
Nifedipine (10mg)
Storage- Keep it in cool and dry place below 30°C
Consume Type- Oral
Description
Calcigard-retard 10 Capsule is a medicine used to treat high blood pressure (hypertension) and to prevent angina (heart-related chest pain). It belongs to a class of medicines known as calcium channel blockers. It lowers blood pressure and reduces the workload of the heart. This helps prevent heart attacks and strokes. Your doctor may adjust the dose depending on how you respond to this medicine and your blood pressure levels.
CALCIGARD-retard 10MG works by relaxing the blood vessels; this lowers your blood pressure and reduces your risk of having a stroke, a heart attack, other heart problems, or kidney problems in the future. This medicine needs to be taken regularly to be effective and also for the best results.
Key Benefits
Hypertension (high blood pressure)
Directions for use
It should be taken as directed by your doctor and in the prescribed quantity.
Swallow it as a whole with a glass of water with or without food. Do not cut, break or chew the medicine.
It would be best if you take it at a fixed time for optimal results.
Keep it away from the reach of children
Do not use expired medicine.
Safety Information
Tell the doctor about the medicines, supplements, or herbals you are currently taking or might take to avoid possible interaction.
If you have missed any dose, take it as soon as you remember. If it is time for the next dose, skip the missed dose and continue your regular dosing schedule.
A sudden drop in your blood pressure may occur, especially when you first start taking Calcigard-Retard 10 Capsule. To lower the chance of feeling dizzy or passing out, rise slowly if you have been sitting or lying down.
It can cause ankle or foot swelling. To reduce the swelling, raise your legs while you are sitting down. Talk to your doctor if it does not go away.
It may cause dizziness. Do not drive or perform any activity that requires mental focus until you know how Calcigard-Retard10 Capsule affects you.
Inform your doctor if you are pregnant, planning a pregnancy or breastfeeding.
Have healthy food and do regular exercises
You should avoid having grapefruit while on treatment with this medicine
Limit intake of dietary salt
Avoid alcohol and try to quit smoking
Side effects-
It is not necessary for everyone to experience the side effects. In case of any discomfort, consult your doctor.
Dizziness
Edema (swelling)
Fatigue
Flushing (sense of warmth in the face, ears, neck and trunk)
Headache
Palpitations
Constipation
1. Can the medicine cause sudden drop in the blood pressure?
Answer- Yes, CALCIGARD-Retard 10MG can cause a sudden drop in blood pressure
especially when you start taking it, to avoid sudden drop please get up gently when
sitting down so as to avoid dizziness.
2. Can I stop taking CALCIGARD-Retard 10MG CAPSULE when my blood pressure is under control or normal?
Answer- It is advised to continue your medicine even after your blood pressure is under
control or becomes normal as blood pressure can shot up at any time. If you have a
persistent headache, please consult your doctor immediately.
3. What should I do if I miss a dose of CALCIGARD-Retard 10MG CAPSULE?
Answer- If you miss a dose of CALCIGARD-Retard 10MG, you are advised to take it as
soon as you remember. However, if it's time for you to take your next dose, you should
skip the missed one and continue your scheduled dose. Taking both the doses together
can lead to very low blood pressure.
4. Can I take CALCIGARD-Retard 10MG CAPSULE on my own?
Answer- No, it is a prescribed drug given by a physician for preventing specific medical
conditions. Taking it on your own can cause unwanted side-effects.
5. What if I forgot to take CALCIGARD-Retard 10MG CAPSULE?
Answer- If you forget to take CALCIGARD-Retard 10MG at any time, take it as soon as
you remember, then continue to take it at the usual times. Do not take a double dose to
make up for a forgotten dose.