SecondMedic Full Body Health Checkup
Rs. 1125
Rs. 2300
51.1%
---
SecondMedic Full Body Health Checkup is a basic full body blood test by Thryocare consists of 89 Tests viz. Thyrocare Liver function Test (LFT), Thyrocare Thyroid profile, Thyrocare Lipid (cholesterol), Thyrocare Kidney function KFT, CBC - Complete blood count (Hemogram) and more. 
We at SecondMedic provides you with best price for SecondMedic Full Body Health Checkup with free home collection. This checkup helps you assess your overall health with vitamin. It will help you identify major chronic illnesses such as blood, liver and thyroid functioning, as well as any deficiencies. Diagnosing such problems at the right time can help you identify the best treatment options and reduce risks. SecondMedic Full Body Health Checkup package can help you with early detection.
 
Service and Reporting managed by :
Thyrocare Technologies Limited - India's first and most advanced Totally Automated NABL/ICMR/CAP/ISO certified laboratory, providing Accurate Reports with top-rated Quality service since 1995.
 
SecondMedic Full Body Health Checkup FAQs
Q. How long will the results take?
Answer: You will receive your reports through SMS and Email from Thyrocare within 24/48 hours
---
Q. What is the process for the sample collection?
Answer: As soon as the order is placed with us, our team will reach out to you on your registered number (please ensure your phone is reachable) to confirm the order. Once you connect with Thyrocare's team member a payment link will be sent to you on your number via SMS/Email. Our highly professional, trained and vaccinated Thyrocare's eMedic would be at your doorstep at the slot booked by you (available slots can be seen on order confirmation page).
---
Q. When should I take SecondMedic Full Body Health Checkup test?
Answer: Since SecondMedic Full Body Health Checkup is a fasting profile, it is best to get it done early in the morning.
---
Q. Any precautions to be taken prior to task SecondMedic Full Body Health Checkup test?
Answer: Do not eat or drink anything except water at least 10 to 12 hours before the test.
Booking Procedure:
Fill the booking form on right side with Name, Address, Mobile no.
Blood/Urine samples will be collected from your Home address. 10-12 hrs fasting is required.
You need to make the payment by cash to Thyrocare when Technician comes to pick up the samples OR Pay online after confirmation of booking.
Reports will be couriered at your residence in 3-4 working days if hardcopy is opted. We will email the reports within 48-72 hrs on your email address mentioned while booking.

Sample pickup at home

Online reports within 48 hours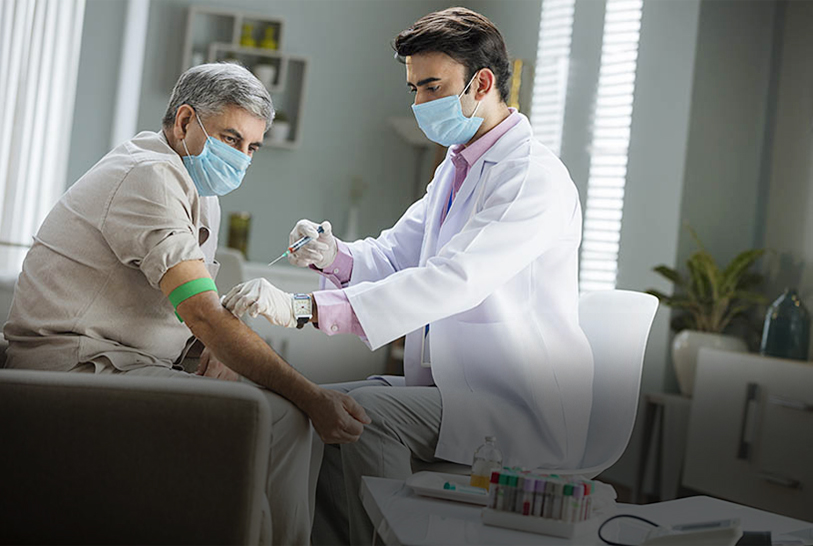 Book - SecondMedic Full Body Health Checkup
IRON DEFICIENCY (3)
% TRANSFERRIN SATURATION IRON TOTAL IRON BINDING CAPACITY (TIBC)
LIVER (11)
SERUM ALB/GLOBULIN RATIO ALKALINE PHOSPHATASE BILIRUBIN -DIRECT BILIRUBIN (INDIRECT) BILIRUBIN - TOTAL GAMMA GLUTAMYL TRANSFERASE (GGT) PROTEIN - TOTAL ALBUMIN - SERUM SERUM GLOBULIN ASPARTATE AMINOTRANSFERASE (SGOT ) ALANINE TRANSAMINASE (SGPT)
LIPID (8)
TOTAL CHOLESTEROL HDL CHOLESTEROL - DIRECT LDL CHOLESTEROL - DIRECT LDL / HDL RATIO NON-HDL CHOLESTEROL TC/ HDL CHOLESTEROL RATIO TRIGLYCERIDES VLDL CHOLESTEROL
COMPLETE HEMOGRAM (24)
BASOPHILS - ABSOLUTE COUNT EOSINOPHILS - ABSOLUTE COUNT LYMPHOCYTES - ABSOLUTE COUNT MONOCYTES - ABSOLUTE COUNT NEUTROPHILS - ABSOLUTE COUNT BASOPHILS EOSINOPHILS HEMOGLOBIN IMMATURE GRANULOCYTES(IG) IMMATURE GRANULOCYTE PERCENTAGE(IG%) TOTAL LEUCOCYTES COUNT LYMPHOCYTE PERCENTAGE MEAN CORPUSCULAR HEMOGLOBIN(MCH) MEAN CORP.HEMO.CONC(MCHC) MEAN CORPUSCULAR VOLUME(MCV) MONOCYTES NEUTROPHILS NUCLEATED RED BLOOD CELLS NUCLEATED RED BLOOD CELLS % HEMATOCRIT(PCV) PLATELET COUNT TOTAL RBC RED CELL DISTRIBUTION WIDTH (RDW-CV) RED CELL DISTRIBUTION WIDTH - SD(RDW-SD)
COMPLETE URINE ANALYSIS (24)
SPECIFIC GRAVITY APPEARANCE BACTERIA URINARY BILIRUBIN URINE BLOOD UROBILINOGEN BILE PIGMENT BILE SALT CASTS COLOUR CRYSTALS EPITHELIAL CELLS URINARY GLUCOSE URINE KETONE URINARY LEUCOCYTES NITRITE PH URINARY PROTEIN MICROALBUMIN MUCUS PARASITE RED BLOOD CELLS ASCORBIC ACID VOLUME
THYROID (3)
TOTAL TRIIODOTHYRONINE (T3) TOTAL THYROXINE (T4) THYROID STIMULATING HORMONE (TSH)
KIDNEY (5)
BLOOD UREA NITROGEN (BUN) CALCIUM CREATININE - SERUM URIC ACID BUN / Sr CREATININE RATIO
Erythrocyte Sedimentation Rate (ESR) (1)
Erythrocyte Sedimentation Rate (ESR)
ELECTROLYTES (3)
CHLORIDE POTASSIUM SODIUM
CARDIAC RISK MARKERS (5)
APO B / APO A1 RATIO (APO B/A1) APOLIPOPROTEIN - A1 (APO-A1) APOLIPOPROTEIN - B (APO-B) HIGH SENSITIVITY C-REACTIVE PROTEIN (HS-CRP) LIPOPROTEIN (A) [LP(A)]
DIABETES (2)
AVERAGE BLOOD GLUCOSE (ABG) HbA1c
Book Now