HealthyLife Master
Rs. 4300
Rs. 6000
28.3%
---
Master Health Checkup Package HealthyLife Master profile which Consists of 138 Tests and Consists of fundamental tests for screening of the health status Like Cardiac Risk Markers, Complete Hemogram, Diabetics, Iron, Lipid, Liver, Kidney, Thyroid, Vitamin, Pancreatic, Electrolytes, Hormone, Toxic Elements, Complete Urine. This package is ideal for People Aged 18 years and above.
Booking Procedure:
Fill the booking form on right side with Name, Address, Mobile no.
Blood/Urine samples will be collected from your Home address. 10-12 hrs fasting is required.
You need to make the payment by cash to Thyrocare when Technician comes to pick up the samples OR Pay online after confirmation of booking.
Reports will be couriered at your residence in 3-4 working days if hardcopy is opted. We will email the reports within 48-72 hrs on your email address mentioned while booking.

Sample pickup at home

Online reports within 48 hours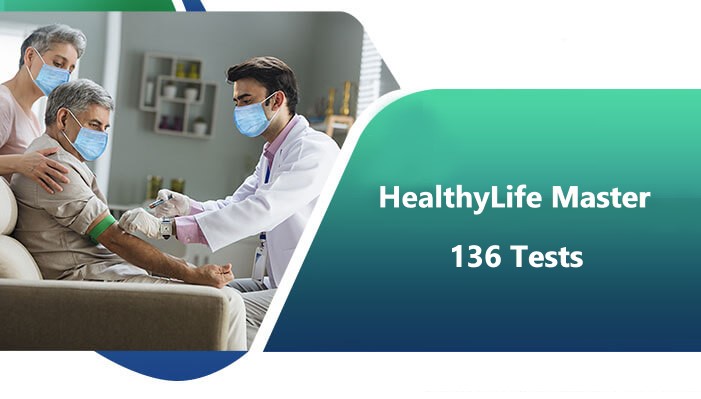 Book - HealthyLife Master
IRON DEFICIENCY (3)
% TRANSFERRIN SATURATION IRON TOTAL IRON BINDING CAPACITY (TIBC)
LIVER (12)
SERUM ALB/GLOBULIN RATIO ALKALINE PHOSPHATASE BILIRUBIN -DIRECT BILIRUBIN (INDIRECT) BILIRUBIN - TOTAL GAMMA GLUTAMYL TRANSFERASE (GGT) PROTEIN - TOTAL ALBUMIN - SERUM SERUM GLOBULIN ASPARTATE AMINOTRANSFERASE (SGOT ) ALANINE TRANSAMINASE (SGPT) ALPHA-1-ANTITRYPSIN (AAT)
COMPLETE HEMOGRAM (24)
BASOPHILS - ABSOLUTE COUNT EOSINOPHILS - ABSOLUTE COUNT LYMPHOCYTES - ABSOLUTE COUNT MONOCYTES - ABSOLUTE COUNT NEUTROPHILS - ABSOLUTE COUNT BASOPHILS EOSINOPHILS HEMOGLOBIN IMMATURE GRANULOCYTES(IG) IMMATURE GRANULOCYTE PERCENTAGE(IG%) TOTAL LEUCOCYTES COUNT LYMPHOCYTE PERCENTAGE MEAN CORPUSCULAR HEMOGLOBIN(MCH) MEAN CORP.HEMO.CONC(MCHC) MEAN CORPUSCULAR VOLUME(MCV) MONOCYTES NEUTROPHILS NUCLEATED RED BLOOD CELLS NUCLEATED RED BLOOD CELLS % HEMATOCRIT(PCV) PLATELET COUNT TOTAL RBC RED CELL DISTRIBUTION WIDTH (RDW-CV) RED CELL DISTRIBUTION WIDTH - SD(RDW-SD)
DIABETES (6)
AVERAGE BLOOD GLUCOSE (ABG) BLOOD KETONE (D3HB) FASTING BLOOD SUGAR FRUCTOSAMINE HbA1c INSULIN - FASTING
PANCREATIC (2)
AMYLASE LIPASE
CARDIAC RISK MARKERS (7)
APO B / APO A1 RATIO (APO B/A1) APOLIPOPROTEIN - A1 (APO-A1) APOLIPOPROTEIN - B (APO-B) HOMOCYSTEINE HIGH SENSITIVITY C-REACTIVE PROTEIN (HS-CRP) LIPOPROTEIN (A) [LP(A)] LP-PLA2
RENAL (6)
BUN / Sr.CREATININE RATIO BLOOD UREA NITROGEN (BUN) CALCIUM CYSTATIN C CREATININE - SERUM URIC ACID
TOXIC ELEMENTS (22)
SILVER ALUMINIUM ARSENIC BARIUM BERYLLIUM BISMUTH CADMIUM COBALT CHROMIUM CAESIUM MERCURY MANGANESE MOLYBDENUM NICKEL LEAD ANTIMONY SELENIUM TIN STRONTIUM THALLIUM URANIUM VANADIUM
ELECTROLYTES (2)
CHLORIDE SODIUM
LIPID (8)
TOTAL CHOLESTEROL HDL CHOLESTEROL - DIRECT LDL CHOLESTEROL - DIRECT LDL / HDL RATIO NON-HDL CHOLESTEROL TC/ HDL CHOLESTEROL RATIO TRIGLYCERIDES VLDL CHOLESTEROL
VITAMINS (14)
VITAMIN D TOTAL VITAMIN D2 VITAMIN D3 VITAMIN A VITAMIN B-12 VITAMIN B1/THIAMIN VITAMIN B2/RIBOFLAVIN VITAMIN B3/NICOTINIC ACID VITAMIN B5/PANTOTHENIC VITAMIN B6/PYRIDOXAL - 5 - PHOSPHATE VITAMIN B7/BIOTIN VITAMIN B9/FOLIC ACID VITAMIN E VITAMIN K
ELEMENTS (2)
SERUM COPPER SERUM ZINC
THYROID (3)
TOTAL TRIIODOTHYRONINE (T3) TOTAL THYROXINE (T4) THYROID STIMULATING HORMONE (TSH)
COMPLETE URINE ANALYSIS (26)
SPECIFIC GRAVITY APPEARANCE BACTERIA URINARY BILIRUBIN URINE BLOOD UROBILINOGEN BILE PIGMENT BILE SALT CASTS COLOUR CRYSTALS EPITHELIAL CELLS URINARY GLUCOSE URINE KETONE URINARY LEUCOCYTES NITRITE PH URINARY PROTEIN CALCIUM MICROALBUMIN MUCUS PARASITE RED BLOOD CELLS ASCORBIC ACID VOLUME YEAST
Book Now