COVID ANTIBODY - GT
Rs. 650
Rs. 900
27.8%
---
Thyrocare has launched COVID-19 Antibody GT Profile. Antibody tests, also known as serological tests, detect whether a person has antibodies to the virus. Antibodies are naturally produced by the body's immune system to fight off infections. Covid 19 Antibody GT Test cannot be used to diagnose Covid-19, but can reveal whether a person was recently exposed to the virus. 
Coronavirus Antibody GT Test is a highly sensitive test for COVID-19 antibody detection.
COVID 19 Antibody GT Profile can be used to determine whether you have encountered the devil or still not. This is for sero-surveillance only, NOT for COVID diagnosis.
This package contains 2 tests.
1. Covid Antibody IgG
2. Covid Antibodies - Total
Patient Preparation : Non-fasting

Sample Type: Blood

Prescription: Not Required

Who should do Covid Antibody test and Why?
1. Recovered from COVID-19, but still not sure if you've antibodies?
2. Has the vaccine started working on you?
3. COVID-19 is here to stay, know if YOU are ready to fight it.
4. Know how long your immunity might last! Don't Assume, Be Sure.
5. Planning to resume your routine life out? Check your immunity before you step out.
Highly specific, simple, affordable technique to detect whether an individual is exposed to the virus or not.
Booking Procedure:
Fill the booking form on right side with Name, Address, Mobile no.
Blood/Urine samples will be collected from your Home address. 10-12 hrs fasting is required.
You need to make the payment by cash to Thyrocare when Technician comes to pick up the samples OR Pay online after confirmation of booking.
Reports will be couriered at your residence in 3-4 working days if hardcopy is opted. We will email the reports within 48-72 hrs on your email address mentioned while booking.

Sample pickup at home

Online reports within 48 hours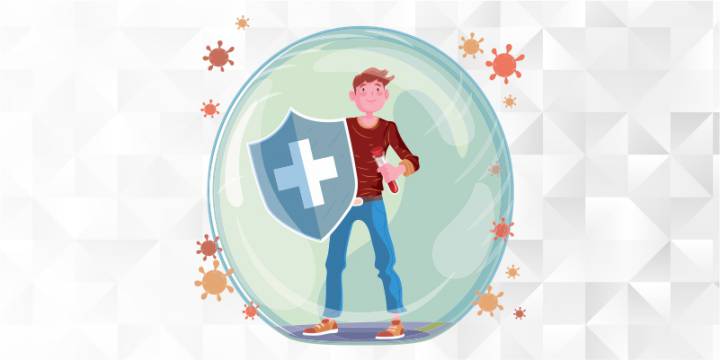 Book - COVID ANTIBODY - GT
COVID ANTIBODY - GT (2)
Covid Antibody IGG - C.L.I.A Covid Antibody Total- ELISA
Book Now