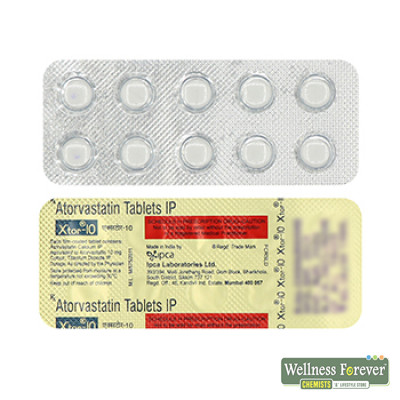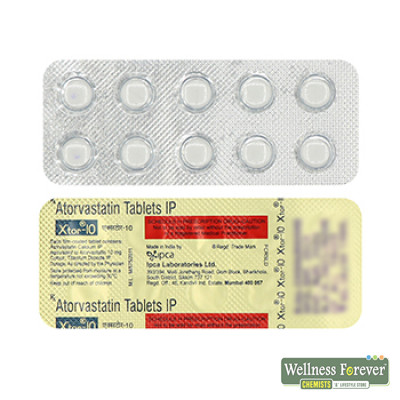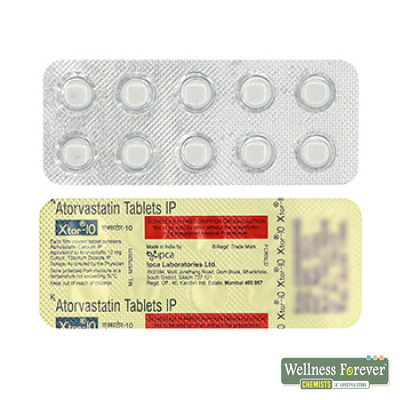 XTOR 10MG 10TAB
Brand: Wellness Forever
14 Reviews
Rs. 61.26

Prescription required on this product.
Support 24/7

Call us anytime

100% Safety

Only secure payments

Hot Offers

Discounts up to 80%
Key Ingredients
Atorvastatin (10mg)
Storage- Keep it in cool and dry place below 30°C
Consume Type- Oral
Description
XTOR 10MG contains Atorvastatin, which belongs to a group of medicines called Statins. It is used to reduce high cholesterol levels in patients, including those who have certain inherited cholesterol disorders. Cholesterol gets builds up in your blood vessels leading to narrowing of blood vessels resulting in heart attack or stroke. XTOR 10MG is intended to reduce high cholesterol levels and is important to follow diet along with appropriate exercise, while taking medication. If you regularly drink grapefruit juice, talk to your doctor, since it may increase the amount of atorvastatin in the blood. Diabetic patients have to monitor their blood sugar more frequently while taking this medicine.
Key Benefits
High cholesterol

Prevention of Heart attack
Directions for use
It should be taken as directed by your doctor and in the prescribed quantity.

Swallow it as a whole with a glass of water. Do not cut, break or chew the medicine.

It would be best if you take it at a fixed time for optimal results.

Keep it away from the reach of children

Do not use expired medicine.
Safety Information
Tell the doctor about the medicines, supplements, or herbals you are currently taking or might take to avoid possible interaction.

If you have missed any dose, take it as soon as you remember. If it is time for the next dose, skip the missed dose and continue your regular dosing schedule.

Your doctor may check your liver function before starting the treatment and regularly thereafter. Inform your doctor if you notice signs of liver problems such as stomach pains, unusually dark urine or yellowing of skin or eyes.

Inform your doctor if you have kidney disease, liver disease or diabetes before starting treatment with this medicine. If you are diabetic, monitor your blood sugar level regularly as Xtor 10 Tablet may cause an increase in your blood sugar level.

Do not take Xtor 10 Tablet if you are pregnant, planning a pregnancy or breastfeeding.

As a precautionary measure, do not consume alcohol and quit smoking

Eat healthy food and do regular exercises.
Side effects-
It is not necessary for everyone to experience the side effects. In case of any discomfort, consult your doctor.
Dyspepsia

Abdominal pain

Indigestion

Diarrhea

Joint pain

Nasopharyngitis

Nausea

Pain in extremities

Urinary tract infection

Abnormal liver function tests
1. Can Xtor 10 Tablet cause muscle problems or muscle injury?
Answer :- Yes, taking Xtor 10 Tablet can cause muscle problems or muscle injury.
This is because of the reduced oxygen supply to the muscle cells which leads to
fatigue, muscle pain, tenderness, or muscle weakness. The soreness may be
significant enough to interfere with your daily activities. Do not take it lightly and
consult your doctor to know about ways to prevent this and to avoid making it worse.
2. Is Xtor 10 Tablet used for lowering cholesterol?
Answer :- Xtor 10 Tablet belongs to a group of medicines known as statins, which
lowers the level of lipids or fats. Xtor 10 Tablet is used to lower lipids known as
cholesterol and triglycerides in the blood when a low-fat diet and lifestyle changes
fail to lower the levels of cholesterol and triglycerides. If you are at an increased risk
of heart disease, Xtor 10 Tablet can also be used to reduce such risk even if your
cholesterol levels are normal. You should maintain a standard cholesterol-lowering
diet during treatment.
3. Can Xtor 10 Tablet be prescribed to children?
Answer :- Xtor 10 Tablet is for adults and children aged 10 years or more whose
cholesterol levels do not come down enough with exercise and a low-fat diet. It is not
approved for use in patients younger than 10 years old.
4. Is Xtor 10 Tablet a blood thinner?
Answer :- No, Xtor 10 Tablet is not a blood thinner. It is a cholesterol-lowering
medicine. It works by slowing down the production of cholesterol in the body. This
further decreases the amount of cholesterol that may build up on the walls of the
arteries and block blood flow to the part of the body. By lowering the levels of
cholesterol and triglycerides it prevents the chances of stroke and heart attack.
5. For how long do I need to take Xtor 10 Tablet? Is it safe for long-term use?
Answer -:- you may need to take Xtor 10 Tablet life long or for the duration prescribed
by your doctor. The benefits will only continue for as long as you take it. If you stop
taking Xtor 10 Tablet without starting a different treatment, your cholesterol levels
may rise again. It is considered to be safe and has few side effects if taken as
directed by the doctor.