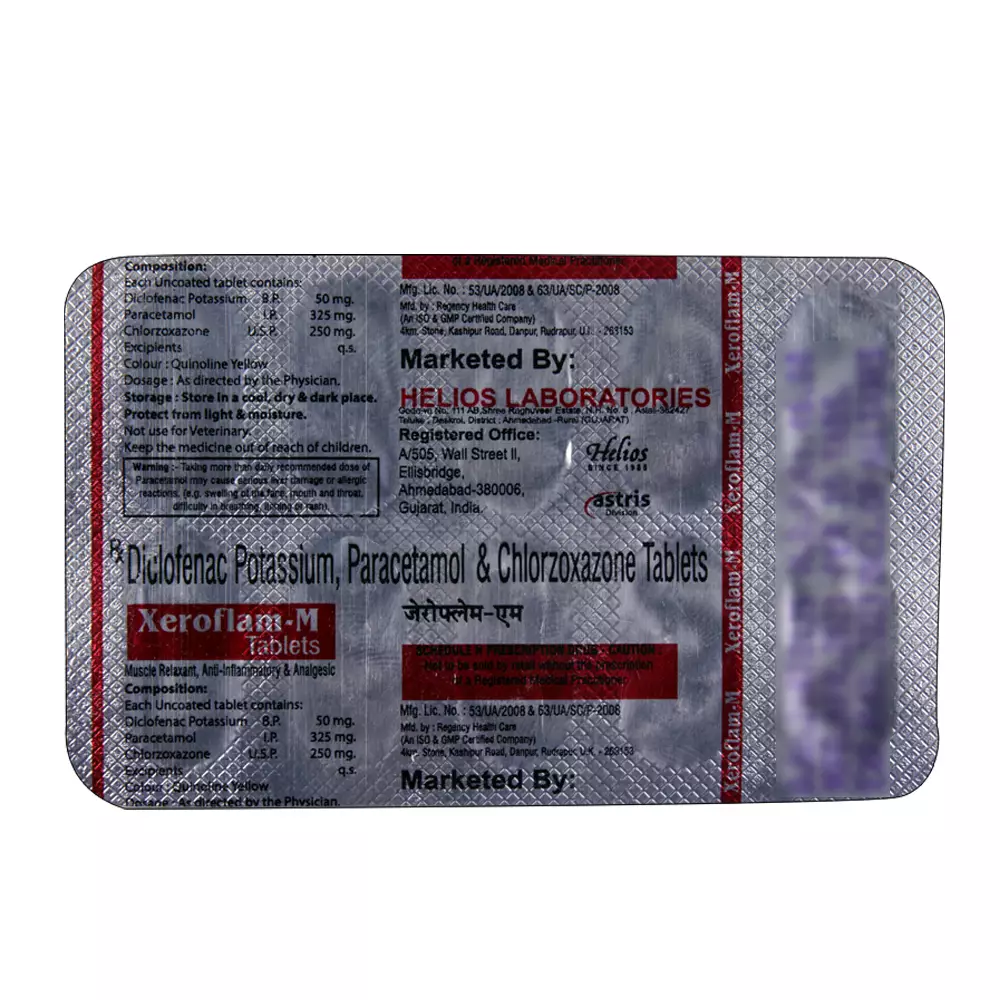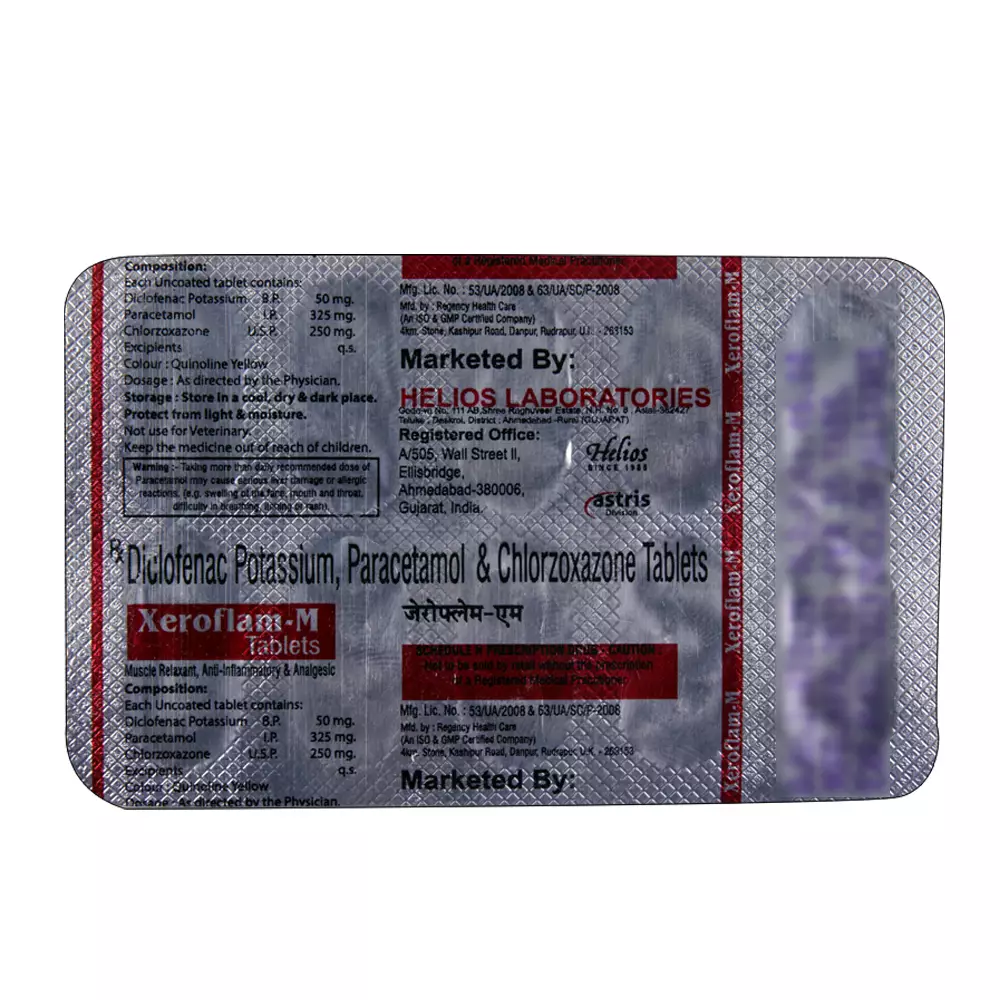 XEROFLAM-M 10TAB
Brand: Wellness Forever
14 Reviews
Rs. 51.00

Prescription required on this product.
Support 24/7

Call us anytime

100% Safety

Only secure payments

Hot Offers

Discounts up to 80%
Key Ingredients
Chlorzoxazone (250mg) + Diclofenac (50mg) + Paracetamol (325mg)
Storage- Keep it in cool and dry place below 30°C
Consume Type- Oral
Description
Xeroflam-M 10Tablet belongs to the class of drugs known as 'non-steroidal anti- inflammatory drug. Xeroflam-M 10Table is used in the reduction of musculoskeletal pain and muscle spasm due to tissue injury, resolution of post surgery inflammation and oedema (swollen tissue with fluid). Pain can be temporary or long term in nature. Musculoskeletal pain can be caused due to soft tissues injury. Extreme tissue pain and inflammation caused due to sprains, strains or trauma or post-surgery may require a prolonged amount of time to heal.
Key Benefits
Treatment of Pain due to muscle spasm
Directions for use
It should be taken as directed by your doctor and in the prescribed quantity.

Swallow it as a whole with a glass of water. Do not cut, break or chew the medicine.

It would be best if you take it at a fixed time for optimal results.

Keep it away from the reach of children

Do not use expired medicine.
Safety Information
Tell the doctor about the medicines, supplements, or herbals you are currently taking or might take to avoid possible interaction.

If you have missed any dose, take it as soon as you remember. If it is time for the next dose, skip the missed dose and continue your regular dosing schedule.

Older adults may have increased drowsiness, confusion, and higher risk of falling as a result of taking Xeroflam M Tablet.

Do not take it with any other medicine containing acetaminophen (drugs for pain/fever or cough-and-cold) without asking your doctor first.

As a precautionary measure, do not consume alcohol and quit smoking

Eat healthy food and do regular exercises.

This medicine is most effective when taken along with proper rest and physical therapy.
Side effects-
It is not necessary for everyone to experience the side effects. In case of any discomfort, consult your doctor.
Nausea

Indigestion

Diarrhoea

Drowsiness

Dizziness

Heartburn

Stomach pain

Restlessness
1. Can Xeroflam-M 10Tablet cause dizziness?
Answer :- Yes, Xeroflam-M 10Tablet is known to cause dizziness. If you feel dizzy,
please take rest and also avoid driving while you take Xeroflam-M 10Tablet as it can
be harmful.
2. Can I take Xeroflam-M 10Tablet with other pain killers?
Answer :- Yes. But ensure pain killers or any other drugs you are taking does not
contain paracetamol, aceclofenac or chlorzoxazone. As, it may lead to overdosage
leading to unpleasant side effects.
3. Can Xeroflam-M 10Tablet can be taken with alcohol?
Answer :- Taking excessive alcohol with Xeroflam-M 10Tablet can cause liver
damage. So, it is advisable to avoid or limit intake of alcohol during the treatment
with Xeroflam-M 10Tablet.
4. Can I take Xeroflam-M 10Tablet with other cough and cold pills?
Answer: - It depends on whether your cough and cold pills contain ibuprofen,
chlorzoxazone and paracetamol or not. If it contains these two medicines, do not
take it. It may lead to over dosage, thereby producing unpleasant side effects.
Consult your doctor before taking it in such cases.
5. In which conditions shall I avoid use of Xeroflam-M 10Tablet?
Answer: - Xeroflam-M 10Tablet is known to be contra-indicated in patients allergic to
painkillers or any of the components or excipients of this medicine. Its use should
also be avoided in patients with history of heart failure, high blood pressure, stomach
ulcer and kidney/liver disease.