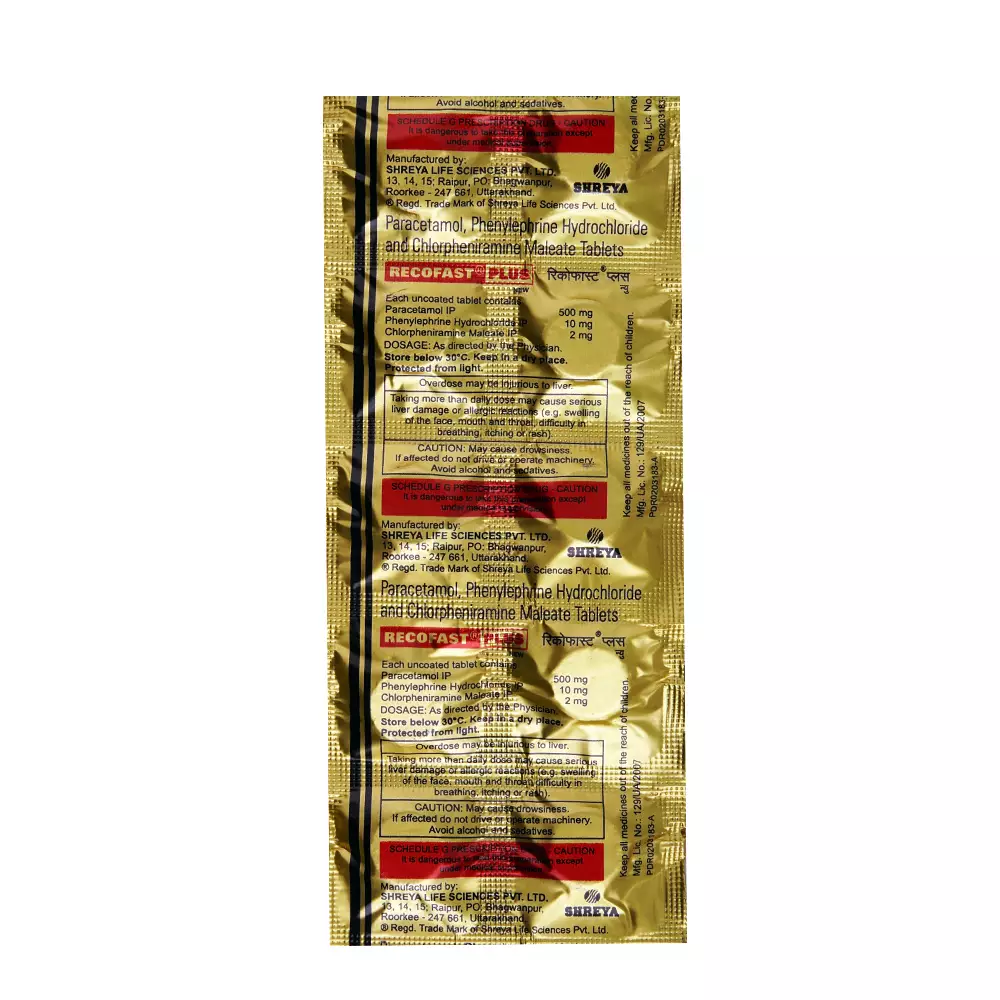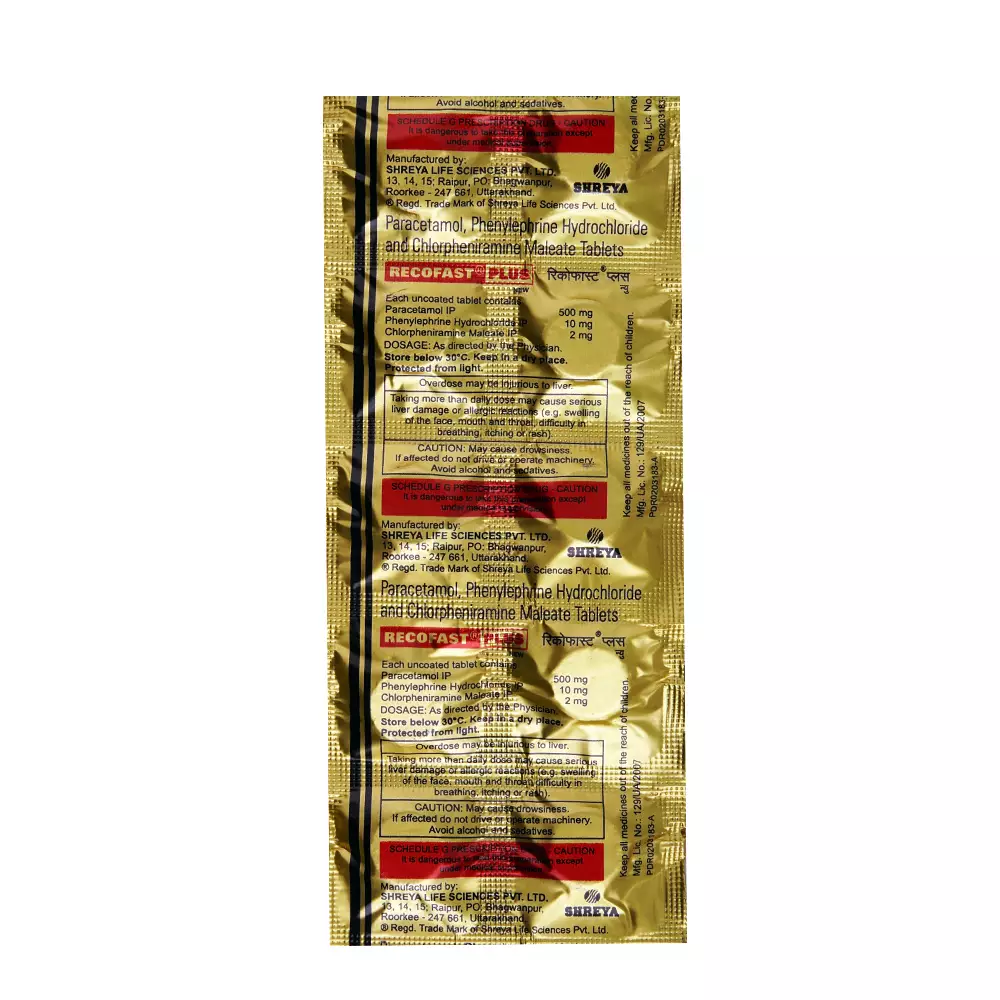 RECOFAST-PLUS 10TAB
Brand: Wellness Forever
14 Reviews
Rs. 72.15

Prescription required on this product.
Support 24/7

Call us anytime

100% Safety

Only secure payments

Hot Offers

Discounts up to 80%
Key Ingredients
Paracetamol (500mg) + Pseudoephedrine (10mg) + Triprolidine (2mg
Storage- Keep it in cool and dry place below 30°C
Consume Type- Oral
Description
Recofast Plus Tablet 10's belongs to the class of drugs known as 'non-steroidal anti-inflammatory drug. It is a fixed-dose combination composed of aceclofenac, paracetamol and serratiopeptidase. Recofast Plus Tablet 10's is used in the reduction of pain and inflammation due to bone or soft tissue injury, resolution of postoperative inflammation, oedema and pain. Aceclofenac works by blocking the action of an enzyme known as cyclo-oxygenase which causes pain and swelling in the injured or damaged tissue. Paracetamol acts as a mild analgesic and antipyretic which enhances the pain relief action of aceclofenac. Serratiopeptidase is an enzyme which helps in the breakdown of a protein which is formed as a by-product of the clotted blood at the site of injury. It thus causes thinning of the fluids around the site of injury thereby making fluid drainage smoother in the swollen tissue.
Key Benefits
Treat Pain after any injury
Low back pain
Cervical pain.
Directions for use
It should be taken as directed by your doctor and in the prescribed quantity.
Swallow it as a whole with a glass of water after meals. Do not cut, break or chew the medicine.
Keep it away from the reach of children
Do not use expired medicine.
Safety Information
Tell the doctor about the medicines, supplements, or herbals you are currently taking or might take to avoid possible interaction.
If you have missed any dose, take it as soon as you remember. If it is time for the next dose, skip the missed dose and continue your regular dosing schedule.
As a precautionary measure, do not consume alcohol and quit smoking
Eat healthy food and do regular exercises.
Side effects-
It is not necessary for everyone to experience the side effects. In case of any discomfort, consult your doctor.
Nausea
Stomach Pain
Loss of appetite
Diarrhoea
Stomach upset
Indigestion
1. Is it safe to take Recofast Plus Tablet 10's?
Answer: - Yes, in most of the patients it is safe to take Recofast Plus Tablet 10's but if it causes any unwanted side effects like diarrhea, vomiting, nausea, please consult your doctor immediately.
2. In what conditions Recofast Plus Tablet 10's is contraindicated?
Answer :- Recofast Plus Tablet 10's when taken by patients who are allergic to pain-killers or NSAIDs can be harmful. It should also be avoided in person with history of heart failure, kidney or liver disease and stomach ulcers .
3. Can I take Recofast Plus Tablet 10's for stomach pain?
Answer :- No. Recofast Plus Tablet 10's is not indicated for stomach pain. If you have stomach pain refer to doctor as it may be sign of stomach ulcer or gastric bleeding.
4. Can I take Recofast Plus Tablet with other pain killers?
Answer :- Yes. But ensure pain killers or any other drugs you are taking do not contain paracetamol, aceclofenac or serratiopeptidase. As, it may lead to overdosage leading to unpleasant side effects. Always consult your doctor before using other medication.