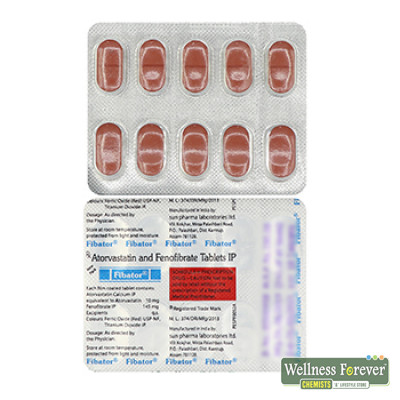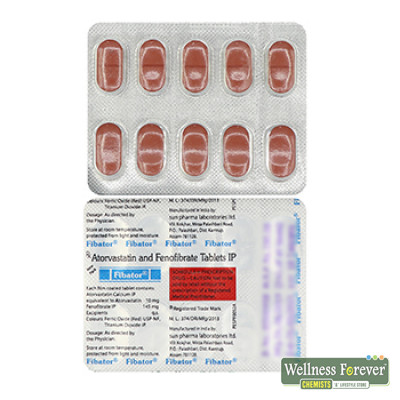 FIBATOR 10TAB
Brand: Wellness Forever
14 Reviews
Rs. 222.00

Prescription required on this product.
Support 24/7

Call us anytime

100% Safety

Only secure payments

Hot Offers

Discounts up to 80%
Composition
Atorvastatin (10mg) + Fenofibrate (145 mg)
Storage- Keep it in cool and dry place below 30°C
Consume Type- Oral
Fibator 10 Tablet is a combination of drugs composed of Atorvastatin & Fenofibrate both of which lower the levels of cholesterol and bad lipids (triglyceride) in blood, primarily used for prevention of heart diseases & blood vessel blockage. Fibator 10 Tablet is composed of two drugs: Atorvastatin and Fenofibrate. Atorvastatin is a lipid-lowering medication which blocks the enzyme HMG-CoA reductase required to make cholesterol in the body which lowers the bad cholesterol (low-density lipoproteins or LDL), triglycerides (TG) and increases the levels of good cholesterol (high-density
lipoproteins or HDL). Fenofibrate is another lipid lowering agent which works by increasing the natural substance (lipoprotein lipase) that breaks down fats in the bloodstream thereby increasing its utilization and removal. It decreases the harmful cholesterol like LDL (bad cholesterol), triglycerides (TG) and increases levels of HDL (good cholesterol).
Benefits/Uses
Treatment of High cholesterol
Prevention of Heart attack
FIBATOR 10TAB Offer at SecondMedic:
We at Secondmedic ensure that you get good health products at affordable price. Hence, we give you best offer that you can get online for FIBATOR 10TAB.If you are booking this product, then you can book at Rs 222/-
Direction for use
It should be taken as directed by your doctor and in the prescribed quantity.
Swallow it as a whole with a glass of water with food. Do not cut, break or chew the medicine.
It would be best if you take it at a fixed time for optimal results.
Keep it away from the reach of children
Do not use expired medicine.
Precaution
Tell the doctor about the medicines, supplements, or herbals you are currently taking or might take to avoid possible interaction.
If you have missed any dose, take it as soon as you remember. If it is time for the next dose, skip the missed dose and continue your regular dosing schedule.
Notify your doctor if you experience muscle symptoms (pain or weakness), particularly if accompanied with fever.
Notify your doctor if you experience stomach pain, loss of hunger, a sick feeling or dark urine.
Do not discontinue Fibator 10 Tablet without consulting your doctor even if you feel better.
Avoid alcohol consumption (includes wine, beer, and liquor).
Do regular exercises and eat healthy food.
Fibator 10 Tablet is not recommended for children below 12 years of age,
Side effects
It is not necessary for everyone to experience the side effects. In case of any discomfort, consult your doctor.
Nausea
Stomach pain
Constipation
Runny or stuffy nose
Flatulence
Headache
Muscle pain
Increased liver enzymes
Increased glucose level in blood
1. What lifestyle changes should be adopted while taking Fibator 10 Tablet?
Answer- Making lifestyle changes can boost your health while taking Fibator 10 Tablet. Stop smoking, as smoking increases your risk of having a heart attack and stroke. If you are overweight or obese, try to lose weight. You should maintain a healthy diet by including fruits and vegetables in your meals. Regular exercise can make your heart strong and decrease your risk of heart attack.
2. Can Fibator 10 Tablet cause muscle pain?
Answer- Yes, Fibator 10 Tablet can cause muscle pain by injuring the muscles. Talk to
your doctor as soon as possible if you experience muscle pain, weakness or muscle
cramps. It can be a sign of any muscle injury caused due to Fibator 10 Tablet.
3. Can I use the medicine during pregnancy or breastfeeding?
Answer- It is highly unsafe and should be taken on the recommendation of your Doctor.
4. Is it safe to use if one has Kidney or Liver disease?
Answer- Fibator 10 Tablet should be used with caution in patients with kidney or Liver
diseases. Dose adjustment of the Tablet may be needed. Please consult your doctor.
Use of Fibator 10 Tablet is not recommended in patients with severe kidney disease.