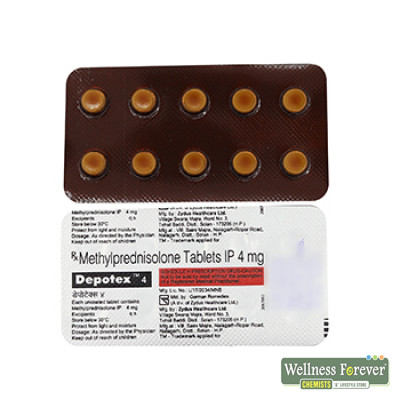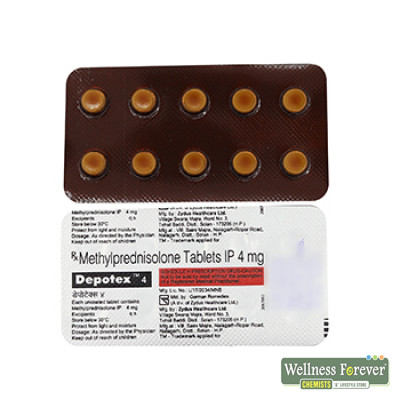 DEPOTEX 4MG 10TAB
Brand: Wellness Forever
14 Reviews
Rs. 58.00

Prescription required on this product.
Support 24/7

Call us anytime

100% Safety

Only secure payments

Hot Offers

Discounts up to 80%
Key Ingredients
Methylprednisolone (4mg)
Storage- Keep it in cool and dry place below 30°C
Consume Type- Oral
Description
Depotex 4 mg Tablet is a corticosteroid medicine containing Prednisolone. It is used to treat various conditions such as arthritis, asthma, allergic conditions, certain types of cancer, skin, eye, thyroid, or intestinal problems, etc. Depotex 4 mg Tablet works by blocking the action of chemical substances that are responsible for pain and swelling and altering your body's immune response.
Depotex 4 mg Tablet plays a vital role in treating a wide range of allergic reactions and inflammation in the body including allergies, blood disorders, skin diseases, infections,
certain cancers and to prevent organ rejection after a transplant. It also dampens the immune system, which may aid with autoimmune disorders such as rheumatoid arthritis, where the immune system incorrectly attacks its own tissues.
Key Benefits
Rheumatic disorders
Nephrotic syndrome
Asthma
Skin conditions
Systemic lupus erythematosus (SLE)
Eye disorders
Lichen Planus
Multiple sclerosis
Directions for use
It should be taken as directed by your doctor and in the prescribed quantity.
Swallow it as a whole with a glass of water with food. Do not cut, break or chew the medicine.
It would be best if you take it at a fixed time for optimal results.
Keep it away from the reach of children
Do not use expired medicine.
Safety Information
Tell the doctor about the medicines, supplements, or herbals you are currently taking or might take to avoid possible interaction.
If you have missed any dose, take it as soon as you remember. If it is time for the next dose, skip the missed dose and continue your regular dosing schedule.
Do not use it more often or for longer than advised by your doctor.
It can make it harder for you to fight off infections. Notify your doctor if you have any signs of infection such as a fever or sore throat.
Side effects such as mood changes or stomach problems can happen. Inform your doctor if this bothers you.
Do not stop taking the medicine suddenly without talking to your doctor first as it may worsen your symptoms.
Side effects-
It is not necessary for everyone to experience the side effects. In case of any discomfort, consult your doctor.
Thinning of skin
Increased risk of infection
Reduction in bone density
Weight gain
Mood changes
Upset stomach
Behavioral changes
1. How does Depotex 4mg Tablet work?
Answer- Depotex 4mg Tablet works by reducing the inflammation which helps in
treating many illnesses caused due to active inflammation. In addition to that, it stops
the autoimmune reactions which occur when your body's immune system attacks the
body itself and causes damage.
2. Can I stop taking the medicine after I feel well?
Answer- Your symptoms may improve before the problem is completely cured. But, it
would be suggested to complete the full course of treatment even if you feel better.
3. Can Depotex be used during pregnancy or breastfeeding?
Answer- Depotex 4 mg Tablet is not recommended for use in pregnancy. Kindly consult
your Doctor if you are pregnant or breast feeding.
4. What if I miss a dose?
Answer- If you miss a dose of Depotex 4mg Tablet, take it as soon as possible.
However, if it is almost time for your next dose, skip the missed dose and go back to
your regular schedule. Do not double the dose.