Prescription required as per the Government regulations.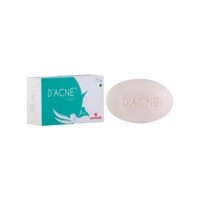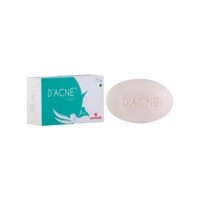 Support 24/7

Call us anytime

100% Safety

Only secure payments

Hot Offers

Discounts up to 80%
We all know the importance of keeping our skin healthy and moisturized. But what if I told you there was a soap that not only prevented acne, but also healed existing breakouts? D Acne Soap is formulated with salicylic acid which suppresses sebaceous metabolic activity to stop bacteria fromgrowing in pores! It's enriched with herbal ingredients like chamomile tea Extract or peppermint extract for soothing effect on your face as well as antimicrobial agents such an olive squalane oil – both proven helpful when combating blackheads around nose area due its ability reduce swelling caused by irritation at location.
Ingredients:
Palm and coconut oil soap and Oleo-based surfactant

Glycerin

Aloe Vera extract

Tea tree oil

Ethyl lactate

Zinc Pyrrolidone Carboxylic Acid (Zinc PCA)

Manuka concentrate

Willow extract

Salicylic acid

Olive extract

Triclosan
Benefits of D Acne Soap:
D Acne Soap is the perfect solution for those who suffer from acne.

It treats and prevents dermatological problems like Acne Vulgaris,

It also providing nourishment to your skin with every use.

The soap inhibits bacterial growth and fights inflammation on the skin.

It unclogs the skin pores to resolve and prevent lesions.

It prevents abnormal skin cell shedding.
D Acne Soap Offer At SecondMedic:
SecondMedic is the best place to get quality health products at affordable prices. Our offer will make sure that you get D Acne Soap at Rs 30/- OFF.
Direction to Use:
Replace other ordinary soaps to wash face

For better results use regularly

Use as directed by the physician or dermatologist.
Precautions:
Read the label carefully.

Keep it out of the reach of the children.

For external use only.

D Acne Soap should not be used for children below 3 years of age.

In case of any allergic symptoms after using the soap, immediately consult a physician.
FAQ's:
Q 1. What is the role of tea tree oil in the formulation?
Ans. Tea tree oil is a powerful anti-inflammatory agent that also acts as an antimicrobial compound.
---
Q 2. Can I use D Acne Soap to wash my hair?
Ans. The skin anatomy and physiology are a bit different on the scalp. Therefore, it is not recommended to wash your hair using D Acne Soap.
---
Q 3. Is it suitable for dry skin?
Ans. Yes. It is absolutely suitable for dry skin as it contains natural moisturising agents and humectants like Aloe vera, Glycerine, Olive extract, etc.