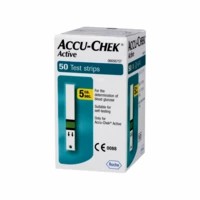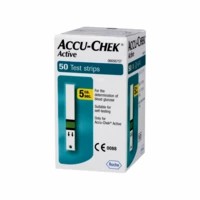 Accu-chek Active Glucometer Test Strips Box Of 50
Rs. 1147.50

Prescription required on this product.
Support 24/7

Call us anytime

100% Safety

Only secure payments

Hot Offers

Discounts up to 80%
The blood sugar levels in your body can be easily checked with Accu-chek Active Glucometer Test Strips Box Of 50. These are tested for accuracy, are easy to use daily and no manual coding is required. You can simply insert a test strip, collect a small blood sample on it, allow it to get absorbed and read your blood glucose result from the display. Accu-chek Active Glucometer Test Strips Box Of 50 can be used by patients suffering from Type 1 and Type 2 diabetes.
Benefits of Accu-chek Active Glucometer Test Strips Box Of 50:
Hassle-free and super easy blood glucose test at home

 Accu-Chek Active blood glucose test strips can help you with your blood sugar monitoring.

 These strips can be of help to both Type 1 Diabetes as well as Type 2Diabetes patients.

 You can trust Accu- Check Active Blood Glucose Strips to give result in just 5 seconds with 100?curacy.

 No prescription is required to purchase Accu-Chek Active blood glucose test strips.

 It is designed in a very careful way, the test strips are well protected, which makes it easy to handle.

 The test strips are effective and rapidly absorb the blood sample to give you a reading in seconds.

 It comes with a longer shelf life

 Allows you to visually double-check the test results for complete accuracy
Accu-chek Active Glucometer Test Strips Box Of 50 Offer At SecondMedic:
We at Secondmedic ensures that you get good health products for an affordable price. We have launched a special deal on Accu-chek Active Glucometer Test Strips Box Of 50 which is available online with extra Rs 172.12/- OFF. 
Directions for use:
 First, take one test strip and insert it into the Glucometer.

 Gently prick the tip of your finger with the Accu-Chek lancets.

 Collect the blood sample on the test strip.

 Read your results.

 Wash and sanitize your hands before using them. If you don't, you could contaminate the box and even give yourself an infection.

 Calibrate your meter to normal before using it for each new testing
Storage:
Store the box away from direct sunlight in a cool and dry place (4-30degrees celsius).

 Close the box properly after taking a strip out.

 Do not store the box of strips or use any of the strips if they are past their use-by date.
Precautions:
 Keep it away from children's reach

 Read the label carefully before using the test strips

 Check for the expiry date to ensure its accurate working

 Use it with clean and dry hands
FAQ:
Q1. Will I have to discard the Accu-Chek Active Strips after use?
Ans: Yes, you must use a fresh new test strip every time for accurate results.
---
Q2. How long does the Accu-Chek battery last when paired with a smartphone?
Ans: It depends on the connectivity of the meter enabled. The battery usually lasts for 750 tests. Normal testing without connectivity should produce approximately 1,000 test results.
---
Q3. What is the Last Result feature in Accu-Check?
Ans: The Last Result feature allows you to check both your current BG result along with the time and date of the most recent BG result (within 24 hours).
---
Q4. How many days are Accu- Check strips good for?
Ans: Test strips are effective for either 3-4 months after opening or until the expiration date if sealed and unopened. After opening a test strip vial, make sure to tightly close the lid again to prevent the ingress of humidity.