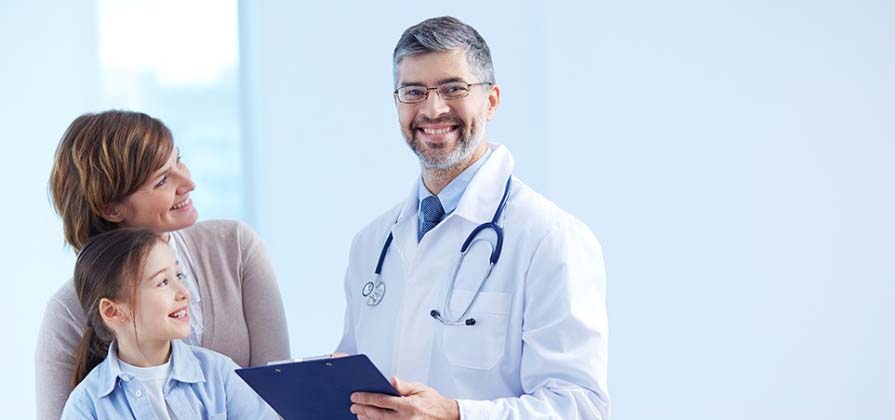 GI surgery / Abdominal Surgery / Colorectal Surgery
General surgery is a surgical specialty that focuses on abdominal contents including the esophagus, stomach, small intestine, large intestine, liver, pancreas, gallbladder, appendix, and bile ducts, and often the thyroid gland.
"General Surgery" is a discipline of surgery having a central core of knowledge embracing anatomy, physiology, metabolism, immunology, nutrition, pathology, wound healing, shock and resuscitation, intensive care, and neoplasia, which are common to all surgical specialties.
A general surgeon has specialized knowledge and experience related to the diagnosis, preoperative, operative, and postoperative management, including the management of complications, in nine primary components of surgery, all of which are essential to the education of a broadly based surgeon:
Alimentary tract
Abdomen and its contents
Breast, skin, and soft tissue
Head and neck, including trauma, vascular, endocrine, congenital and oncologic disorders - particularly tumors of the skin, salivary glands, thyroid, parathyroid, and the oral cavity
Vascular system, excluding the intracranial vessels and heart
The endocrine system, including thyroid, parathyroid, adrenal, and endocrine pancreas
Surgical oncology, including coordinated multimodality management of the cancer patient by screening, surveillance, surgical adjunctive therapy, rehabilitation, and follow-up
Comprehensive management of trauma, including musculoskeletal, hand, and head injuries. The responsibility for all phases of care of the injured patient is an essential component of general surgery.
Complete care of critically ill patients with underlying surgical conditions, in the emergency room, intensive care unit, and trauma/burn units
Our personal doctor might be the smartest and we might have developed lot of comfort with them over the year but that shouldn't stop us from getting second opinion
It's very common to second opinion these days, and just like with any major decision—buying a house or a car or going to college—it's not a bad idea to go to a couple of places to be sure you know what you're getting and why.
Diagnoses is always complicated or difficult to make, and there may be many alternative treatment strategies," "Some treatments—particularly clinical trials—may not be offered at every center or every country. So, while patients may find that two centers offer the same diagnosis and treatment, this is not always the case."
Its tricky and patients may be concerned about asking the first doctor to share medical records, pathology slides, imaging, and other test results. "People are generally very nice, and they don't want to hurt the first doctor's feelings
 "But the reality is that doctors won't be offended. At the end of the day, you want to be sure that you are finding the right team for you, and that you are comfortable with the diagnosis and treatment plan you are being offered."
We have the best doctors providing second opinions. We asked some of our specialists about situations where a second opinion may be important.
Second Opinion is definitely important When the diagnosis is cancer
While cancer patients seem to seek second opinions more frequently, overall, studies show the benefits are unclear, according to the American Cancer Society. But some studies show that they may be valuable. An example is a 2018 study published in the Annals of Surgical Oncology that found that a second review by a multidisciplinary tumor board at a National Cancer Institute-designated cancer center changed the diagnosis for 43% of the 70 patients in the study.
Needless to say that not everyone diagnosed with cancer will want or need a second opinion, "Patients should seek another opinion if they feel uncomfortable with their initial team, if they have a rare cancer that another doctor may have more expertise with, or if they are confused about their diagnosis or treatment options,"
To provide medical second opinion we have your radiology images reviewed by our radiologists, we'll have your pathology report reviewed by our pathologists, and your case will be discussed by a multidisciplinary team,
Cancer can also be emotional, and follow-up care can be long-range. So, in addition to getting a comprehensive review, patients need to find a doctor they trust,
 "Remember, this is a lasting relationship. It's kind of like a marriage. Together, you are going to be talking about really important things that are life-changing," "So, you want to invest the time and energy to find a team you trust."
Second Opinion is definitely important When surgery is recommended
Everyone wants to avoid surgery if they can. Spine issues are just one example of conditions that can leave patients confused about whether they need an operation. There may be a variety of specialists to consult, including orthopedic surgeons or neurosurgeons, physical therapists, pain specialists, and physiatrists (doctors who specialize in nonsurgical approaches).
"Surgery may still be recommended in such conditions as disk herniations, stenosis, and spinal deformities. When  asked for a second opinion in these cases, we review medical histories, exams, and imagings.
"A second opinion is most useful when there is not a perfect answer and you want more input,".
It is important for patients to keep asking questions, If he was a patient getting a second opinion that differs from the original one, he would ask, "Why is this opinion different?" The patient might learn that the second doctor put significant time into exploring their case and has good reasons for the different approach,
Second Opinion is definitely important When the diagnosis or treatment is unclear
Many diseases share the same symptoms, and that alone leads many patients to seek the insights of a second, third, or even fourth physician. Many of our patients with Wilson disease had delays of months or even years before their diagnosis was established," he says. Wilson disease is marked by an inability to properly process copper in the body, and it is believed to affect 30,000 to 40,000 people worldwide. In addition to complications from liver disease, the symptoms can include fatigue, speech problems, depression, and essential tremor (the latter has prompted wrong diagnoses of early Parkinson's disease).
"It's extraordinarily challenging when the first signs and symptoms don't point directly toward something like liver disease,"
"But getting an accurate diagnosis, in this case, is very important because an incorrect diagnosis can set you on the wrong path,"
If you systematically go down a diagnostic pathway and come up with negative results, you can at least exclude a disease, and that's useful, too, because you then know to move on and look for other things."
Anyone who has completed a round of treatment for a condition and sees no improvement—or it gets worse—should consider getting another opinion. If you can diagnose a condition like Wilson disease that has genetic implications, this can impact the health of a whole family,
Second Opinion is definitely important When the patient is your child
Getting a second opinion for a child can be even more disruptive than it is for an adult, taking time away from both work hours and school, as per pediatric gastroenterologist.
 
Sometimes, a family's pediatrician will want to monitor symptoms for a period of time, and it's true that many childhood ailments will resolve themselves, But, some symptoms are red flags. "I would be most concerned if a child is losing weight or having fevers, persistent vomiting, or blood in their stools,"
Parents who don't feel they are getting an accurate diagnosis for these symptoms should talk to their pediatrician about seeing an appropriate specialist. "Not everything in medicine is black and white, so sometimes it can sound like one thing, but it's not. There are some kids that have constellations of symptoms that may not fit one particular diagnosis,"
Parents should never feel hesitant to talk to their pediatrician about their instincts, "I think what's important in situations like this is to work with your doctor," "In fact, the most important thing parents can do is to nurture a good relationship with their pediatrician, so that if they need to talk about issues like this, they'll feel comfortable. You have to be with someone you can really open up to—especially when you are talking about kids,"
Second Opinion is definitely important When you want some peace of mind
Patients also should  follow their instincts on second opinions for multiple reasons. "Often with patients it can help them better understand what their options are," "Another issue is that medicine is changing all the time and, depending on where a patient sought their first diagnosis, they can miss out on new therapies that are available."
Patients should not be afraid to ask difficult questions, Some of the suggestions: What is your volume? How many of these procedures have you done? What are the alternatives? Who are your colleagues? What are the possible complications? "You need to be very comfortable with your care, so I think those questions are absolutely appropriate,"
It's also important to know when to stop, All Patients should seek as much information as they can—but "within reason,". "If a patient wants to see a second doctor and a third doctor, that's fine. But there does come a point of diminishing returns, where sometimes patients are looking for the answer they want to hear. They're looking to find someone who'll tell them what they want." The main goal should be to get an accurate diagnosis and an appropriate treatment plan
Let's see how to get a second opinion
The process of seeking a second opinion can be as simple as getting a referral from your current doctor and making sure your health insurance will pay for it. You will need to gather any biopsy or surgery reports, hospital discharge reports, relevant imaging tests, and information on drugs or supplements you take.
Second Medic is a confidential service that gathers medical information from the physician who provided the patient's first opinion and, for some diagnoses, allows patients to coordinate second opinions using their phone, tablet, or computer, so they can receive a second opinion in the comfort of their own home.
There really is no right or wrong answer to this question of getting second opinion or getting medical consultation. Being a good consumer of your medical care means seeking as much information as possible so you can decide what is best for you. Of course, if you feel totally comfortable with your first opinion you don't have to get a second opinion.
 
 
Medical Consultation and Medical Second Opinion is important depending on - How serious is my condition?
Medical consultation and Medical Second Opinion is important depending on  Should I get independent verification of the information?
Medical Consultation and Medical Second Opinion is important depending on If there is any chance that there is a better treatment for me?
Medical Consultation and Medical Second Opinion is important if the impact will the decisions I'm making have on my life?
Medical Consultation and Medical Second Opinion is important if I do have any doubts about anything I've heard?
Medical Consultation and Medical Second Opinion is important if I feel about my doctor and my interaction with him?
Medical Consultation and Medical Second Opinion is important if I got to lose by seeking a second opinion?
Medical Consultation and Medical Second Opinion is important if I get a second opinion before having surgery?
 
Getting second opinion sooner is better. In fact, you could ask the doctor who says you need surgery for a recommendation for a second opinion before you even leave the office. You certainly don't want to wait until the operation is about to be done. Give yourself as much time as possible to collect the necessary information to make an informed choice. On the other hand, dragging out the process of getting additional opinions might be a way to postpone surgery you're not exactly looking forward to—so be honest with yourself.
 
 
Never be afraid to ask for a second opinion. Am I not insulting my doctor if I request a second opinion? Not at all. It is standard medical practice to get another opinion. Doctors do it all the time as part of their own process of diagnosing a problem. You should not feel any hesitation or guilt about stating that you want a second opinion. In fact, many physicians will give their patients the names of other specialists and surgeons to talk to without even being asked.
What happens after I get a second opinion? What happens after you have two opinions depends on whether the advice is the same or not. If there is disagreement, try to understand the reasons for the difference of opinion. Specifically, go through the arguments for and against each approach. Evaluate the pros and cons, follow up with your doctors, and discuss the matter with a friend or relative who is a reliable sounding board. Consider the options and the credentials of each physician. Be aware that it is a common phenomenon that the second opinion has a tendency to sound smarter than the first, when in reality it may or may not be better.In the end, you need to go with your gut. Which doctor do you trust, which approach makes sense to you? If those answers point you in a direction, it probably is the right one for you.