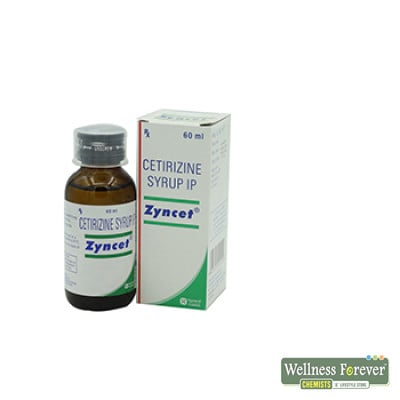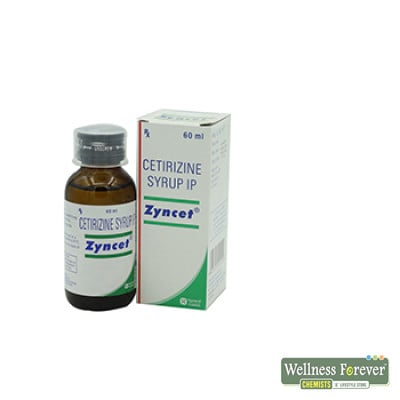 ZYNCET SYP 60ML
Brand: Wellness Forever
14 Reviews
Rs. 39.55

Prescription required on this product.
Support 24/7

Call us anytime

100% Safety

Only secure payments

Hot Offers

Discounts up to 80%
Key Ingredients
Cetirizine (5mg/5ml)
Storage- Keep it in cool and dry place below 30°C
Consume Type- Oral
Description
Zyncet belongs to a group of medicines called antihistamines. Zyncet Syrup is given to children to treat various symptoms such as watery eyes, runny nose, sneezing, and itching associated with allergic conditions like hay fever, urticaria (hives), conjunctivitis (red, itchy eye), and common cold. Zyncet Syp works by blocking the release of histamine, a natural substance, which is produced by the body during allergic reactions.
Key Benefits
Treatment of Allergic conditions
Directions for use
It should be taken as directed by your doctor and in the prescribed quantity.
Shake well before use
It would be best if you take it at a fixed time for optimal results.
Keep it away from the reach of children
Do not use expired medicine.
Read the instructions of the label before usage.
Safety Information
Tell the doctor about the medicines, supplements, or herbals you are currently taking or might take to avoid possible interaction.
If you have missed any dose, take it as soon as you remember. If it is time for the next dose, skip the missed dose and continue your regular dosing schedule. It much less likely to make you feel sleepy than other similar medications.
It is okay to take the medicine with most other medications as it has few drug interactions.
Use caution while driving or doing anything that requires concentration as Zyncet Syp can cause dizziness and sleepiness.
Do not drink alcohol while taking Zyncet Syp as it may cause increased sleepiness.
Stop taking Zyncet Syp at least three days before taking an allergy test as it can affect the test results.
It can trigger constipation in your child. Give plenty of fluids and a fiber-rich diet to your child.
Should be avoided in children who are less than 4 years of age as there is a risk of respiratory distress.
Side effects-
It is not necessary for everyone to experience the side effects. In case of any discomfort, consult your doctor.
Nausea
Headache
Muscle pain
Edema (swelling)
Sleepiness
Dizziness
1.  Is Zyncet Syp a steroid? What is it used for?
Answer- Zyncet Syp is an anti-allergic medication, not a steroid. It relieves the
symptoms of allergy. It is used to relieve runny nose, sneezing and redness, itching,
and watering of the eyes caused by hay fever or seasonal allergies. It also relieves
similar symptoms caused due to allergies to substances, such as dust mites, animal
dander, and mold. It is also used to treat symptoms of hives, including itching and rash.
2. Any precautions I need to take while on the medication of Zyncet Syrup?
Answer- Yes, Zyncet Syrup is known to cause sleepiness or drowsiness, hence never
drive or do any activity like operating machinery after taking this medicine.
If you develop any rash, difficulty in breathing or itching immediately after taking this
medicine, it could be a severe side effect, immediately seek medical help.
3. My child is restless and unable to sleep properly at night. Can I give Zyncet Syrup?
Answer- No, although this medicine causes drowsiness as a side effect, it should not be
given to induce sleep in children. Consult your child's doctor if your child has trouble
sleeping as it could be due to some other underlying condition.